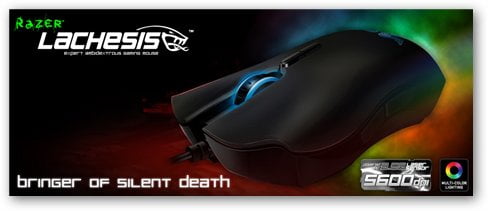 Razer Lachesis was one of the most popular gaming mouse from Razer. A couple of days ago, the popular mouse was being revamped by Razer and now it is equipped with a new 5600dpi 3.5G laser sensor compared to the previous 4000dpi, a customizable mutil-color LED lighting system, and a few more.
Check out the press release below from Razer. A review unit is promised to be sent by the end of month to me. So check back again next month for the review at Craving Tech!
RAZER™ REVAMPS THE RAZER LACHESIS™: FAMILAR FORM, MORE FUNCTION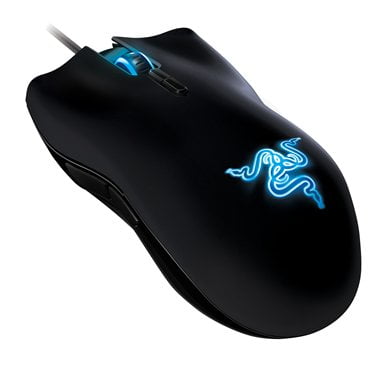 Carlsbad, Calif. – August 3, 2010 – Razer, the world's leading manufacturer of high-end precision gaming and lifestyle peripherals, is pleased to announce the much anticipated refresh of the legendary Razer Lachesis. Equipped with a new 5600dpi Razer Precision™ 3.5G laser sensor and a customizable multi-color LED lighting system, the newly updated Razer Lachesis maintains its original form, comfort and price, while advancing power, performance and precision.
"The all new Razer Lachesis is about giving gamers more personal choice and customizable options," said Robert "Razerguy" Krakoff, president, Razer USA. "With a multi-color LED for customizable color and a built-in variable dpi, the Razer Lachesis gives gamers everything they need for this three-year fan favorite."
Gamers now have the choice to customize the LED lights on the mouse from a range of 16 million colors. To top it off, the Razer Lachesis allows gamers to customize those colors individually, so each of the illuminated areas can glow a different color.
About the Razer Lachesis
The new Razer Lachesis is an upgraded replacement for the original ambidextrous mouse and is now equipped with a massive 5600dpi Razer Precision 3.5G laser sensor and nine programmable Hyperesponse™ buttons. Featuring 1000 Hz Ultrapolling for minimal latency, On-the-Fly Sensitivity™ adjustment and large, non-slip buttons, the fully loaded Razer Lachesis has all the original features that have been verified and vetted by gamers for years. With several options for complete customization including a full, multi-color LED that allows gamers to choose from 16 million glowing hues, as well as a variable dpi setting that can be adjusted in 125 dpi increments for true precision and control, the updated Razer Lachesis is the ideal option for gamers that value the art of tweaking to their exact specifications.
Razer Lachesis
Price: $79.99 / €69.99
AVAILABILITY:
Razerzone – August
Worldwide – Q3
Product Features:
5600dpi Razer Precision™ 3.5G laser sensor
Adjustable Multi-Color LED(Up to 16 million colors)
Variable true dpi setting adjustments in increments of 125dpi
60KB Razer Synapse™ onboard memory
Nine independently programmable Hyperesponse™ buttons
1000Hz Ultrapolling / 1ms response time
Tracking up to 200 inches per second
Seven-foot, lightweight, non-tangle cord
Approximate size: 129mm (length) x 71mm (width) x 40mm (height)/ 128 gram
Scroll wheel with 24 individual click positions
Zero-acoustic Ultraslick™ Teflon feet
Gold-plated USB connector
On-The-Fly Sensitivity™ adjustment