At Las Vegas CES 2013, Razer announces a new product called Razer Edge. Razer Edge was introduced before last year as Project Fiona but I wasn't expecting something like this. Razer Edge is a tablet, a PC, and also a console. On its own, Razer Edge is a tablet powered by Windows 8. However, plug a keyboard in and it becomes a PC/Ultrabook. Hook the game controller and it becomes a mobile console.
Four ways you can use Razer Edge
Tablet Mode: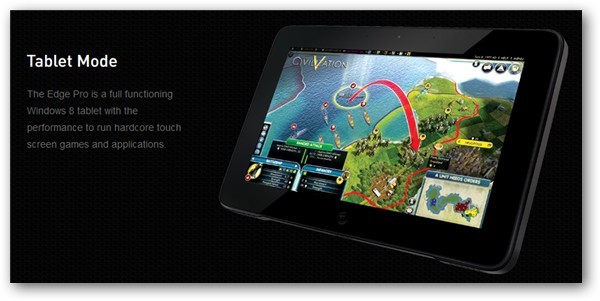 Keyboard Mode: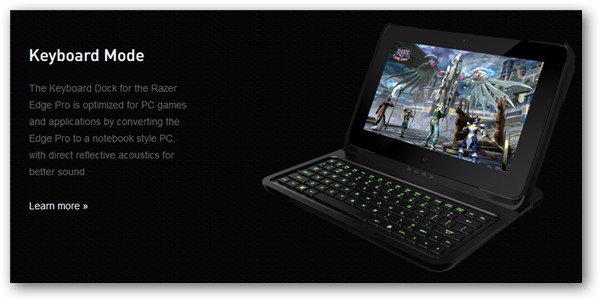 Mobile Console Mode: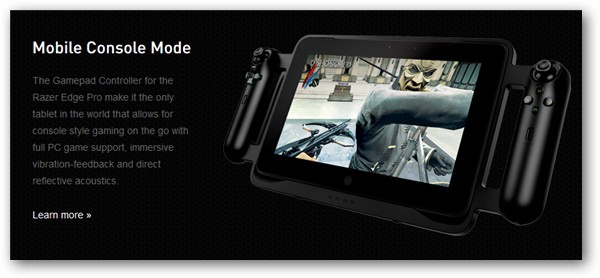 Home Console Mode: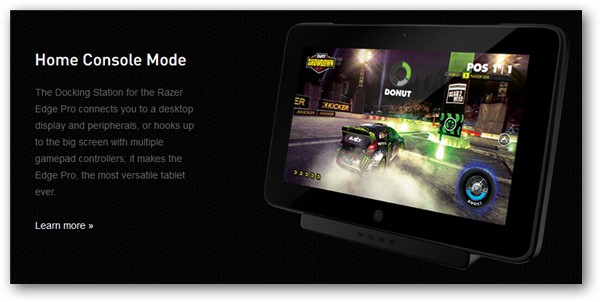 These accessories have to be bought separately, however (except for the Gamepad Controller that comes with Razer Edge Pro – more on this below) and some are only available later in 2013.
If you scream "What? Another tablet?". Make no mistake as this is not just another tablet to run those casual games you are probably playing now on your smartphones and tablets. Razer Edge can run any most recent PC games on a decent enough quality, thanks to the horsepower it has.
There will be a standard model (Razer Edge) and also the pro model (Razer Edge Pro) to sell.
Razer Edge Specifications
Intel® Core™ i5 processor
NVIDIA GT640M LE GPU
4 GB of DDR3 RAM
64 GB SSD
Razer Edge Pro Specifications
Intel® Core™ i7 processor
NVIDIA GT640M LE GPU
8 GB of DDR3 RAM
128 GB or 256 GB SSD.
Comes with the Gamepad Controller
Razer Edge availability: Q1 2013, Razer Edge starting at $999.
If you want me to stop talking, then so be it. Just watch the video below and drool away!
Razer Edge Video