Powertraveller powermonkey-eXtreme Review  – Nowadays, we have always treated our smartphone as a mini computer, a point-and-shoot camera, a portable game console, and a portable movie player. No wonder we've always complaint that we never have enough battery!
Well, no matter. Powertraveller has released a bigger, badder version of the Powertraveller minigorilla that I reviewed some time ago and takes it… to the extreme.
The Powertraveller powermonkey-eXtreme has been in development for 5 years and the end result is a portable battery charger that can charge your mobile devices multiple times (yes, multiple times) in a single day. Have more than 1 smartphone and tablets to carry? No worries! Chance is that you can fill them up with power and still have some juice left on the powermonkey-eXtreme for another extra charge in a few hours time.
Powertraveller powermonkey-eXtreme Review – Packaging
The powermonkey-eXtreme kit consists of:
Powermonkey-eXtreme battery unit
Solar panel (to recharge the unit)
Universal mains charger including interchangeable heads for UK, USA, EUROPE & AUS
Nine mobile device tips
Black travel pouch
The travel pouch was not included in the packaging that I've got but you'll definitely get one when you purchase the powermonkey-eXtreme.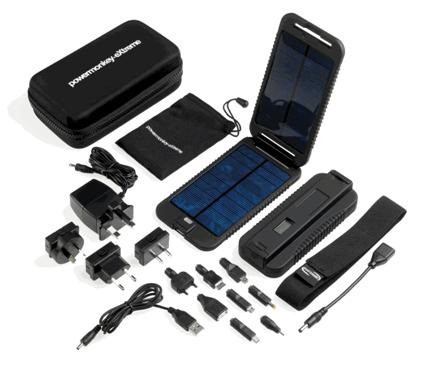 Powertraveller powermonkey-eXtreme Review – Design
The one I have is the Graphite Grey, though you can pick other colors as well such as the Electric Blue, Safety Yellow and Vibrant Red.
The Powermonkey-eXtreme unit wasn't designed to look sexy and smooth, but rugged. It's also a bit thick in size. Now, before you put on a frown, this is because the unit is waterproof (for 30 minutes up to 1 metre) and also shock resistant!
Accidentally drop it when you are walking outdoor? Not to worry! Or perhaps the unit gets dirty with all the sand when you brought it with you to the beach? Simply rinse it under the tap water as it is waterproof.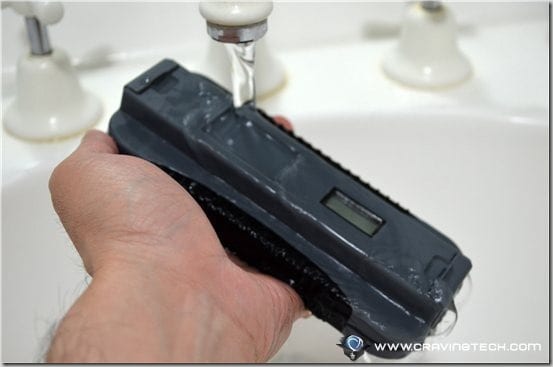 Powertraveller powermonkey-eXtreme is definitely great for travellers as it can survive in harshest terrain and environment, thanks to this design. The input/output ports are sealed tightly to prevent water from leaking in, though it requires a bit of strength to open/close these seals up.
There is an LCD screen which displays the battery level and also a working status (on, off, recharging) and it looks pretty cool with the blue light and all: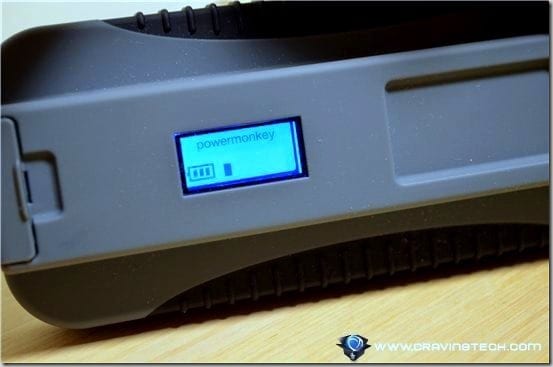 To check the battery level and status, you simply touch the "touch pad" area on the unit. To start recharging your device, you need to do a swipe on the pad in one direction to turn it on and the other to turn it off. This unique one-swipe thing is to make sure that you don't accidentally switch the unit on when not in use. It also has an auto shut-off function which will turn the powermonkey-eXtreme off after 2 minutes when your device is fully charged. I love this as I don't need to monitor the powermonkey-eXtreme every single hour. Though if you like, you can double tap the friction swipe area to activate the "permanent on" feature.
The powermonkey-eXtreme itself can be recharged by plugging it into a power socket or even cooler, through the included solar panel!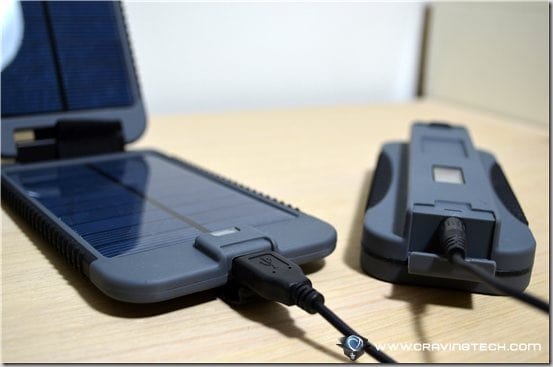 The solar panel is a pretty cool add-on and it's extremely useful when you go to the beach or hiking somewhere in the wilderness. Obviously, you wouldn't go to these places in Winter so the solar panel is only useful during Spring and Summer.
The solar panel can also be attached to tents, rucksacks, or your beach chair using the included Velcro strap so you can maximise its potential.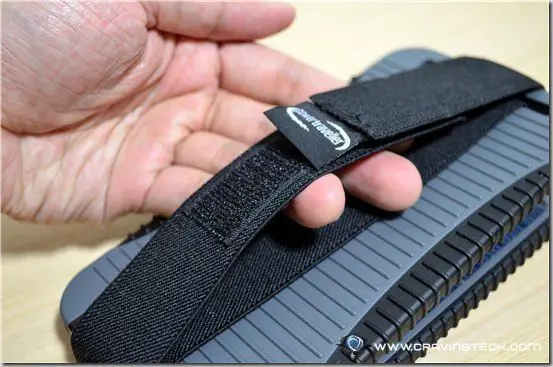 The packaging also includes 9 mobile device tips so whatever device you have, you are fully covered! This means you can charge your smartphones, Bluetooth headset, and more. It's a pity that it can't be used to charge my MacBook Air.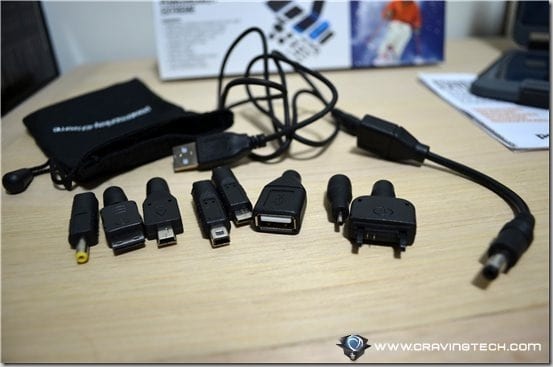 Powertraveller powermonkey-eXtreme Review – Impressions & Features
The Powertraveller powermonkey-eXtreme houses a whopping 9000mAh capacity Lithium Polymer battery, probably the biggest power in a portable battery I've ever had or reviewed. According to the product specification, the powermonkey-eXtreme can fully recharge an iPhone up to 6 times, a Garmin Edge 800 up to 6 times ,and standard mobiles up to 12 times. Now, that's some serious business! Not to mention that according to Powertraveller, you can leave the powermonkey-eXtreme for a whole year and it will still hold 75% of its charge. This is great when you don't use it frequently yet it's ready to be used again without a recharge.
According to my tests, I found that the unit brought my iPhone 4S's battery level from 38% to 61% under 30 minutes (0.76% rate per minute) and my iPad 2's battery level from 38% to 67% under 2 hour-ish (0.42% per minute). Note that it does take longer to recharge an iPad even with a direct power source.
You can even use the solar panel to charge the powermonkey-eXtreme while it recharges your mobile device at the same time! Talk about efficiency. According to the product spec, the solar panel can fully charge the unit in about 15 hours. Honestly, I'm amazed at how effective the solar panel is, because it can even be used to recharge your mobile device directly and it still works under a cloudy weather condition (which is a typical Melbourne's weather even during Summer).
Powertraveller powermonkey-eXtreme Review – Conclusion
Powertraveller powermonkey-eXtreme does take portable charging to the extreme: it houses a huge capacity battery, it allows you to fully charge a mobile device multiple times before it runs out of battery, it can charge a variety of devices you have, it keeps the power for months without a need to be recharged, it can be recharged using the solar panel as an option, it can be thrown and will not break, it is waterproof, and it also includes a bunch of protection (Short-circuit, Overload, Reverse discharge current protection, and Low voltage protection).
The size may not be the smallest and the thinnest, but you want a portable battery because of its features and not the aesthetic. The Powertraveller powermonkey-eXtreme excels in the features, especially if you are the adventurous type with frequent outdoor activities. No matter where you go, you'll always have power with you, thanks to this extreme portable battery charger.
Note: Powertraveller powermonkey-eXtreme review unit was provided for the review
Powertraveller powermonkey-eXtreme Review – Pros
+ Huge battery (9000mAh)
+ Shock proof, water proof
+ Turn itself off when a device is fully charged
+ Can recharge a mobile device multiple times!
+ Power lasts very long without a need to recharge
+ Can be recharged with the included solar panel
+ Amazing solar panel
+ 9 Mobile device tips included, can charge almost your every device
Powertraveller powermonkey-eXtreme Review – Cons
– Size and bulkiness
– Seals to expose the ports are pretty rough to open/close