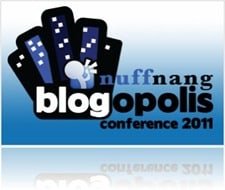 I was invited to speak at the upcoming blogging conference, the Nuffnang Blogopolis Conference 2011 in Melbourne, managed and sponsored by Nuffnang. Blogopolis is a day long conference that will cover different blogging master classes for bloggers to further enhance their skills and knowledge about blogging.
Darren Rowse from Problogger will be there too to speak among other great Aussie bloggers (there will be around 11 of speakers including myself). Some of them have appeared on TV, have their own books, or covered in Australian newspaper and magazines. I'm really excited to meet and to get to know them in person (a rare chance considering how busy they all are)!
Current confirmed speakers at Nuffnang Blogopolis Conference 2011:
Tickets were sold like hotcakes, about 100 gone on the first day (or were it more)? So far, Nuffnang has listed 120 bloggers all over Australia who have registered to attend the conference and there are only 10 tickets left (I hope they aren't gone yet by the time you read this post
).
The Nuffnang Blogopolis Conference 2011 will be held in Melbourne, ZINC (Federation Square), on the 30th of July, 2011 (Saturday).
I will be covering "Tools of the Trade" with a few other speakers (tools to improve your blog or blogging experience such as plug-ins, etc) but there are other interesting topics too such as:
Blog Branding/Marketing
Blog Photography
Improving Blog Content
Working with Brands
Editorial vs Advertorial
The Australian Blogosphere
Feel free to check the official site later to find out what these classes/topics will cover.
If you own a blog (or setting up one) and would like to learn more, hurry and grab that last tickets. I'll certainly learn a lot there myself even though I have blogged for a few years (there's always something new to learn when you open up!). Oh yeah, if you want to follow all conversations about the upcoming conference, the Twitter hashtag is #nnb2011
If you are coming over to the conference, make sure to drop by and say hello!
Visit Nuffnang Blogopolis Conference 2011 Official site