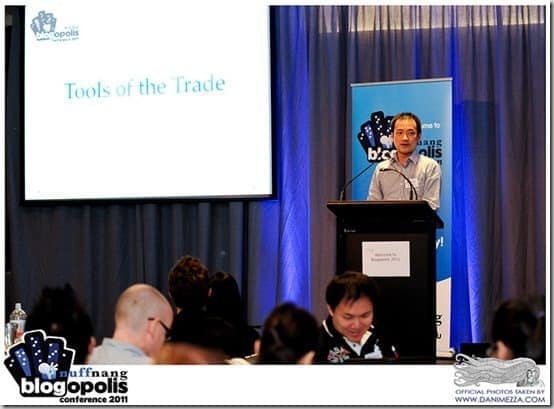 Nuffnang Blogopolis 2011 – Though this post comes a bit late as the event has been covered by many Australian bloggers who attended a week ago, it's always better to be late than never, right? Nuffnang Blogopolis 2011 (held in ZINC at Federation Square, Melbourne, Australia, on the 30th of July, 2011) was an event coordinated by Nuffnang (great job, guys!) and attracted around 300 bloggers all around Australia, including Darren Rowse from Problogger.net.
What is Nuffnang Blogopolis 2011 (hashtag #nnb2011 in Twitter)
From the Nuffnang Blogopolis 2011 official site:
Blogopolis is a day-long event covering seven different blogging master classes suitable for bloggers both big and small. Through these master classes, we aim to engage and educate Australian bloggers by furthering their blogging skill set and knowledge. You will also have the opportunity to meet and hear from some of the biggest names in the Australian blogosphere!
Nuffnang Blogopolis 2011 Speakers/Panel moderators for the event (including myself):
1. Darren Rowse of Pro Blogger
2. Danielle Melnyczenko of Danimezza
3. Christie Burnett of Childhood101
4. Nicole Avery of Planning With Kids
5. Michael Aulia of Craving Tech
6. Arnold Aranez of Mr. Gadget
7. Nikki Parkinson of Styling You
8. Phoebe Montague of Lady Melbourne
9. Helen Yee – Grab Your Fork
10. Minh Giang – Eat Show & Tell
11. Susan Thye – Chocolatesuze
12. Candice Deville – Super Kawaii Mama
13. Eden Riley – Edenland
14. David Krupp – Nuffnang Country Manager
15. Andrew Hughes – Reprise Media
16. Jaci Ely – Ikon Communications
17. Jeff Tan – iProspect
Nuffnang Blogopolis 2011 Photos
More on Nuffnang's Flickr page, thanks to danimezza.com for taking great photos!
Nuffnang Blogopolis 2011 Experience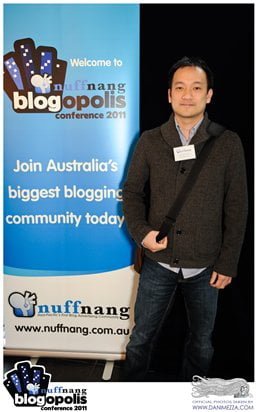 So how did it go? Well to be honest, I was really nervous as it was my first time speaking to so many people at once, in English, and with so many great names in the room (big bloggers and people from the media). There were many doubts when I was preparing especially since I was asked to cover a controversial topic such as Google Blogger vs WordPress and also some WordPress plug-ins (even when I knew that there were probably around 70% bloggers in the room blogging in Google Blogger). I think the day went pretty well as I got good feedback on Twitter though some may disagree with my Blogger vs WordPress (which is okay, we all have different opinions yet we can still be friends and all that :))
I realised that I need to put my Twitter profile on the slides next time as I found some were using my @cravingtech (which is an automated account) instead of @michaelaulia on the live tweets during the conference. Some didn't even put a tag so I couldn't reply on their questions or comments afterwards about the topics I presented, sorry for that, my fault for being inexperienced in a blogging conference (though we didn't have this tweeting frenzy on the Nuffnang blog award in 2009).
Some "tweets that happened" during my presentation while I was speaking in front (sorted from the most recent):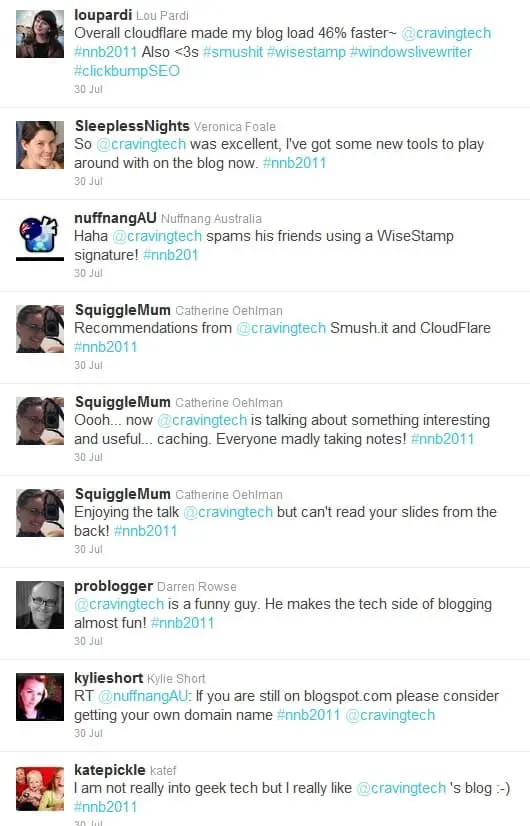 I was also looking forward to meet the lovely bloggers I met in Singapore for the Nuffnang Blog Awards 2009 back then such as Arnold Aranez from mrgadget.com.au, Violet Le Beaux from violetlebeaux.com, Christie Burnett from Childhood101.com, Phoebe Montague from LadyMelbourne.com.au, Nicole Avery from PlanningWithKids.com, Susan Thye from Chocolatesuze.com, Helen Yee from GrabYourFork.blogspot.com, Candice DeVille from SuperKawaiiMama.com, Grace Lee from livingfootprints.com.au, David Lee + David Krupp from Nuffnang and a few others (sorry if I forgot to name you here, oops).
PS: and yes, I still plan to create a video about the awards back in 2009 – just have to make a time to do it
Overall, it was a great atmosphere though it somehow felt like a mommy bloggers' invasion :) Where are the male bloggers?!!! Nevertheless, I was amazed at Aussie mommy bloggers who are so passionate in their writings and how they can manage their time to blog amidst the busyness of life!
And oh, if you want to find out what I was speaking about, feel free to read my previous post about the Tools of the Trade topic I presented in the Nuffnang Blogopolis 2011.