MyRepublic, a popular ISP in the Asia Pacific region (Singapore, Indonesia, and New Zealand) is launching in Australia on Tuesday, 15th of November 2016 with an unlimited data plan and a gamer-friendly network with built-in traffic priority system, and more.
With just as low as $59.99 per month (on a 12-month contract), MyRepublic will be delivering 100Mbps/40Mbps on an unlimited data plan.
According to the Managing Director of MyRepublic Australia, Nicholas Demos:
The MyRepublic Gamer plan is specifically engineered to directly deal with the current pain points many Australian gamers are facing today, including latency, connection instability, bandwidth caps and slow uploads or downloads.
The nbn bundle also includes a $200 off deal for the new Playstation 4 Pro (PS4 Pro) for the first 500 registered customers in Australia. The offer ends on the 14th of December, or til sold out.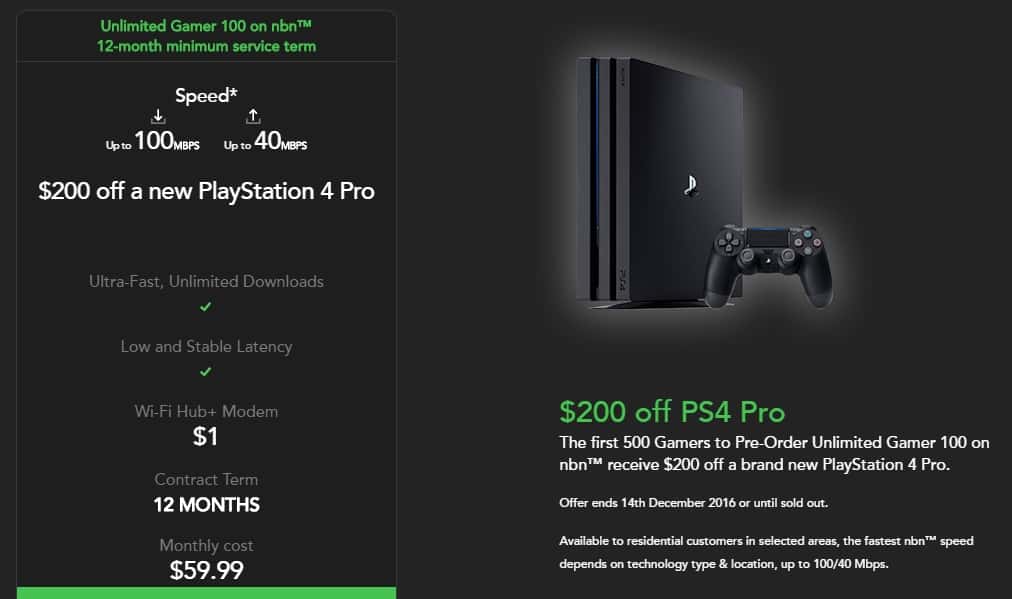 A high-speed Wi-Fi Modem is also included if you pay an extra $1 but you can also use your own high-speed modem router like the NETGEAR Nighthawk X4S or D-Link Taipan.
Assuming that nbn network is available in your area (and your property), then you can switch your provider to MyRepublic.
At the moment, iiNet is charging $109.99/month and Internode is charging $99.99/month for the same speed with unlimited data option (note: I haven't taken into account the no setup fee if you choose a contract, etc here).
Beware, Aussie's ISPs. Your honeymoon time is nearly over. At the moment, I'm also paying $59.99 with TPG, but it's FTTB (Fiber To The Building), not nbn. MyRepublic website does say that the offer will end on February 28, 2017. It's uncertain how much will new customers have to pay after.
MyRepublic has also partnered with Sony Interactive Entertainment to give Australian gamers the chance to win the Ultimate Gamer Prize Pack which will include:
MyRepublic Unlimited Gamer Pro Plan (12 months)

A PlayStation 4 Pro – The most powerful PlayStation ever made

A PlayStation®VR  – A virtual reality system for PlayStation®4 that takes gaming to the next level  of immersion and transports players into the virtual worlds of their games

A copy of PlayStation VR Worlds

A copy of Last Guardian™ (launching 7th December 2016)

A PlayStation Plus Membership (12 months)

Wi-Fi Hub Modem

Go to MyRepublic.com.au/GAMER for Terms and Conditions and to enter.