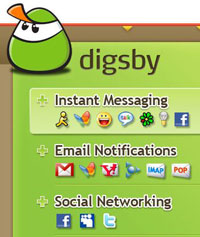 Digsby is the ultimate all in one application for your instant messaging, email notifications, and also social networking (Check out my post on Digsby).
The latest Digsby, Build 61, introduces a new sleek skin "Windows 7" by Derek Erdmann and also other new significant features such as:
MySpace Newsfeed
A completely redesigned MySpace newsfeed which now includes a full Activities Stream, status updates, and the ability to browse through photos.
Global Status
A new Global Status dialog makes it easy to set your status across social networks and IM accounts. You can access it from the status dropdown on the buddy list or by double clicking any social network.  The Global Status dialog also has spell checking built in and makes it easy to share links (via digs.by) and pictures (via pic.im).
URL Shortener
A URL shortener just for Digsby users under the domain http://digs.by. In the future you will be able to access a history of links you shared and statistics about how many times they were clicked.
OneRiot
Making it easy for you to search the real-time web. Just hit "Ctrl + F" on the buddy list to search.
Digsby Windows 7 skin screenshot (as posted on the Digsby official blog post):