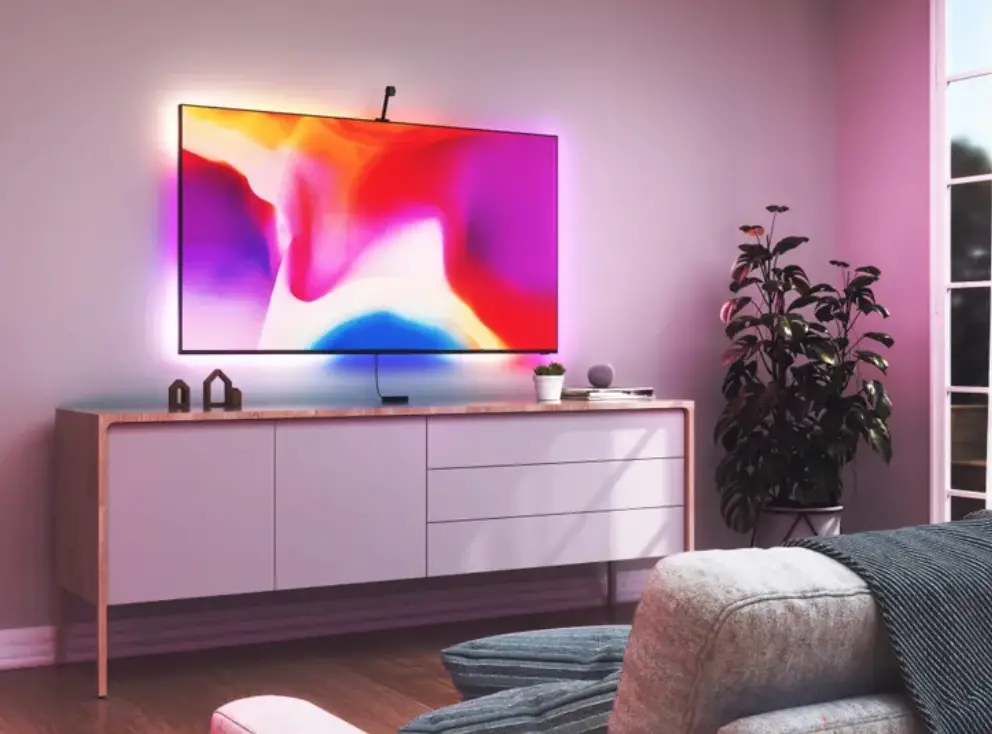 I love all the Nanoleaf smart devices around our house (check out my reviews on their Essentials Lightstrip, Essentials Bulbs, Canvas, and the magical dodecahedron Remote) and it's always a pleasure to hear that they will be releasing more, newer smart home products.
At CES 2023, Nanoleaf unveiled their latest The Sense+ Controls line (Sense+ Smart Light Switch, Sense+ Wireless Smart Light Switch and Nala Learning Bridge), Nanoleaf 4D TV Screen Mirror Camera and Lightstrips Kit, and Nanoleaf Skylight modular ceiling fixture.
Nanoleaf 4D – TV Screen Mirror Camera and Lighstrips Smarter Kit
The 4D TV Smarter Kit comes with a Screen Mirror Camera and Matter-compatible Smart Addressable Lightstrip using new Sync+ technology to make your movie watching experience more immersive. There are four screen Mirror Modes to choose from and 50 addressable zones on the 5-metre-long lightstrip, so you'll get an amazing lighting experience out of it.
Unlike Philips Hue solution that requires an HDMI Sync Box, Nanoleaf 4D works by placing a camera on either the top or bottom of the TV. And if you have other Nanoleaf lighting products, Screen Mirror will sync everything together across the entire room.
Nanoleaf 4D TV Smarter Kit is launching Q2 2023, and will be available in two length options: 55"-65" and 70"-80".
Sense+ Controls and "Nala" Automation Learning Assistant
The Nanoleaf's Sense+ Controls line offers the world's first ever hands-free smart lighting experience within your home. There are three products in this product line at the moment with built-in motion and ambient lighting sensors. This allows you to automate your daily routines and create your own personalised schedules.
These new Sense+ products work with Nanoleaf's new intelligent Automations Learning Assistant, named 'Nala,' to "learn" your preferences from your everyday usage and routines. Expect things like predictive actions about when to turn your lights on and off automatically. For example, I suspect if you always turn your lights off around midnight each night to sleep,
Sense+ Controls is the winner of this year's CES Innovation Awards and is launching Q3 2023.
Nanoleaf Skylight – Smart Modular Flush Mount Ceiling Fixture
The Skylight, as the name suggests, is a ceiling fixture with square modular RGBW LED panels that can be rearranged/redesigned as needed. It supports over 16 million colours for ambient lighting and its brightness, colours, colour temperatures can also be set from the app.
Nanoleaf Skylight will support Nanoleaf's Screen Mirror, along with Rhythm Music Visualiser, dynamic lighting scenes and Group Scenes.
The modular ceiling fixture also acts as a Thread Border Router and comes with built-in Sense+ sensors to enable motion and ambient light sensing.
Nanoleaf Skylight is launching Q3 2023.
Essentials Bulbs & Lightstrips – First Thread Over Matter Lighting
The Matter-certified Essentials Bulbs (A19, BR30, GU10 and a Recessed Downlight) and Lightstrip will be launching in Q1 2023.