Nanoleaf Remote Review – Nanoleaf Remote is an Apple HomeKit-enabled smart remote, shaped as a dodecahedron (a polyhedron with twelve flat faces).
Its design and functions offer something unique in the smart home world. After all, smart devices should be handled by smart remotes, and not dumb button presses or having to taps and swipes with a mobile app.
And this, is where Nanoleaf Remote comes in.
Nanoleaf Remote Review – Packaging
The remote is powered by 2x AA batteries which are included in the packaging so you can get started. I'm not sure how long will the battery last as I can't find the information on the official page.
It is made with hard plastic material which does not feel premium in hand, but at least it doesn't look cheap and very light to lift and handle.
Nanoleaf Remote Review – Design & Features
Through its 12 flat surfaces, the Nanoleaf Remote can trigger 12 different scenes, or sets of preset actions that control your smart home devices. As you may have guessed, it works really well with Nanoleaf light panels (being made by the same company) but it's also made for other HomeKit supported devices (since it makes use of the scenes within the Apple Home app). These include non-smart bulbs like thermostats, etc.
Nanoleaf Remote looks good on the desk and is always intriguing to new guests who come over to your place. It's also a cool way to control your smart home devices than having to grab your phone and do it in the app.
At home, I have the complete set of Philips Hue devices set up (3x light bulbs, 2 lamps, and 1 lightstrip). I haven't had a chance to set up my Nanoleaf Rhythm light panels yet as I'm moving house soon, so stay tuned for the review on that. With the Nanoleaf Rhythm, you can even rotate the Remote clockwise or counter-clockwise to change the brightness on the fly. Pretty magical.
Check the short video that I made with the Nanoleaf Remote to control my Philips Hue bulbs, lamps, and lightstrips at home:
Setting these up is a bit tricky though as I need to go back and forth between the Nanoleaf app, Apple Home app, and Philips Hue app to get the scenes and settings set up correctly. It uses your setups on the Apple Home so if you've got them right, you shouldn't get problems adding them up to the Nanoleaf app.
With Nanoleaf Remote, you trigger the preset scene by rotating the dodecahedron around and whichever side you rotate to the top will trigger that particular preset. For example, if you rotate #4 to the top, the Remote will trigger all the things that you've set under that preset #4.
Having up to 12 surfaces means you can set 12 different presets but you don't have to use them all. I use the first four for my crucial scenes:
#1 A default preset (a mix of colours on the lights): for writing reviews, blogging, and playing games after work
#2 Change all lights to white: for taking product photos
#3 For movie watching (change all lights to yellow, turn some off, and dim some)
#4 a "Good night" scene where everything is off
That leaves you with 8 empty presets that you can set as you see fit: for a party, a cozy romantic dinner, and so on. It'll be a challenge to remember which number triggers which preset, but you can organise them based on your routine and perception about the numbers. For example #12, being the last, can be your preset to close the day (turn the alarm on, lights off, thermostat on for 2 hours, etc) and so on.
Many might also complain it will take a while to rotate and actually find the number you want. While this might be true, there is actually a pattern on the dodecahedron that will make you a natural magician with the magic orb in no time. For example, when #1 is on the top, #2 to#6 is just a rotate away next to it. Similarly, #7-#11 is also just a rotate away from #12. So you can think of the remote as having 2 segments where each segment has 5 smaller presets, if you know what I mean – rather than having to rotate randomly trying to find the number you want.
Nanoleaf Remote will glow in different colour once you start rotating it, something that I find really handy when I want to turn my lights on in complete darkness. It'll also do a short vibrate confirming the activation after you select a preset. Occasionally, the preset did not get triggered so I had to re-do the motion and there is also a slight delay between the activation and the execution (I'm not sure whether this delay is within the Remote, Philips Hue, or the Apple HomeKit implementation).
Nanoleaf Remote Review – Conclusion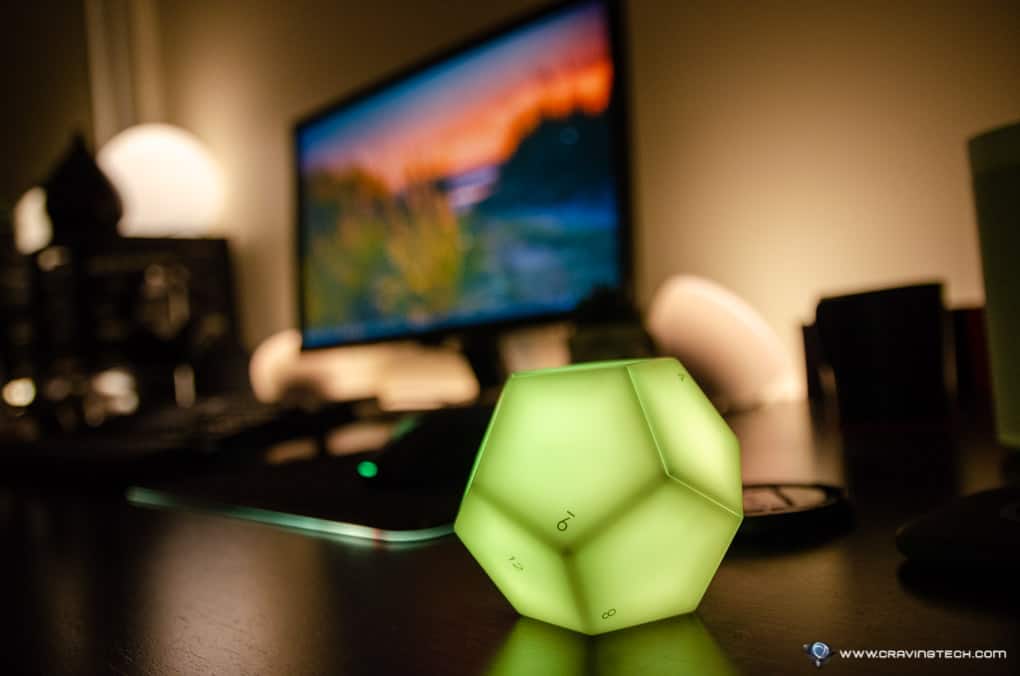 Nanoleaf Remote shows controlling smart home devices does not have to be dull and boring. It can be smart, innovative, and magical. There is a soothing feel when you hold this magical, glowing dodecahedron in hand and with just a turn, devices can be turned off, on, or adjusted brilliantly.
With up to 12 different presets you can save and activate, you'll have plenty of HomeKit scenes you can customise as you see fit. Of course, the problem is remembering which one triggers what – but you don't really need to make use of all the 12 flat surfaces.
I was using the Philips Hue Tap before to control my lights, but Nanoleaf Remote goes beyond acting as just a lights switch and having conventional methods like presses and taps. It's not perfect but considering there's nothing out there (I think) that can do what the Remote can, this magical orb is quite sensational in its own way.
I also like how the Remote does not just control your Nanoleaf light panels, but also support controlling your other Apple HomeKit devices through Apple Home.
Nanoleaf Remote can be purchased at JB Hi-Fi for A$69 (at the time this review is written) or Apple Store. It's also available at Amazon if you don't reside in Australia.
So this is what it feels like to be Harry Potter.
Disclosure: Nanoleaf Remote review sample was supplied for reviewing but all opinions are mine and not paid