AirBolt Smart Lock Review – Opening locks with a key? Meh. With all these AIs and techs incorporated into smart home devices, it's time to put every key aside and embrace unlocking locks with style.
AirBolt is advertised as being the "Truly Smart Travel Lock" and truly, I believe that statement is true.
Sure, AirBolt is not the only smart lock in the market. As a matter of fact, I reviewed a similar smart travel lock by Dog & Bone (the LockSmart Travel) early last year.
However, the AirBolt certainly has a more interesting set of features compared to the LockSmart Travel.
AirBolt Smart Lock Review – Packaging
AirBolt Smart Lock Review – Design & Features
AirBolt is 55mm wide and 16mm thick, making it a compact smart lock that you'd want to use. With a die-cast Zinc body along with a sturdy stainless steel rope, the AirBolt is solid and durable. The rope can be threaded through your bag's zippers nicely.
Let's get the basic, essential features covered. AirBolt is basically a small lock that you can attach to your luggage or bags (though not necessarily limited to bags and such) and can then be unlocked with your phone.
The idea is that you don't need to use those tiny keys that tend to go missing when you need them, or using padlock with key combinations that you'd probably forget one day. AirBolt connects to your phone via Bluetooth, and that means it needs to have a bulit-in battery to power that.
Here's how it works with app unlocking:
Because opening your luggage lock with a key or combination is in the past #airbolt #smartlock @TheFoneKing pic.twitter.com/y01XgeQbaC

— Michael Aulia (@michaelaulia) August 22, 2018
It also has an easy unlock, meaning if the app is still connected to the AirBolt and it's in proximity, you can simply press the Left button on the AirBolt to unlock (without opening the app at all). I wish this feature can be turned off though as someone can unlock it if he/she stands close enough to your phone. The only way to work your way around this is to add an extra security layer to unlock by entering PIN, fingerprint authentication, or FaceID on the phone.
The AirBolt is rechargeable through microUSB but thankfully, the battery will last around a year before you have to charge it again (obviously, this depends on how often you are using your AirBolt). However, a year is very long and you should never be in the position where your AirLock ever runs out of battery. If you ever do, you can plug it in to a portable charger.
But what if your phone is running out of battery (which is a more possible scenario) and you don't have those portable chargers handy lying around? If you are travelling with someone, you can install the app on another phone, sign in, and unlock it. But what if you are travelling alone?
Now this is what I like most about AirBolt. Unlike Dog & Bone LockSmart Travel, you can still open AirBolt manually by performing button push combinations on the AirBolt itself as the last resort. While this defeats the purpose of having a "smart lock", this is excellent for the peace of mind knowing that should things go wrong with either the app, phone battery, or connection, you'll always have a mean to unlock it.
Should someone manage to steal your luggage and enter the wrong combinations multiple times, AirBolt will auto-lock itself out and you can only open it with an app for the extra security.
You can set an alert so that you will be notified when you get separated with your AirBolt. This is handy if you are getting a coffee and someone sneakily takes your luggage away, or when you are panicking and runs off without your luggage.
This proximity alert can also be used when you are waiting for your luggage in the baggage area. I'd find it quite handy to know whether your luggage is coming when it comes, rather than staring on the moving carousel non-stop. I don't think I'll ever use this feature though.
If someone steals your luggage (or leave it far behind), you can check for its last known location before it goes out of range. And there's also the crowdsourced location tracking from the AirBolt community to help you find it. This depends on how many people are using AirBolts around your area, so this can be a hit and miss. I also left the lock at home but the app somehow shows its last known location to be at my office (i.e when I first got the lock, even though I was playing around with it recently at home).
AirBolt Smart Lock Review Conclusion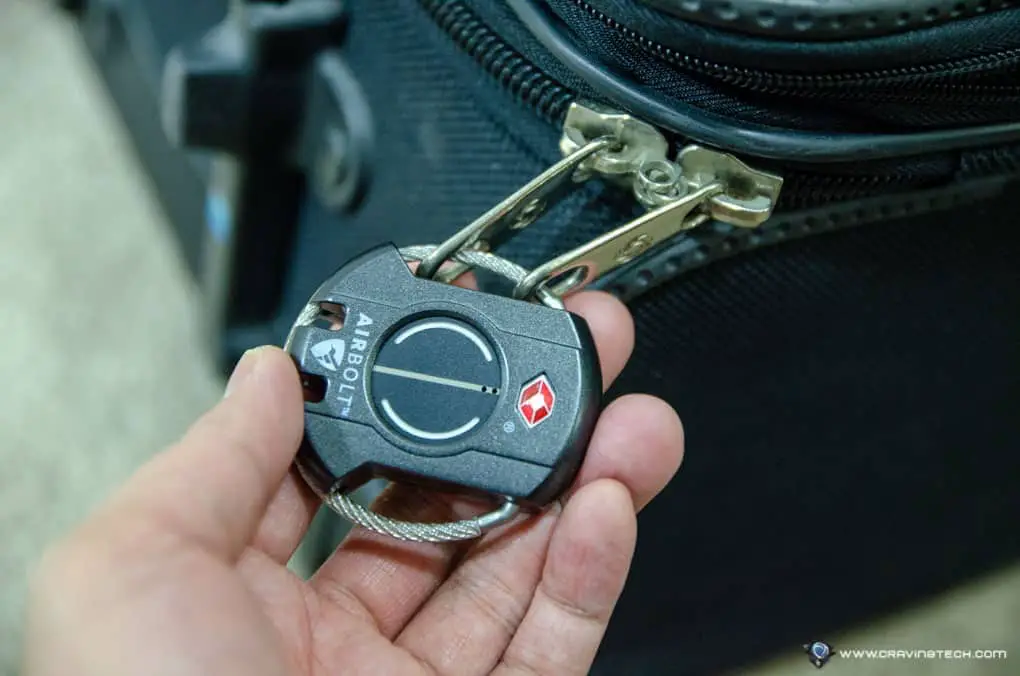 AirBolt was a successful Kickstarter project and reached 4 times of its original goal. AirBolt Smart Lock protects your luggage with a durable lock without the frustration of having to remember where you put your tiny padlock key, or the number combinations.
More than that, there is a smart, manual unlocking should your phone runs out of battery, or when the Bluetooth connection somehow gets flaky (my fiancee's sister had this problem the other day where she could not open the LockSmart Travel from Dog & Bone with her phone app). Relying on a phone to unlock smart locks is one of the reason why I'm still afraid to use a smart lock for my luggage, but thanks to the manual unlocking option in AirBolt, I'm fully converted.
With long battery life, smart locking/unlocking mechanism, ability to share lock access, TSA-approved, and a built-in tracker, AirBolt is when security meets convenience in a nice package. I'm definitely going to use the AirBolt on my next overseas flight and beyond. AirBolt can also be used for storage lockers or boxes, which can then be shared to your colleagues, or people who can get access to the locked items.
AirBolt is available at Fone King in Cape Cod Grey colour for AU$119.95 – which is much more expensive than a traditional luggage padlock, but you'll get what you are paying for. If you reside outside Australia, you can also get it from Amazon.
Disclosure: Airbolt Smart Lock review sample was supplied for reviewing but all opinions are mine and not paid