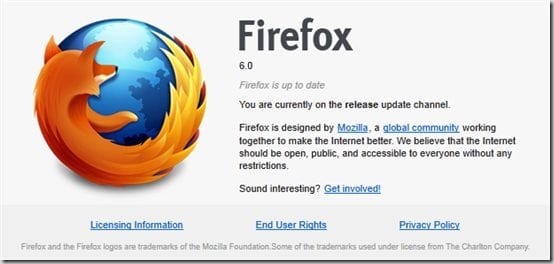 Mozilla Firefox 6 – In case you are not aware, today Firefox has released Mozilla Firefox 6 final. You may not notice the difference when you update because it looks the same and most of the changes or fixes are not for most of us to know, in a way (well, you may notice a new color change, highlighting the domain on your address bar)
Nevertheless, security and bug fixes are good enough for you to update from Mozilla Firefox 5 to Mozilla Firefox 6.
Other changes on Mozilla Firefox 6 compared to Mozilla Firefox 5:
The address bar now highlights the domain of the website you're visiting
Streamlined the look of the site identity block
Added support for the latest draft version of WebSockets with a prefixed API
Added support for EventSource / server-sent events
Added support for window.matchMedia
Added Scratchpad, an interactive JavaScript prototyping environment
Added a new Web Developer menu item and moved development-related items into it
Improved usability of the Web Console
Improved the discoverability of Firefox Sync
Reduced browser startup time when using Panorama
Screenshot of the new domain highlighting on the address bar:
It seems that the memory usage is still high (the popular Firefox memory leak issue) though I've heard Firefox 7 Aurora has a better memory footprint, if you want to go try it out but at this stage, it still looks like Mozilla Firefox 6 memory leak is still there. I have Firefox 7 Aurora installed and so far I have not seen any problems. If you wish, you can fix Firefox memory leak by using a third party program called Firemin.
I've also heard that Mozilla is planning to take the version number out because there are many people complaining and flaming about the crazy version numbers increase recently. I think it will even create heated discussions as we are going to be unaware what version number we are using and whether there have been updates recently to our Mozila Firefox browser.
Download the latest Mozilla Firefox 6