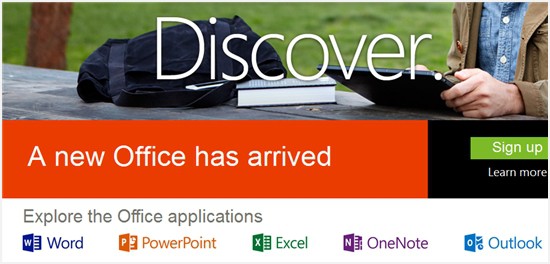 Microsoft Office 2013, also known as Microsoft Office 15, is available for public as a preview today. The new Office suite features a Metro interface design, new features, and also integration with other Microsoft products such as the Office 365 (Cloud version of Microsoft Office).
This means the whole suite of Word, Excel, PowerPoint, OneNote, Outlook, Publisher and Access are updated and overhauled.
Microsoft Office 2013 is designed to work with stylus, touch, mouse, or keyboard across different devices and surely, it will integrate well with the upcoming Microsoft Windows 8 in a couple of months time.
You can download Microsoft Office 2013 (Office 15) Public Preview and install it in 5 PCs maximum. I haven't had a chance to download and play around with it, so unfortunately no screenshots or opinions just yet from my side. Do let us know your experience here though.
Unfortunately, Office 2013 cannot be installed in Windows XP nor Windows Vista. According to the FAQ, the requirement is:
Operating System: Windows 7 or newer, either 32-bit or 64-bit; Windows 2008R2 or newer with .Net 3.5 or greater. It isn't possible to install on a PC running Windows XP or Vista. To use with Windows 8 you must be running the Release Preview version or higher.
The Microsoft Office 2013 Public Preview cannot be installed in a Mac OS although Microsoft mentioned that it will be, in the final version.
Meanwhile, here's a short official promo video from Microsoft about Office 2013 (Office 15):