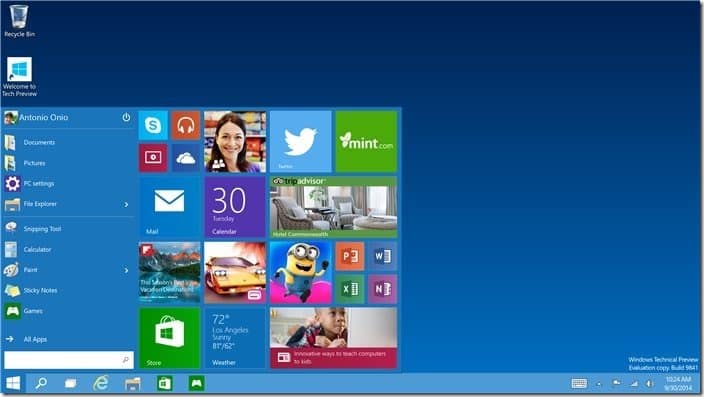 Most of you are probably still on Windows 7 and contemplating to upgrade to Windows 8. Will the upgrade worth it? Do I really need to upgrade? Will I be happy using that on a desktop machine without a touch screen monitor?
Before you can make that decision though, Microsoft has already thrown another version of Windows for your consideration. That is, Windows 10. And you can download an early technical preview of Microsoft Windows 10 to try yourself and give feedback to the team at Microsoft.
The technical preview should be able to download real soon (1st of October, 2014) though you should realise by now that this is not meant as a stable version. It may have bugs, inconsistencies, and incompatibilities with the other software so you may not want this as your working desktop. It won't be long before forum thread such as "Can I use Microsoft Windows 10 on my daily, primary machine" start to pop up.
Windows 10 definitely looks and feels like Windows 8, with tweaks to make the desktop experience better. Much better. It's like a mixture of Windows 7 and Windows 8. Though I feel like this is better to be called Windows 8.2 or 8.5, it's too early to judge what's behind the scene.
In short lists, Windows 10 gives you a few new flexibilities, design changes, and improvements, such as:
Expanded Start menu (see the screenshot above)
Metro apps can now be run in a resizable & movable window (not full screen anymore)
Improvements in screen snapping. You can now snap up to 4 apps on the same screen. Let's hope that you have a big monitor to cater for this.
Multiple desktop so you can work and switch between one to the other (virtual desktops).
A more improved tasks viewing and switching
Apart from that, they don't seem to promote new innovation or major change, but again, it's too early to tell. Microsoft has encouraged you to use and send feedback to them so they can make a Windows version that you like. This time, Microsoft wants to work closely to their customers, which is a good thing (Or not?).
Check out this Microsoft Windows 10 introduction video officially from Microsoft
If you are using Windows 8 in a desktop environment, you'll definitely love the changes they make to Windows 10. It's more desktop-friendly, although it feels as if Microsoft wants to just make people move from Windows 7 away. What do you think? I definitely welcome the changes and updates. There were also rumors that Windows 10 will be free to Windows 8 users, but I'll give an update to that once we know for sure.