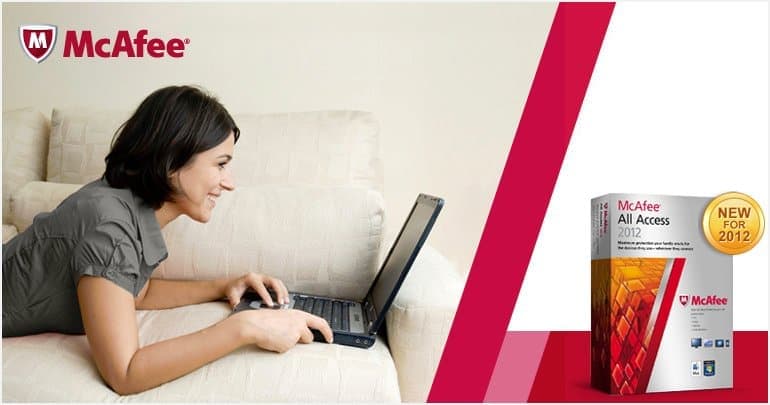 McAfee is one of the leading security companies that has been providing protection for your home and business computers for many years. Their latest product, McAfee All Access Household, offers comprehensive protection for desktop computers, laptops, netbooks, tablets, and even smartphones.
McAfee are giving Craving Tech an exclusive 25% discount off individual McAfee All Access Household licenses and is sponsoring one license to be given away for free to a lucky reader of this blog.
McAfee All Access Household – what is it all about?
The McAfee All Access Household covers  a wide range of your digital lifestyle, offering protection to almost every possible device you have at home. Most of us own more than just a computer these days and it is then imperative to protect them as much as you protect your own desktop computer from malware, hackers, viruses, and other online threats.
Protection for PCs, laptops, netbooks, and Macs
We all use our Windows PCs and Macs for gaming, browsing, and working. Often we are exposed to online viruses, trojans, or scams that we are not even aware of. McAfee All Access Household protects your privacy and productivity by detecting and blocking these threats away from your computer.
You can even filter out inappropriate videos and songs from iTunes to make sure your children are not exposed to these.
Protection for smartphones and tablets
Everyone seems to have at least one smartphone these days. These are not just used for calling and sending messages anymore. Often we use our phones for mobile banking and even store our passwords on applications we have installed. McAfee All Access protects your smartphones against viruses and ensures that you have a safe web surfing experience. Not to mention you can also use it to backup and restore important data.
The same goes for tablets, which are often used for web browsing on your couch or elsewhere inside and outside your home. The product ensures that you can browse without worry and provides protection from theft. With McAfee All Access, you can locate and lock your tablet remotely. Or alternatively, back it up, wipe everything, and then restore your data into a new device.
McAfee All Access Household – Supported Operating System
Windows XP (32-bit) with Service Pack 3 (SP3) or higher
Windows Vista (32-bit and 64-bit) with Service Pack 1 (SP1) or higher
Windows 7 (32-bit and 64-bit) with Service Pack 1 (SP1)
Mac OS X 10.5 or higher
Google Android 2.1 or higher (smartphones and tablets)
BlackBerry 4.5, 4.6, 4.7, 5.0, 6.0
Symbian S60 3rd and 5th Edition
Note: For iOS devices, there is a separate product called McAfee WaveSecure™ service that you can bought over at Apple App Store.
McAfee All Access Household Discount
From 23rd of April until 7th of May 2012, you can purchase the McAfee All Access Household at A$149.96 (normally priced at A$199.95). That's a 25% discount, saving you A$49.99!
You can take an advantage of this offer by going to the McAfee All Access Household promotion page.
McAfee All Access License Giveaway
In addition to this, Craving Tech will also be giving away one free McAfee All Access Household license to a lucky reader of this blog and the winner will be chosen before the discount period ends.
The giveaway will run for a week from 23rd of April until 30th of April 2012. Use the widget below to gain entries. Whoever gets the most entries will win the license!