Sorry guys, I know this is long overdue. I'm still waiting for a report from one of the income source. I think from now on, I'll just put a rough figure and then update the post when the exact figure has arrived :(
Anyway, Craving Tech's traffic statistics summary for March 2011: 113,877 unique visitors and 149,854 page views.
Traffic details:
Search Engine: 81,778 visitors.
Referring sites: 20,504 visitors.
Direct Traffic: 11,538 visitors.
Other: 57 visitors.
March 2011 Referring Sites breakdown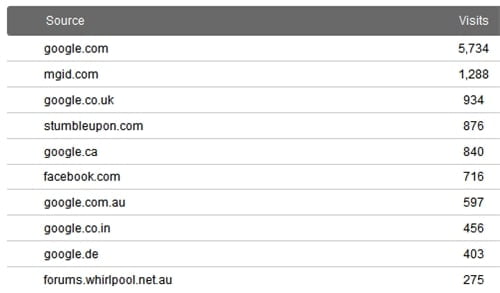 Money made online in March 2011 breakdown
Google AdSense: USD 365
Amazon Affiliates: USD 302.76
Private Advertising: USD 405.11
SocialSpark: USD 225.80
Nuffnang: USD 125.52
Affiliate Sales: USD 100
eBuzzing.com: USD 68
Total money made online in March 2011: USD 1591.60
Overall, March was still not a bad month for Craving Tech but I'm afraid earnings will go down quite drastically this month (thanks to the Google Panda effect for bringing a few posts out of first ranks on Google SERP). As a result, I expect a decline in Google AdSense and Amazon earnings this month (due to this lost of search engines traffic) and also in private advertising (as some private banners are expiring this month).