Logitech Ergo K860 Ergonomic Keyboard Review – When a friend came over and asked me why I was using this weird-looking keyboard (the Ergo K860) and mouse (MX Vertical), I gave him a quick explanation about wrist pain, RSI, and the importance of ergonomics.
Mind you, he's still 20 years old (and I'm over 40) so when I was his age, I couldn't care less about ergonomics. I did remind him that everything accumulates over the years so it'd be best for him to start loving the wrists, joints, and muscles now while he's still young. Yeah, I'm old.
I was on the Microsoft Sculpt Ergonomic keyboard for working (I'm a programmer) until I stumbled upon Logitech's newest ergonomic keyboard, the Ergo K860. The Ergo K860 definitely looks and feels more modern, and have more recent features set.
I have to admit, it took some time to get used to, moving from Microsoft Sculpt. The keys on the Ergo K860 feel smaller and while I actually love having a numpad, it does shift the position of my hands a bit on the desk. After a day or two of using the keyboard on a full working day, I've gotten used to it. The Ergo K860 feels stiffer to press too compared to Microsoft's.
Having a numpad is actually the dilemma here. Some would say having the numpad will push your right hand further to reach the mouse, which is actually unergonomic. However, I love having a numpad for entering those numbers quickly on spreadsheets, forms, and login pages. So, that's that.
But ergonomic wise, the keyboard is definitely designed for you to type naturally with better posture and less strain. The curved, split keyframe definitely reduces muscle strain around my body and I've never felt any wrist pain while typing on this keyboard (I'd usually have one after a few days of working with non-ergonomic keyboards).
The wrist rest makes the keyboard look more modern and elegant, but also soft with washable fabric. According to Logitech, it's built with three layers: surface, support, and comfort. I dislike how easy dirt can get stuck on the Microsoft Sculpt's wrist rest and it looks like I won't see them on the K860. However, we'll have to wait for months of use before I can say this with 100% certainty.
Logitech Ergo K860 is probably the only ergonomic keyboard with direct support of typing with a standing desk. The tilt legs are adjustable, giving you 0°, -4°, and -7° angle depending on your unique set up. I'm still testing between -4° and -7° angle but if you use the keyboard while standing, you should change the angle to -7° for that perfect ergonomics. It's pretty easy to adjust these tilt legs.
Connection wise, the keyboard supports Bluetooth so you can connect it to other mobile devices (you can switch between three connected devices with the touch of a button, thanks to Logitech Flow), but you can also use the included USB receiver to use it on a PC or laptop. It's Logitech's Unifying Receiver, so I like how I can just use my Logitech MX Vertical Ergonomic Mouse's receiver to connect both the mouse and keyboard.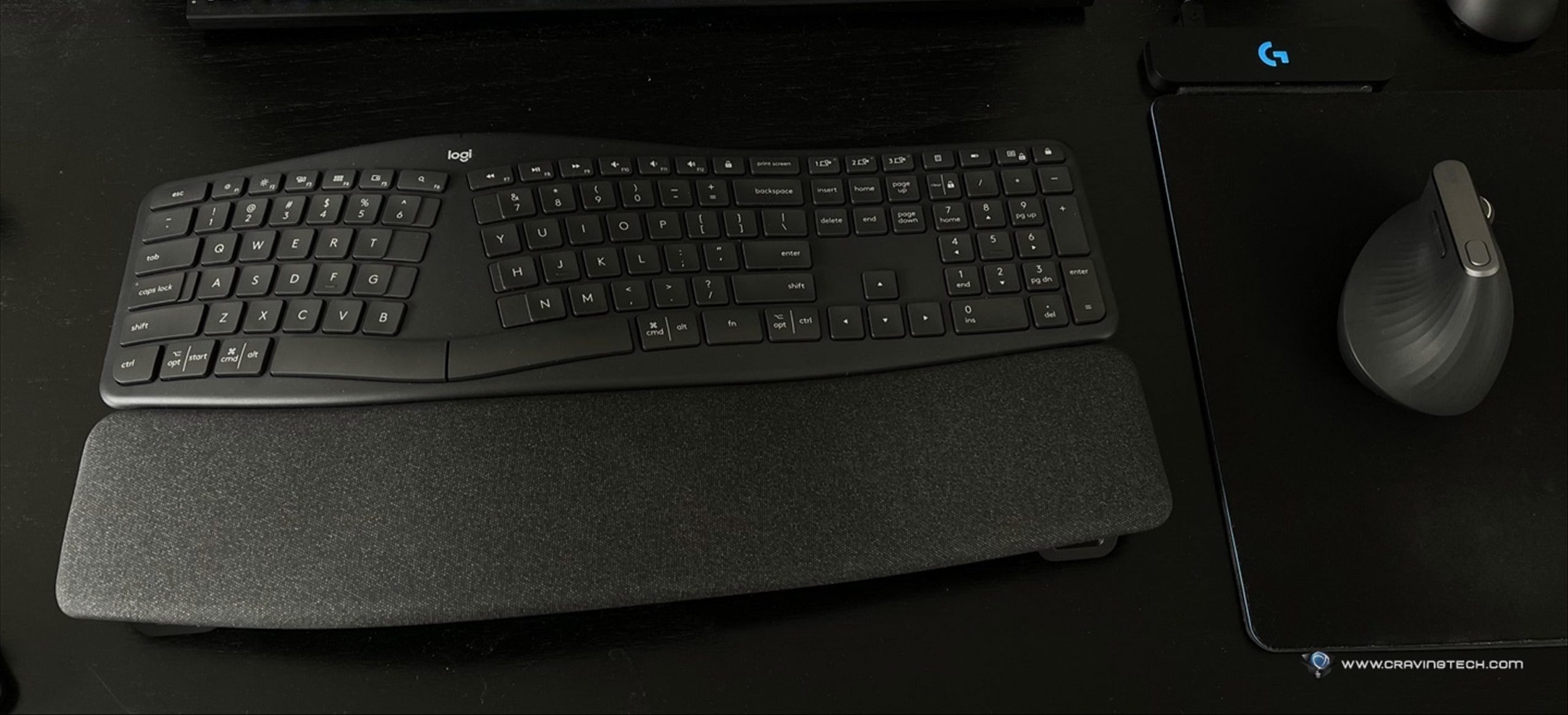 The keyboard is a full keyboard, along with some extra controls (like media controls and brightness – for laptops) and shortcuts using a Function key. You can also change the keys assignment with Logitech Options software. Logitech Ergo K860 also supports Mac and you can see how some keys are labelled for both Windows and Mac users (i.e having the "opt" and "cmd" keys).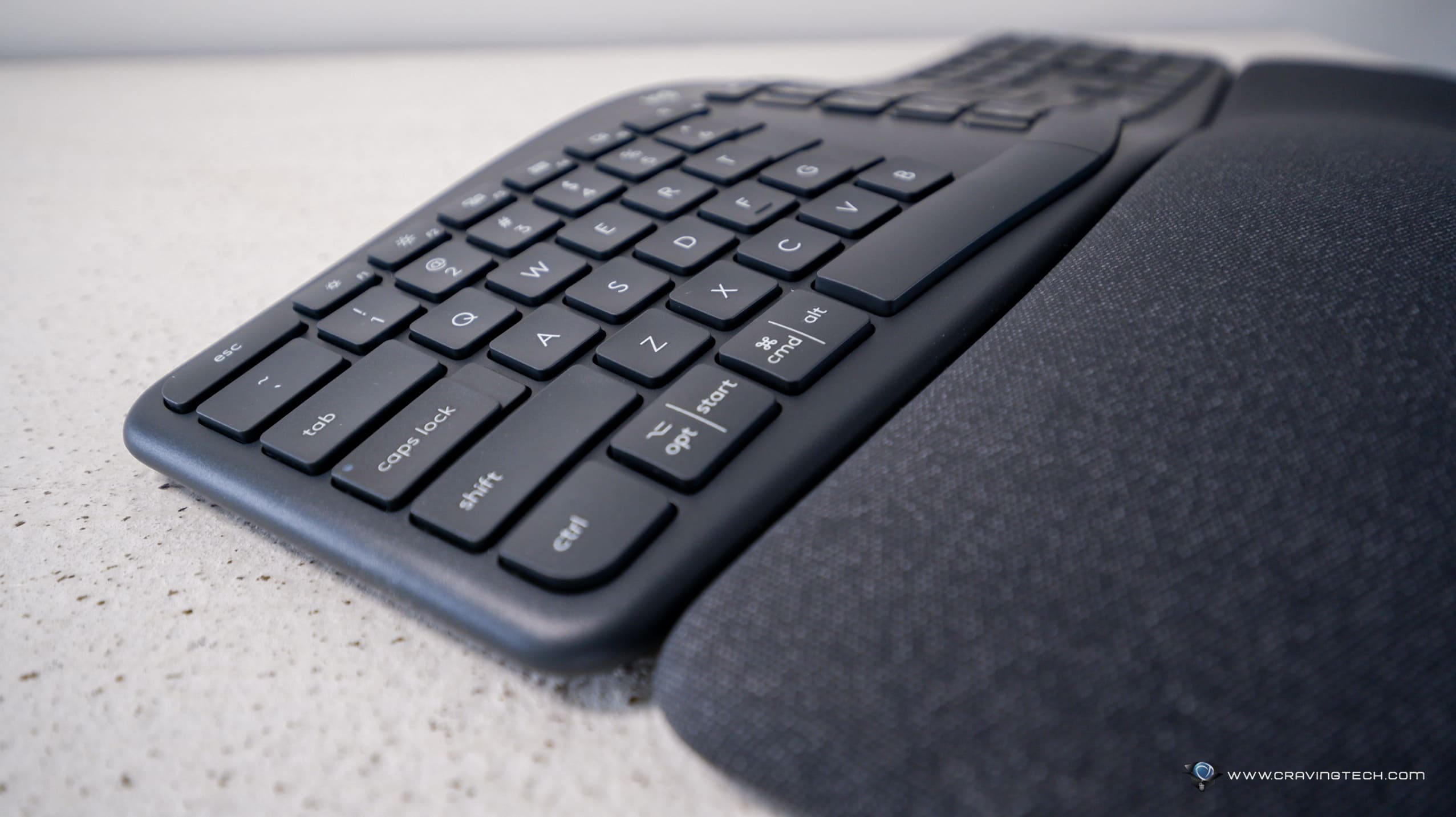 Powered by AAA batteries, there is a small light indicator that will let you know when it's time to replace them. According to Logitech, the keyboard can stay powered for up to two years – which of course, depending upon usage. There are no light indicators for Num/Caps/Scroll locks, but you will see them displayed on the screen (assuming you have the Logitech Options installed). And no backlighting either, obviously to save battery life.
The keys are membrane, so if you are used to typing on mechanical keyboards, it may take some time to get used to. I personally prefer typing with mechanical switches (with SteelSeries Apex Pro offering the best experience so far), but I'm also used to working on membrane keyboards. Testing at TypingTest.com (1 minute, medium text), I could get 115 WPM (Words Per Minute) on the Ergo K860.
Logitech Ergo K860 Ergonomic Keyboard Review Conclusion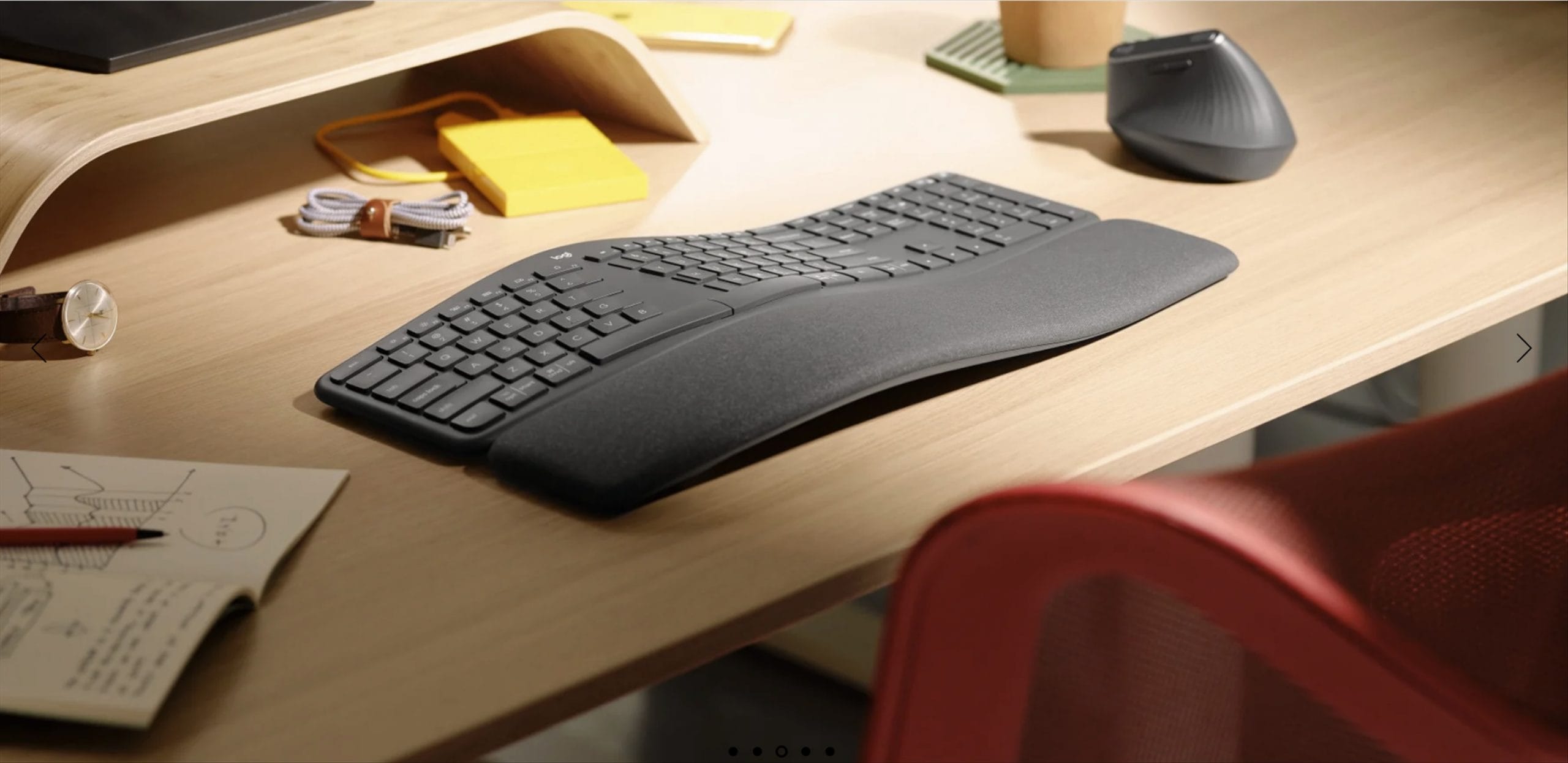 Logitech Ergo K860 is a modern take on ergonomic keyboards, with support for multi-devices connection via wireless and Bluetooth, programmable keys, and support standing desks setup. If you work with numbers a lot, you'll appreciate that numpad is included with the keyboard but if you don't, you'd probably wish that there is a TKL version (i.e without the numpad) for the better ergonomic position.
The keyboard looks and feels modern, and most importantly, reduces strain on my wrists, forearms, and shoulders when typing, thanks to the curved design. The keys are angled and placed at the right position for the most natural typing experience.
Logitech Ergo K860 retails for A$229.95 and can be purchased at Logitech's website and retailers around Australia. Also available at Amazon.com
Disclosure: Logitech Ergo K860 review sample was supplied for reviewing
Summary
Logitech's latest ergonomic keyboard supports working on standing desks, along with modern features
Pros
Looks modern and elegant
Great ergonomics for typing
Multiple tilt angles, great support for standing desks
Can connect to three devices and switch between them with just a button press
Comfortable wrist rest
Very good battery life
Some keys are programmable
Numpad is a blessing for entering numbers in spreadsheets, etc
Cons
Numpad is a curse for true ergonomists
No backlighting option