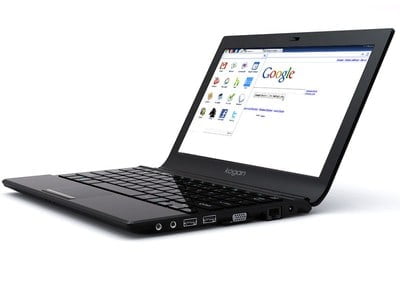 Now that Google's Chromium Operating System has officially been launched, third-party laptops powered by Google's Chromium OS have started being manufactured. Kogan, an Australian based company, was proud to launch world's first laptop powered by the Google's OS ready to be purchased and shipped on the market (for Australia and United Kingdom customers)! Who says Australian is always the last to get new innovative products?
The Kogan Agora is powered with Intel Celeron 1.30 GHz, a 30 GB SSD (Solid State Drive), and 1 GB of DDR2 RAM.
I haven't been reading much on Google's Chromium OS, probably because the fact that you have to always be online to use it was a bit of a let down to me. A laptop, in my case, is to be used when I'm travelling (mobile) and as such, may not have an internet connection always available for me. Unless of course if I have a USB internet dongle with me all the time. Although there are lots of benefits by having every thing in the cloud (accessible anywhere, etc), this is not for every one. I do keep most of my documents in my DropBox account and I can definitely see the benefit of using the OS here.

Kogan's Chromium OS laptop, Kogan Agora, is ready to be dispatched and you can even own your first Google's Chromium OS powered laptop by next week and brag about it! The price of the laptop is AUD 349 in Australia and £269 in the United Kingdom
Kogan Agora Chromium Laptop – Australia | Kogan Agora Chromium Laptop – United Kingdom