Just got an email from my contact at Microsoft's PR agency today and it has a link to a video about Windows 8's interface and all that! Some of you may have already seen this everywhere on the net today but if you haven't, this is a good chance to do so.
The demo shows a lovely new interface on top of the usual Windows interface we've been seeing for the past years. Also introducing the power of Windows 8 apps and the fluidity of Windows 8 engine.
The demo shows Windows 8 user-friendliness for touch screen based devices (either on small or large screens) and the experience is super smooth. The main tile-based Start screen is full of widgets from the Windows 8 apps where at a glance, you can monitor your email inbox, weather forecast, twitter feed, and other things you can think of (depends on the apps). Switching from one app to another feels so natural and there are lots of cool things you can do to customize the screen at any given time.
This is definitely for those who are comfortable in installing apps and customizing their own Windows experience. I can't really see my mom setting up this tile-based Start screen but I'm sure there will be helpful tutorials for this. I, myself am really excited with this as I can sit there staring at all these information in just one screen (talk about information overload in a good way!). I'll probably fill it with my Facebook feed, Twitter, weather, RSS on some of my favorite sites, shortcut to my favorite games, and many more (let's hope we have lots of great Windows 8 apps to support this).
The regular Windows 7's interface is still there but it's easy to switch in between (not to mention that it's easy to work from one end to the other as demoed in the video).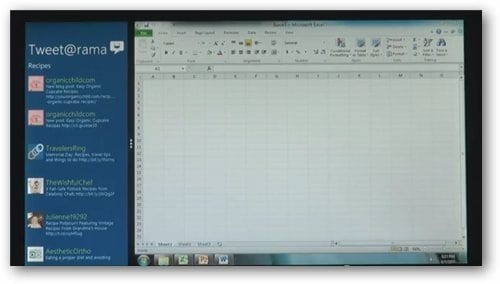 This cool innovation is just around the corner (2012?) so stay tuned for more videos and coverage. I hope I get invited to the Windows 8 press launch next year or at least get a taste of Windows 8 and tell all the goodness here at Craving Tech! Argh..let's just hope there is no delay and that they polish this good.
Okay, I'll better shut up now. Watch the Windows 8 Video below:
Read the official press release about this first coverage on Windows 8 at Microsoft's website