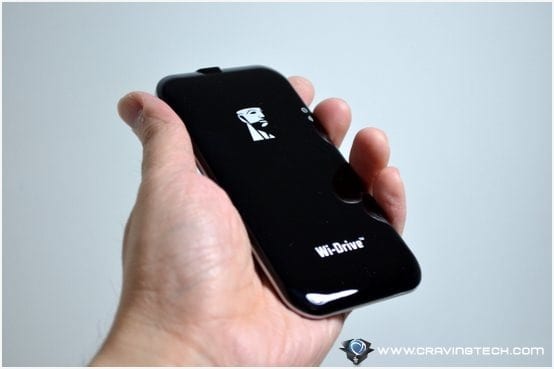 Kingston Wi-Drive Review – If you come from Android devices where storage can mostly be expanded by getting more  memory cards, then you'll pull your hairs out when you migrate to iOS devices (such as the iPhone, iPad, or iPod Touch). Basically, you are stuck with what your device gives you as a storage and there is no way to get more unless if you upgrade your device to a newer one.
Thankfully, Kingston Wi-Drive answers this problem by designing an easy-to-use portable storage device with its own Wi-Fi access point.
Kingston Wi-Drive Review – Packaging
Kingston Wi-Drive has a sleek design  with a glossy black finish which complements the iOS devices design really well. The slim design also makes it highly portable for you to carry around inside your shirt's pocket or inside your bag.
Kingston Wi-Drive is smooth to the touch and doesn't weigh much. Compared to the iPhone 4S, it's actually slimmer in design: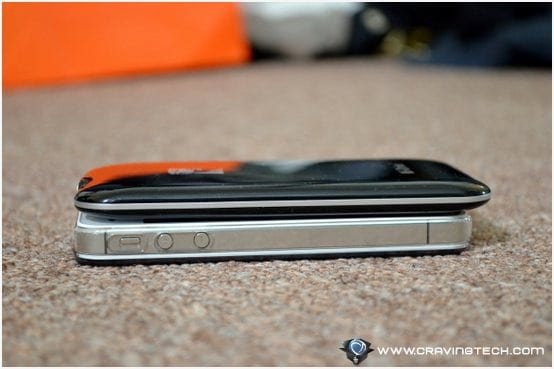 Kingston Wi-Drive Review – Built-in Wi-Fi
Kingston Wi-Drive has its own Wi-Fi access point, which means you can access the device anywhere you are, wirelessly (you don't even have to be on a Wi-Fi network to connect to it). Simply turn Kingston Wi-Drive on and then using your iOS devices such as your iPhone, connect to the device by selecting its Wi-Fi access point on the Settings just like when you want to connect to a particular Wi-Fi network.
It's really simple and straight forward to connect from my iPhone 4S and iPad 2 to the Kingston Wi-Drive. There is also an option for the Wi-Drive to connect to a Wi-Fi point so you can still have access to your internet while you are connected to the Wi-Drive. Smart move.
With Kingston Wi-Drive, you can store more music, videos, documents, or photos as if you are storing them inside your device. Files, unfortunately, have to be copied first using the supplied USB cable from your computer to the Kingston Wi-Drive. Only then you can have access and even download the files inside the drive to your devices through the free-to-download Kingston Wi-Drive app.
If you are worried about people around you peeking into the Wi-Drive, there's a standard password protection that you can enable on the Wi-Drive (WPA/WEP).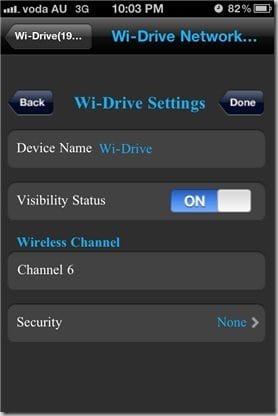 Kingston Wi-Drive Review – Sharing is Caring
One of the highlighted features of the Kingston Wi-Drive is that you can share the contents within to 3 devices at the same time.
Rather than limiting it as a personal portable storage, you can expand its usage for wireless collaboration with your friends, clients, or colleagues. Now of course, the downside is that they all need to install the Kingston Wi-Drive app to their devices first.
Some offices have started to use iPads for doing presentations or meetings, so having a Kingston Wi-Drive is great. Why? Because you only need to store the latest document version inside the Wi-Drive at any given time. During a presentation or meeting, you can then let everyone connects to the device with their own iPads or iPhones to download the latest version. They can even go back and forth between the pages at their own pace, because they are in control.
When we practiced for our Christmas play last year, we had problems where some actors and actresses did not have the latest scripts that they needed to memorise and act on during the practice. If only I had the Kingston Wi-Drive last year, then this wouldn't happen. I could simply bring it to our practice session and let everyone grabbed the latest script. They could then download the files on their phones and used them to practice.
Kingston Wi-Drive Review – Great but not perfect
I overall think the Wi-Drive has a lot of potentials, though it requires just a little bit more to succeed wonderfully. At the moment, it only comes with either 16 GB or 32 GB of storage. I'm pretty sure we'll have more storage though at the expense of a bulkier device but this is not confirmed yet. Only time will tell.
The battery life, according to Kingston, is up to four hours of continuous usage and also rechargeable. There is no battery indicator unfortunately on the Wi-Drive so there is no way of telling how long the battery will last before it shuts itself down.
The drive also tends to get hot after being turned on for a while (even when I didn't stream any media from it).
At the moment, accessing the drive wirelessly is limited to iOS devices (though I've heard an Android app is coming) and only through a USB cable from our computers. If only we can transfer the files wirelessly to the Wi-Drive, then it'd be awesome.
Kingston Wi-Drive Review – Conclusion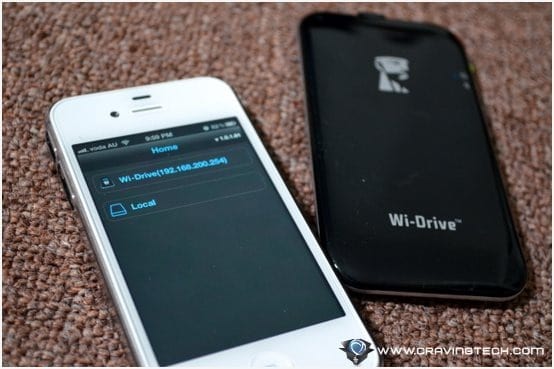 Kingston Wi-Drive smartly expands the storage of your devices while adding some great spices to the mix. It has its own Wireless access point so you can access your photos, documents, videos, music, or any files on the drive without the need to plug it with a cable or connected under home/office/free Wi-Fi point.
It allows up to 3 simultaneous connections from different devices which makes it perfect for some collaborative tasks or simply when you want to share your holiday photos to your friends easily. Files can also be stored into the "local" storage through the application, meaning you can practically collaborate with more than 3 people, looking at the same document together.
Though there are a few quirks that I wish it has, depends on what you plan to use the Kingston Wi-Drive for, this might be another must-to-carry device on your list.
Note: Kingston Wi-Drive review sample was provided for the review
Kingston Wi-Drive Review – Pros
+ Sleek and elegant design
+ Slim and lightweight
+ Has built-in Wi-Fi
+ Allows devices to connect simultaneously
+ Share files wirelessly with a free app
+ Files can be downloaded and stored locally through the app
+ Can be used as a media backup
+ Rechargeable
+ Easy to use
Kingston Wi-Drive Review – Cons
– Must install app to access the files
– Gets hot after a short period of time
– No battery indicator
– Must connect with a USB to store files into the drive