Kingston HyperX Alloy FPS Review – HyperX Alloy FPS mechanical Gaming keyboard from Kingston is built compact, with a width of only 441.65 mm and height of 35.59 mm is just what I need for my slim desk. It also gives me more room for mouse movements, which I need since I play mostly FPS games (currently playing overwatch, if you're not into it, you're missing out).
The Keyboard weighs just above 1 Kg which is pretty heavy for a keyboard (I was used to using standard office keyboard that are made of plastic, I'm not weak!) Some may consider this a negative, but I love it. It makes the keyboard that much more stable, resistant to jerks (especially during intense moments in gaming).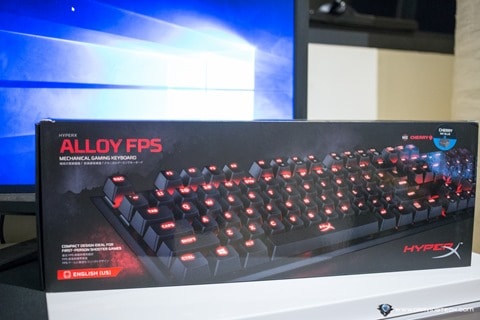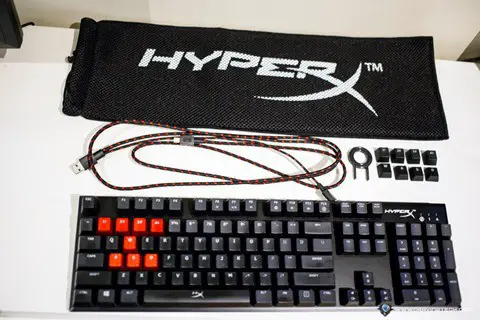 HyperX Alloy comes with a detachable braided cable as well as a travel pouch. The fact that the cable is detachable makes the keyboard that much easier to pack and store away if needed, and reduces the need to roll the cable around the keyboard when moving around reducing the risk of cable damage. The pouch is convenient for carrying the keyboard around for LAN parties or gaming tournaments, offering additional protection as it is padded.
Kingston HyperX Alloy FPS Review – Typing and Keys
HyperX Alloy FPS keyboard features Cherry® MX mechanical keys (Blue). It is one of the louder switches which I prefer. I would consider myself a heavy typer, and the Cherry MX blue switch is perfect for what I need. Some may not prefer the loud click with every key stroke, but I like it since it provides audible confirmation as well as tactile feedback that I have indeed pressed the key.
The keyboard also has a game mode with 100% Anti-Ghosting and full N-Key rollover which really help with mobility in FPS games (as the name suggest, this keyboard is very suitable for FPS gamers). It definitely helps increase the fluidity of the character movement for quick zig-zagging or for close combat where maneuverability means life or death in most FPS games.
HyperX Alloy FPS boasts 50 million keystrokes reliability per switch. This keyboard will outlast my PC and may even outlast me. This alone makes the price reasonable considering it will last as long as you want to keep using it.
Kingston HyperX Alloy FPS Review – Lighting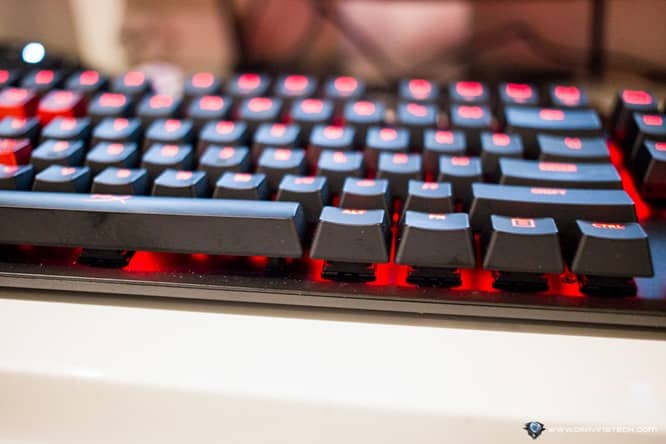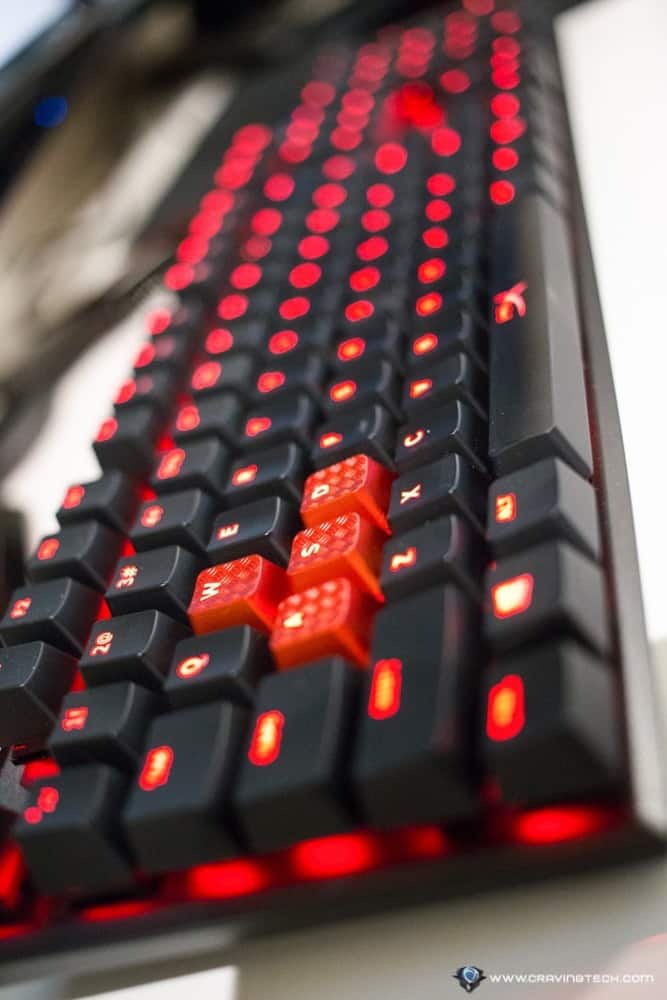 HyperX Alloy FPS red backlit keys comes with 6 preset LED modes which I enjoy immensely (my first ever backlit keyboard). The brightness can also be adjusted to your preference. To change the presets and brightness press the FN key and up/down/left/right arrow. There are however other keyboards in the market which features more backlight customization.
Kingston HyperX Alloy FPS Review –Miscellaneous
The keyboard comes with colored textured keycaps for the common FPS keys. This is my first ever customizable keyboard and was very excited to replace the keys with the textured keycaps. The process was so easy as the keyboard comes with a keycap removal tool (no more shall we use toothpicks to remove keycaps).
There is also a USB charging port for mobile phones so you do not need to worry about your mobile phones running out of battery while playing as well as being able to keep your phone close to you.
Kingston HyperX Alloy FPS Review – Conclusion
HyperX Alloy FPS is a great mechanical gaming keyboard and definitely worth getting if you have never used a mechanical keyboard before. It is able to compete with other top of the range gaming keyboards that are out on the market right now, only losing out in the lighting features (only red backlit and not RGB) which to be honest, is negligible.
HyperX Alloy FPS mechanical gaming keyboard is available now in Australia with an RRP of $169 AUD.
HyperX Alloy FPS Pros
+ Compact, giving more room for mouse movements
+ Great typing experience
+ Solid and sturdy build
+ High mobility (pouch and detachable cable)
HyperX Alloy FPS Cons
– May be too loud for some
– Lighting is not as cool as others on the market.