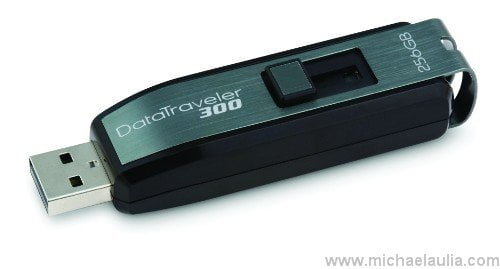 So you think that having a 4 GB tiny drive inside your pocket is more than enough? How about a 256 GB? Kingston Technology Company Inc announced the launch of the world's first 256 GB USB flash drive, the Kingston Technology DataTraveler 300. You can now store thousands of images (and maybe tens of thousands of documents?) easily in a tiny device attached to your house keys or inside your pocket.
The Kingston Data Traveler 300 is not all about space though. It also claims to have a quick transfer rate, something that is rare to find on those cheap flash drive with plenty of space within.
Having the ability to carry over 51,000 images* or a paper tower 1346 metres** tall in such a small format, demonstrates how far flash technology has developed," said Vaughan Nankivell, Regional Manager- Australia and New Zealand for Kingston Technology. "Users can also safeguard their data by initializing the Password Traveler software which will allow business users and consumers to password protect their data in a privacy zone without the need of administrator rights.
Kingston 256 GB Data Traveler USB Flash Drive Specifications
Capacity***: 256 GB
Speed**** – Data transfer rates of up to 20 MB/sec. read and 10 MB/sec. write
Safeguarded — Includes Password Traveler security software for Windows
Convenient — Does not require Administrator rights to access the Privacy Zone
Dimensions — 2.78" x 0.67" x 0.87" (70.68 mm x 16.90 mm x 21.99 mm)
Operating Temperature — 32° to 140° F (0° to 60° C)
Storage Temperature — -4° to 185° F (-20° to 85° C)
Simple — Just plug into a USB port
Practical — Durable, capless design
Guaranteed — Five-year warranty
Enhanced — For Windows ReadyBoost on Vista-based systems*****
* Approximate number of standard JEG pictures at 10 Megapixels. JPEG file sizes vary based upon camera model and default settings, as well as user-selected resolution and compression mode settings.
**Approximate number. Based on 500 sheets creates a pile approximately 5cm tall.
*** Some of the listed capacity is used for formatting and other functions and thus is not available for data storage. For more information, please consult Kingston Technology's Flash Memory Guide at Kingston.com/Flash_Memory_Guide.
These don't come cheap though. RRP at AU$1,2999, you might as well buy 10x 1TB harddrive and carry them around :D
Source: Kingston press release, Sydney, 22nd July 2009