Kamvas Pro 13 (2.5K) Review – Kamvas Pro 13 is a stunning, well-made pen display from Huion. Unlike a tablet though, you need to connect it to a computer (PC/Mac) or devices like Android in order for it to work. So unlike a tablet, you can't just turn it on and start drawing straight on it with built-in apps. It doesn't have its own operating system or app stores, so it relies heavily for you to plug it to another device. Think of it as an extra monitor that you can actually draw on directly.
You can use the included USB-C cable to plug to your laptop or PC for example, and the pen display will mimic whatever is displayed on your computer. The apps will be installed in your computer but you can interact with the pen display using the included pen, helping you tremendously to draw, sketch, and paint.
Kamvas Pro 13 (2.5K) Review – Unboxing and Packaging Contents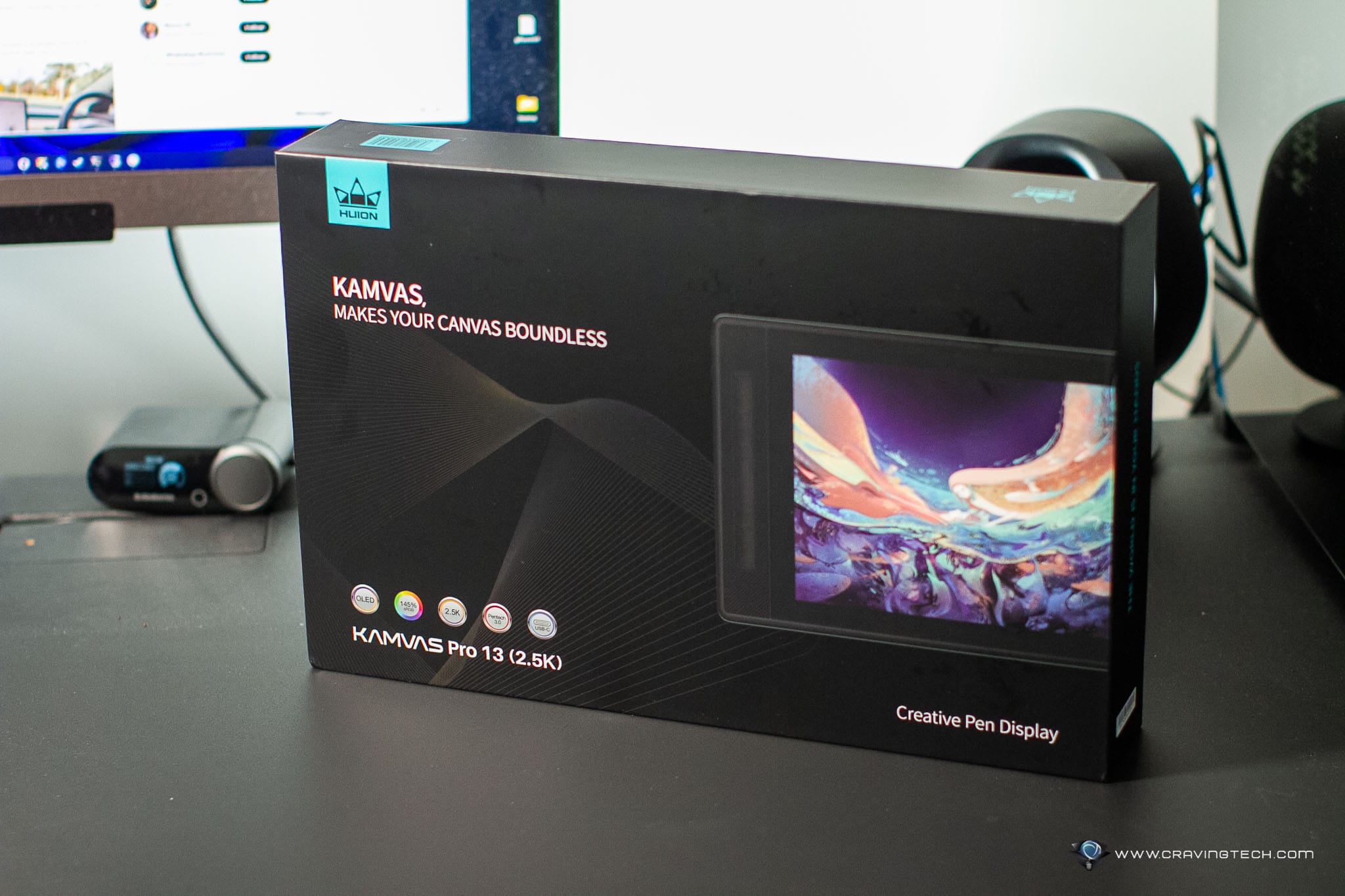 Huion includes a lot of things here, including all kinds of cables, the pen, glove, extra nibs for the pen, even a useful stand so you can have a variety of ways and angles to work on. If you don't need it, you can always lay it flat on the desk. I do wish the included USB-C cable can be longer (though there is an extension included, there is only one) and also, no USB-C charger is included – which is required to power the Kamvas Pro 13. You either have to have your own USB-C charger, or a powerboard with USB-C ports that have enough power for the device.
I'm using this mophie speedport 120 and plug the cable to its 12W USB-A output and that seems to work fine. I believe the recommended wattage to power it is 10W.
Kamvas Pro 13 (2.5K) Review – Design and Features
So with it being wired and weighs 1kg, it's definitely not your regular tablet that you can just put on your lap to draw stuff. It's more suited for graphic designers, photographers, or artists who normally work on their PC/Mac/Laptop/MacBook on the desk, and requires something to elevate their experience and productivity.
Its 13-inch is a good size to work on and it's also an IPS screen with 2.5K (QHD+) resolution with crisp and vivid display. The moment I turned the pen display on, I got amazed at how bright and clear the display is. It also doesn't require anything to install and set up, apart from hooking the cables up to power and my laptop. According to Huion, the Kamvas Pro 13 has 145% sRGB wide colour gamut, 1200:1 contrast ratio, and 16.7 millions of display colours for vibrant pictures.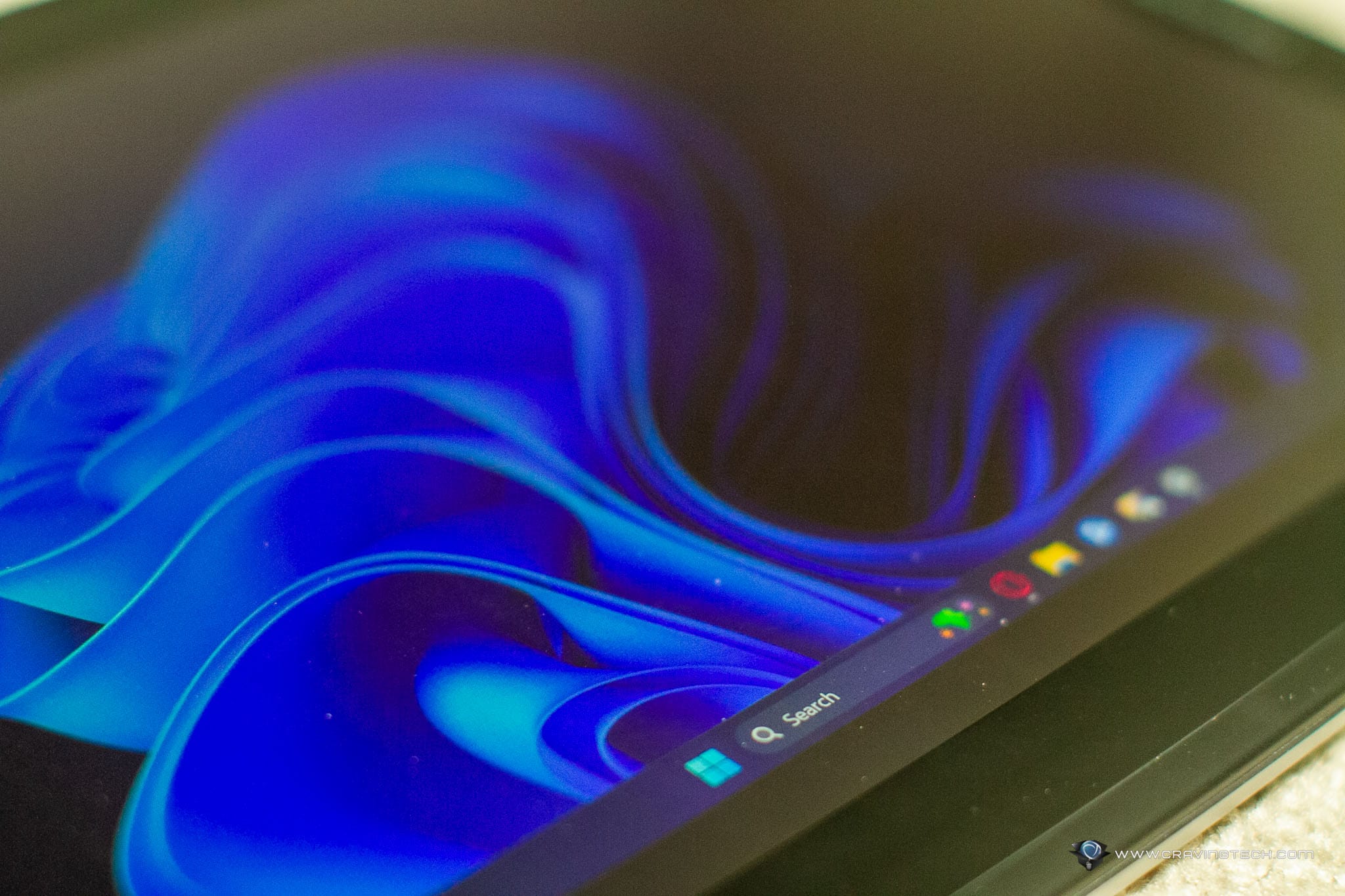 Plus, the screen has an anti-glare glass which reduces reflection so you can use it in different angles and can really focus on what you draw/sketch than having to see your own reflections on the screen – which can be annoying to work with.
So far I've been very pleased while using the Kamvas Pro 13 as the screen is really bright and vibrant, plus everything feels smooth and responsive too – which is really important when you are designing or working on your art.
The included wireless pen requires no battery to operate and its PenTech technology has been perfected to ensure precision of cursor position, delivering accuracy and smooth writing/drawing experience.
There are seven buttons on the Kamvas Pro 13 itself that can be customised and they can be used to quickly change the brush size – which I find really useful when I tested it with Krita, a free and open source painting program.
While a glove is included, I find it unnecessary but you may actually like it. The pen display itself already has palm rejection so I have no issue resting my palm on the screen while drawing sketches away.
Kamvas Pro 13 (2.5K) Review Conclusion
I'm quite impressed with how smooth the experience is with the Kamvas Pro 13 and the included pen. The display is vivid and bright, and the drawing/sketching experience with the pen is lag-free and smooth. It is also affordable so if you are just starting to explore your artistic side, the Kamvas Pro 13 makes a good, first, starting pen display.
Kamvas Pro 13 (2.5K) retails for $399 and can be purchased at Huion website or Amazon.com
Disclosure: Kamvas Pro 13 (2.5K) review sample was supplied for reviewing
Kamvas Pro 13 (2.5K) Review
Summary
An impressive pen display with vivid display and smooth, responsive experience
Pros
Well built, well designed
Bright, vivid display
Smooth, responsive, lightweight pen
Lots of things included in the packaging
Support PC, Mac, and Android devices
Cons
Wish the cables are longer
No USB-C power adapter included