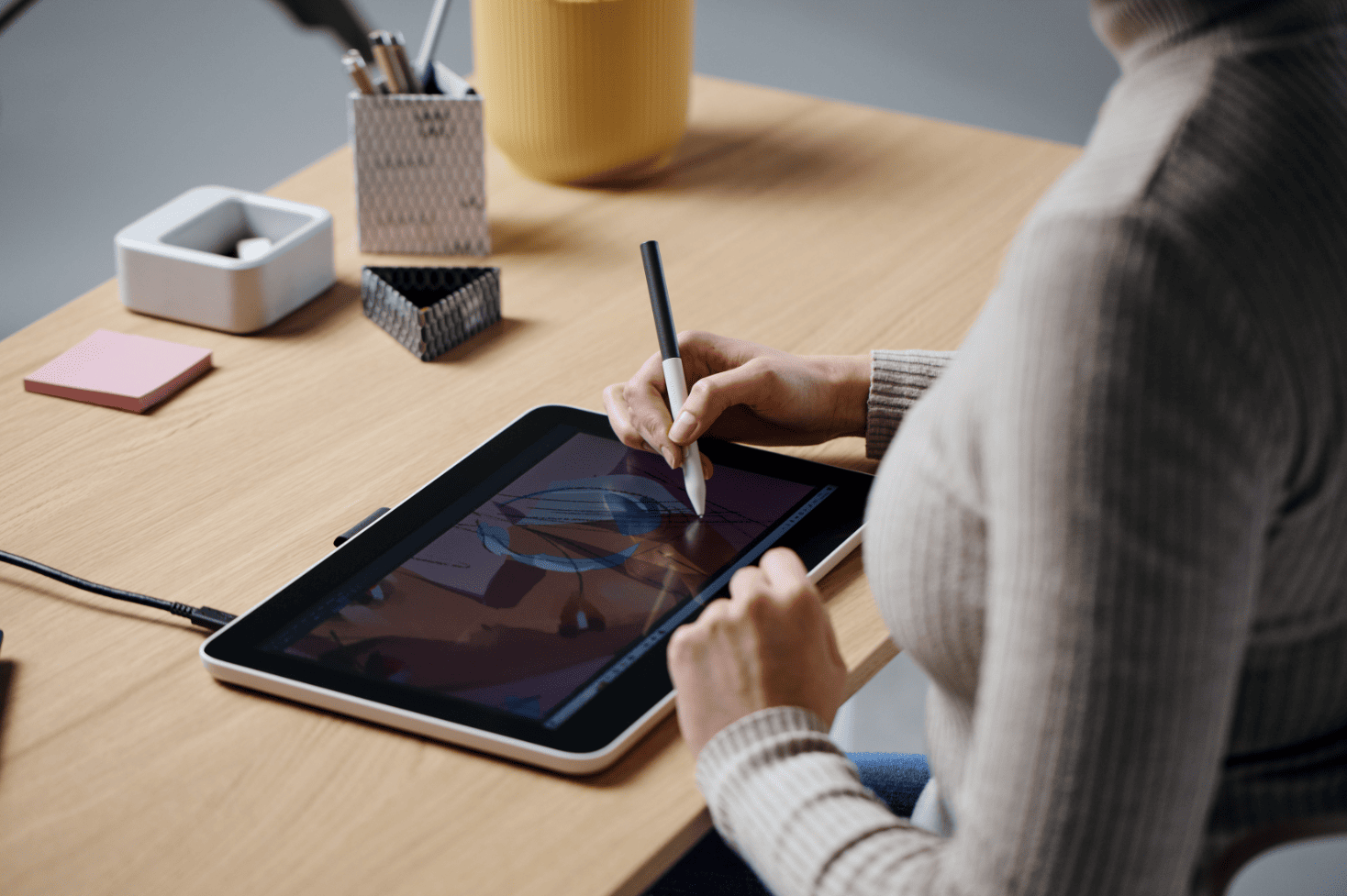 Note: This is a guest post written by Lucius Jacobs – In a world where technology and creativity rapidly converge, digital drawing has emerged as a captivating avenue built to offer limitless potential for creativity and artistic expression.
Whether you're a curious beginner or a seasoned artist looking to expand your craft into the digital realm, this guide will help you on the path to everything you need to know as you 'go digital' in your creative journey. 
Ready for digital drawing? Let's talk about the tools.
So, you've got options: drawing tablet or pen display. But what's the difference? 
Drawing Tablets: Imagine sketching or drawing on a responsive pad—it's like magic.
Pen Displays: These nifty tools let you create right on your screen using a digital pen.
Both come in different sizes. Smaller tablets are easily portable without sacrificing quality. Medium ones strike a balance between size and workspace. And if you want tonnes of room for your creativity to roam free, larger tablets are your best bet.
And if you're already thinking, 'This sounds way too expensive and totally out of my budget range,' – let's settle those nerves.
Industry leaders like Wacom are revolutionising accessibility to the world of digital art by expanding their product range to suit your needs and your budget. 
Just launched, the Wacom One Product family offers the feature-dense Wacom One 13 touch pen display Standard model at $999 but also the budget-friendly and highly-function Wacom One S at just $149.
By creating high-quality tools available to artists and enthusiasts at various price points, we love that brands are delivering on the promise that everyone, regardless of such constraints, can unleash their artistic potential and explore the limitless possibilities of the digital canvas. 
Sometimes, all your journey needs is a Kickstart 
For creative beginners and productivity seekers, if you're looking for the perfect entry point into digital art- creative programs are your best bet. 
Programs like the Wacom Kickstarter Program help you find a confident footing at a self-guided pace that suits your style and what you're trying to achieve. 
You'll feel prepared with software titles suited for creative and non-creative pursuits. You'll be amazed at your progress as you soak in knowledge through professionally-led, interactive videos and tutorials. In addition, you'll have access to an exciting series of regularly refreshed, inspirational content and fun activities to support you along your journey. 
It's time to play with your digital tools!
Developing and perfecting any skill isn't something that happens overnight. It takes practice, effort, and, most importantly – consistency. 
To reach your desired skill level as a digital artist, you'll want to start with the basics. Drawing things like human faces, objects, and simple shapes lays the groundwork. From there, you can explore character design, cartoons, anime art, or whatever style speaks to you.
Experiment with various brushes, tools, and techniques available on your digital tablet to find what suits your style and preferences. Explore digital art communities, online tutorials and drawing programs, as they can provide valuable insights and inspiration. 
Acquaint yourself with your digital pen; consider it your new artistic buddy. It may seem similar to your traditional mouse, but it offers a unique experience by emulating the natural feel of drawing on paper or canvas.
Finding the ideal grip for your digital pen is crucial for comfortable and precise drawing. While it needn't replicate a traditional pen grip precisely, aim for a natural and comfortable hold that minimises strain during long sessions.
Patience is key when transitioning to digital drawing. Expect a learning curve, as it may take a drawing or two before you feel more comfortable and confident with your new creative tool. Don't be disheartened by initial challenges; they are a natural part of the learning process. 
So, why go digital?
Unlimited experimentation with mediums, increased routes for more engaging collaboration, quick experimentation, non-destructive editing, effective file management…You see what we're getting at, right? If you're a hobby artist or perhaps this is your profession, Digital Art does not dismantle your craft and skills but enhances it. 
For parents, digital art also offers the benefits of a mess-free and eco-friendly digital space. And whether it's for school projects, graphic design, or just pure artistic expression, Digital tablets are the modern, versatile choice that fuels imagination; equipping students and children with the essential skills for a tech-savvy future.
Brands at the forefront of innovation
The latest Wacom One range has truly redefined what's possible in the world of digital art, setting an unparalleled standard in the market. 
The Wacom One 13 touch is the first pen display in the 'compact entry-level category' to introduce 10-finger multi-touch gestures, offering users an entirely new dimension of intuitive interaction and creative control. Boasting 4K pressure sensitivity and tilt support,  the Wacom One S and M pen tablets allow users to achieve intricate calligraphy effects with precision and finesse. The customisable pen, featuring dual side switches and a variety of colour options, not only enhances productivity but also reflects personal style.
What truly distinguishes the Wacom One range is the shared Wacom UD pen technology, allowing seamless use of the same pen across the series while ensuring compatibility with Wacom-enabled pens from globally renowned stationery brands, such as Staedtler (for Wacom One displays), LAMY, and Dr. Grip—an industry first in the pen tablet segment.
Other features we love is the slim, lightweight, and compact design of the entire range—measuring just 11.5mm thick for displays and 7.9mm thick for tablets—making the entire Wacom One series an exceptionally mobile and portable solution for artists and creatives, and ensures that inspiration can be captured and expressed wherever it strikes.
What tools are we loving?
Here are the digital drawing tools we're currently LOVING: 
Newbies – Wacom One S Pen Tablet (Standard Model: $149)
Intermediate – Huion Kamvas Pro 16 ($499)
Pros – Wacom One 13 touch Pen Display (Standard model: $999)  
So there you have it, your entry into the captivating world of digital drawing. Unleash your creativity and have a blast!