Note: This is a guest post written by Jeeva Shanmugam. You can reach him on Instagram, X, or email –All eyes in the tech community were on Cupertino, California on September 12, 2023 as Apple unveiled its much awaited annual event, "Wonderlust."
The iPhone 15 series, which significantly switches to USB-C connectivity, the Apple Watch Series 9, which has enhanced performance and health features, and the powerful Apple Watch Ultra 2, which has a longer battery life, were all unveiled at this event.  Let's dive into the details of each product.
Everything Announced at the Apple Wanderlust Event – September 12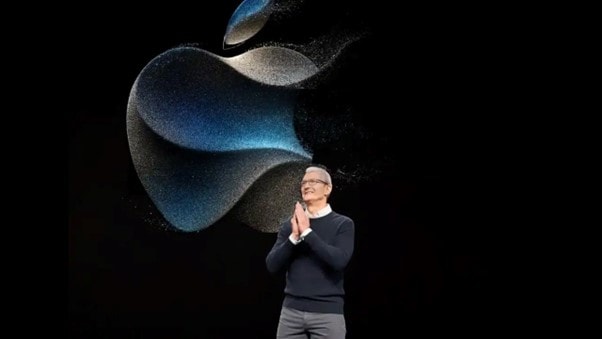 AirPods also got a significant upgrade with USB-C charging and improved sound quality. In preparation for a revolutionary year in technology,  Apple also revealed the launch dates for its software updates, including iOS 17, iPadOS 17, tvOS 17, watchOS 10, and macOS Sonoma. Here are the details.
iPhone 15 and iPhone 15 Plus
Apple recently released the iPhone 15, a new smartphone with a variety of intriguing new features. It boasts a faster A16 Bionic chip, a USB-C connection in place of the outdated Lightning port, and an upgraded camera system with a 48MP primary sensor.
Additionally, it features improved satellite connectivity so that you can maintain connectivity even in isolated regions. There will be five color options for the iPhone 15: pink, yellow, green, blue, and black. It costs $799 to buy.
iPhone 15 Pro and iPhone 15 Pro Max
Here are a few of the distinguishing qualities of the iPhone 15:
The innovatively upgraded iPhone 15 Pro and Pro Max have been made official by Apple. Thanks to the usage of titanium, these are the smallest and toughest iPhone Pro models to date. An immersive viewing experience is offered by the borderless screens, and Apple places a high value on repairability for sustainability.
The Action button, which offers simplicity for numerous tasks, is a notable feature. The cutting-edge A17 Pro CPU, which has outstanding performance and graphics capabilities, powers these iPhones.
The Pro Max variant has a 5x telephoto zoom lens for superb clarity, and the camera system contains a 48MP sensor for 3D spatial films.
High-end technology is affordable thanks to the iPhone 15 Pro's starting price of $999 and the bigger Pro Max model's price of $1,199.
Apple Watch Series 9
The most recent addition to Apple's wearable technology collection is the Apple Watch Series 9, which was just revealed. There are several noticeable improvements, however it's not a great step up from the Series 8:
Performance Improvement: The new S9 chip in the Series 9 is 30% faster than the S8 chip. This results in speedier responses from Siri and improved app and game performance.
Display Brightness: The watch's display is more vibrant and can reach 2,000 nits. This lessens eye strain and makes it simpler to use in direct sunshine.
Double Tap Gesture: The "Double Tap" gesture is a great new feature that makes the watch more usable by enabling users to access basic app operations by double-tapping their thumb and index finger.
Better Performance: The four-core neural engine in the S9 processor speeds up machine learning processes, enabling more sophisticated health and fitness features and enhancing Siri's functionality.
Improved Find My iPhone: The second-generation ultra-wideband processor increases the Find My iPhone feature's precision, making it simpler to find your handset whether it is misplaced at home or in a crowded area.
Better outside Use: No matter the illumination, the enhanced display makes it possible to view vital information without squinting when engaging in outside activities.
The price for the GPS model is $399, while the price for the cellular model is $499. Pre-orders can be placed now, and it will be delivered on September 22.
Apple Watch Ultra 2
With the new Apple Watch Ultra 2, Apple is setting the bar for wearable technology. The fantastic features of the prior model are retained and expanded upon in this watch. The Ultra 2 is quick and responsive thanks to its potent S9 SiP microprocessor.
Even in direct sunlight, the display is quite bright and legible. Additionally, it automatically adapts for dim illumination. You may use the device for up to 36 hours and spend 72 hours in low power mode thanks to increased battery life.
With a titanium case, the watch is durable and suitable for swimming. Blood oxygen and blood pressure sensors, an ECG app, and heart rate monitoring are among the health and fitness features. Both your exercise and sleep are tracked.
Additionally, it serves as a hub for communication, enabling calls, texts, and app use from your wrist. Pre-orders for the Apple Watch Ultra 2 with prices starting at $799 are now available. Shipping will begin on September 22.
Apple Next Gen Software Line-Ups
For its products, Apple is providing software upgrades. On September 18, iOS 17 and watchOS 10 will be available for iPhone and Apple Watch. That day also sees the release of tvOS 17 and iPadOS 17, while macOS Sonoma debuts on September 26.
The updated Messages app, improved FaceTime, battery-saving StandBy mode, and interactive widgets are all part of iOS 17. NameDrop makes it simple to share contacts.
Improved cellular connectivity, emergency call waypoints, a new compass with elevation, and enterprise capabilities for companies are all part of WatchOS 10.
Wrapping It All
In Cupertino, California, at the much awaited "Wonderlust" event, Apple presented a number of innovative devices and software updates. With great camera enhancements and USB-C connectivity, the iPhone 15 series had a noteworthy debut.
A17 Pro-powered and with cutting-edge capabilities, the stylish iPhone 15 Pro and Pro Max also attracted attention. The Apple Watch Ultra 2 raised the standard with increased battery life and comprehensive health features, while the Apple Watch Series 9 provided performance improvements and a brighter display.
Apple also unveiled software updates, such as watchOS 10 and iOS 17, both of which promised exciting upgrades including a redesigned Messages app and improved connectivity. Apple is continuing to push the limits of innovation with these announcements.