JBL Quantum Duo Review – It's quite surprising and relieving at the same time knowing that there is still a market for PC speakers. Most gaming peripheral manufacturers are focusing on gaming headsets but there are times when you just want to chill, or even game without wearing a bulky headset (even if it's lightweight).
JBL Quantum Duo with JBL QuantumSOUND Signature is a powerful, PC Gaming Speakers unit that deserves a place on your gaming desk whether you are going to use it for gaming, music listening, or movie watching.
Packaging
Design & Features
JBL Quantum Duo can't be considered as compact, but it is not wide in dimensions (89mm) that you will surely have no problem having the space next to your monitor. At 2.8kg, it is also a heavy one but you will not be moving them around anyway.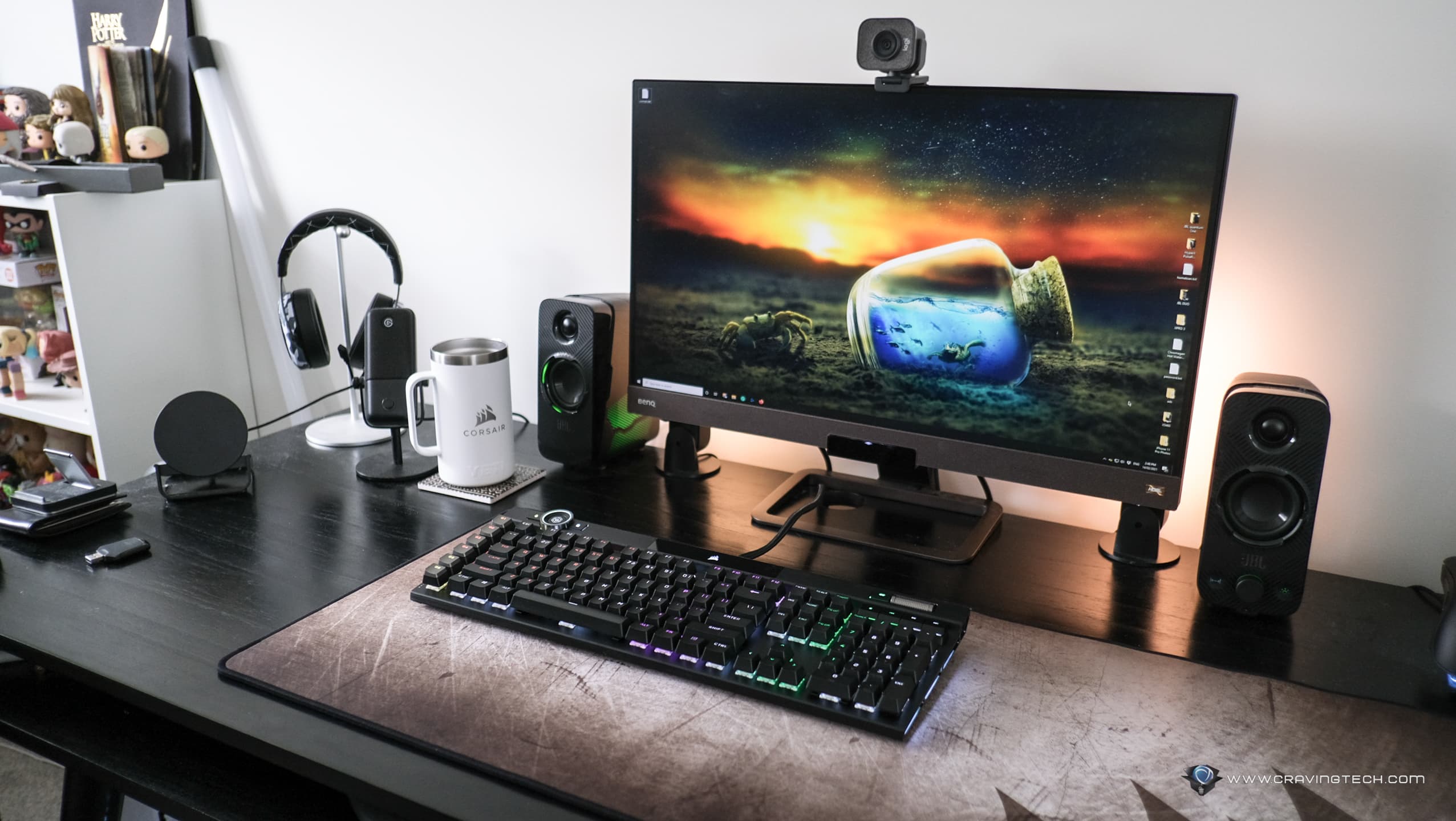 You should be grateful with that weight and bulkiness though, because these speakers pack a punch. Sure, you can probably find slimmer, lighter PC gaming speakers but I assure you that you will be disappointed by the sound quality.
These speakers are powered by 2.5" neodymium drivers and tweeters (2.5″ woofer, 0.75″ tweeter) to deliver a sound curve tuned by JBL audiologists. It doesn't have a dedicated subwoofer but the bass is pretty good and punchy without. Sure, if your ears are used to the rumble of a dedicated subwoofer, you might notice something is missing here. But if not, you will be very pleased with the Quantum Duo.
Connection wise, JBL Quantum Duo supports USB connection (for Desktops, Laptops, Playstation), 3.5mm (Playstation, Xbox, Audio Devices), and also Bluetooth. So, while the JBL Quantum Duo is advertised as PC Gaming Speakers, you can also use it with other devices.
JBL Quantum Duo comes with different colour preset and lighting effects – after all, we gamers love our RGB. The lighting syncs to the audio input as well, which is quite a nice effect. They are also subtle enough that they are not distracting at all while gaming.
All these, including a volume control knob, are easily accessible on the right speaker unit. I do wish that the volume can work in sync with Windows' volume control though. At the moment, the speakers volume can only be controlled by the knob.
And yes, these speakers really pack a punch – which surprised me the moment I turned them on. Remember when I boasted how good the BenQ EX2780Q's built-in treVolo speakers are that I didn't feel a need to have speakers anymore? I guess I was wrong. After using these JBL Quantum Duo for weeks, I now realise my soul longing to hear better audio.
For playing online, competitive games like Overwatch though, I'll still suggest using a headset like the JBL Quantum One. While the sound from the Quantum Duo is good, you still want the most accurate audio positioning coming from a headset, no matter how good a desktop speaker is.
You can, in fact, plug your headset on the JBL Quantum Duo through a 3.5mm though there's no way to plug a microphone cable so this is only for music listening/movie watching purposes.
JBL Quantum Duo Review Conclusion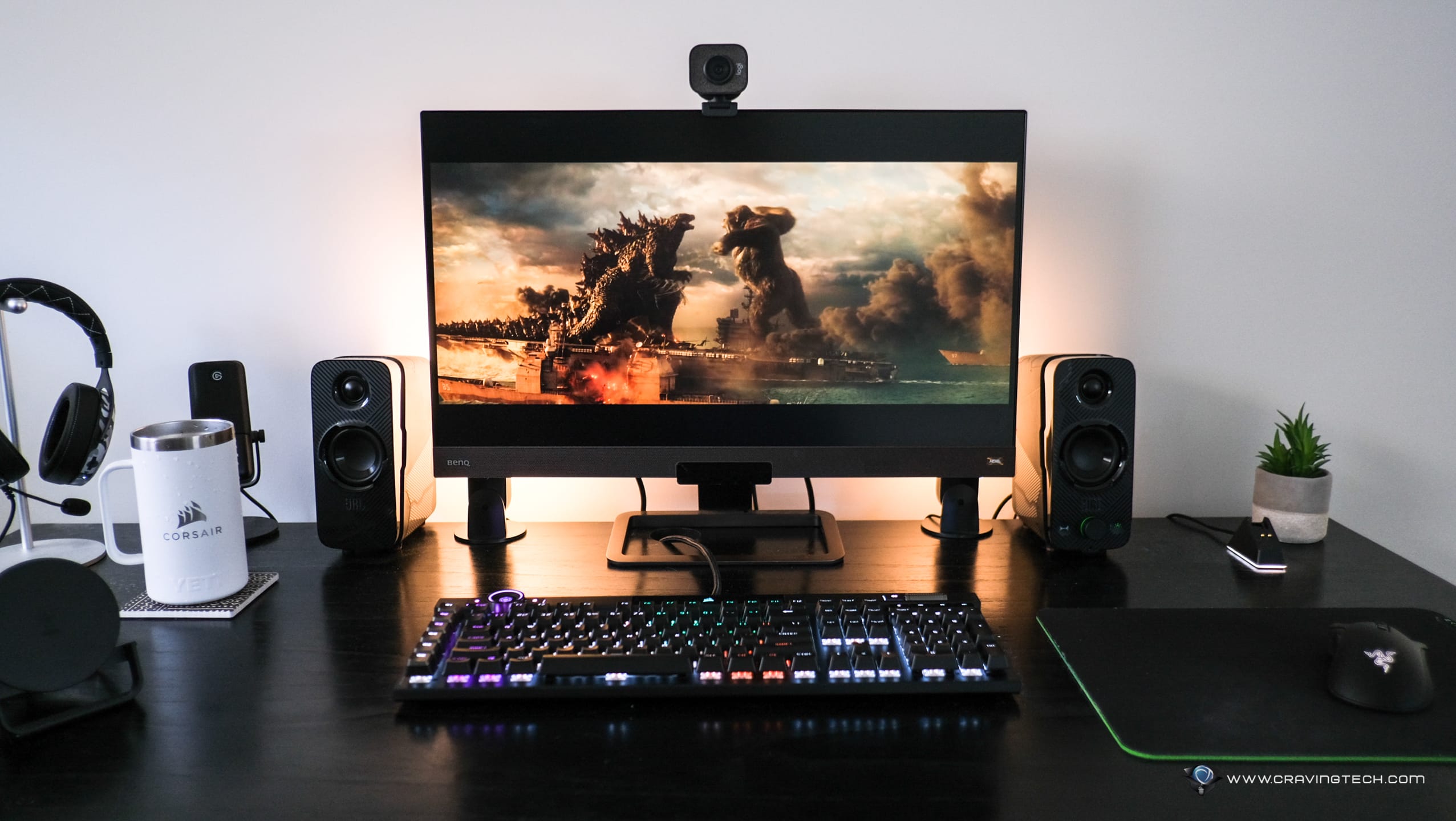 JBL Quantum Duo PC gaming speakers make a perfect companion to your gaming, music listening, and movie watching experience on the desktop.
It supports many different types of connection, a powerful and good audio quality, RGB lighting with different preset and auto-sync with the audio input, and supports surround sound.
There are times where I just want to chill and listen to music while working and these JBL Quantum Duo deliver that satisfying quality. Even without a dedicated subwoofer (which takes space underneath my desk), the built-in 2.5″ woofer feels more than enough to boost that bass.
JBL Quantum Duo retails for AU$249.95 and available now at Bing Lee, Officeworks, On Sports, Harvey Norman, and Big W.
Disclosure: JBL Quantum Duo review sample was supplied for reviewing