JBL Quantum ONE Review – JBL Quantum ONE is definitely a gaming headset aimed for the premium market. With features like Active Noise Cancelling, 3D Sound Positioning, and Hi-Res certified 50mm neodymium drivers, this premium headset retails for A$499.95.
It's definitely not for an average gamer who is looking for under a A$100 or A$150 headset. But if you can pay the premium price, you'll be treated with many goodies for your ears satisfaction and of course, to win games. Note that JBL also has other, less premium headsets in the Quantum series – the JBL Quantum ONE is the flagship in the series.
JBL Quantum ONE Review – Packaging
JBL Quantum ONE Review – Design & Features
JBL Quantum ONE has a thick, bulky design compared to some other gaming headsets like the Razer BlackShark V2. However, this is definitely due to all the goodies inside that the team has to pack. Despite of the rather thick design however, the headset is super comfy and the ear padding is one of the thickest I've seen so far. But at 369 grams, you will still feel it.
The ear cups and the headset frame don't squeeze the head thankfully, and the leather cups also offer a really good passive noise isolation. It's so good that I couldn't even hear a visitor ringing our Ring Video Doorbell Pro while playing. This is without even turning the Active Noise Cancelling on.
Speaking of noise cancelling, yes, the headset has both Active Noise Cancelling and TalkThru, which will lower the audio to a minimum (wish we can adjust this as I prefer to be able to hear both in-game and surroundings like the Jabra Elite 85h) and let you hear + talk to your surroundings without having to take the headset off. Tip: Mom or wife might not be too happy about this gesture though.
All these can be switched on and off through the headset controls, along with many others like volume controls, microphone mute/unmute, ANC/TalkThru, and head tracking center button.
Thanks to its versatility, the headset offers USB Type-C (with USB Type-A to Type-C adapter included) and 3.5mm so you can still use the headset with your other gaming or audio devices. You'll lose the RGB and ANC feature though with 3.5mm but you can connect to your PS4 through USB and still get these premium features.
My house is pretty quiet (there are only my wife and 8-months-old son) so I can't really get a good test of the ANC as I find that the ear cups already give me superior noise isolation. But if you are going to a tournament or gaming on-the-go with a laptop like the GIGABYTE AORUS 15G, you're definitely going to love having the ANC feature.
JBL Quantum ONE Review – Experience
I've tested the Quantum ONE playing Overwatch almost every night and love how accurate the audio positioning is. Not just that, I could hear everything in the game to its tiniest details with good audio separation. And good information definitely win games. I could hear the sound of enemy footsteps even before I could see them – which I could then relay to my team in an instant.
On one occasion, the enemy's Reaper was trying to flank us from behind and taking the high ground. He's certainly up to no good and most likely going to unleash his ultimate ability to my unsuspecting team. I was scanning the backline of my team to make sure that we had no flankers, but I soon heard a Reaper's footsteps and looked up. I managed to finish him off and prevented a possible team wipe.
On another occasion, the enemy's team was pushing to the point that we were defending but I managed to hear an incoming enemy's Soldier 76 going up the stairs. I waited for him to get close (I could hear the steps growing louder on the JBL Quantum ONE headset) and surprised him.
While JBL Quantum ONE is designed for gaming, it is a great headset for music listening and movie watching too. Thanks to the 50mm speaker drivers with Hi-Res certified JBL QuantumSOUND Signature, the audio quality is top notch. It manages to deliver powerful audio with great balance across the channels. If you have acoustic music with great vocals, you'll feel your skin crawls!
The headset itself offers options between 3D Audio with JBL QuantumSPHERE 360, 7.1 Surround, DTS Headphone:X V2, and Stereo. Through the JBL QuantumENGINE software, you can switch between these with ease. Each offers a different experience and sound signature to be used in different settings.
There are lots of things that you can tinker around here to fully customise your personal audio experience, including an equalizer with presets to boost Bass, etc.
And oh, have you ever got annoyed how loud your teammates are on Discord while you are trying to concentrate on hearing where the enemies are in CS:GO or Rainbow Six Siege? Thanks to the Discord-certified Game-Chat balance dial, it is really easy to tone things up and down separately so you can hear things that you want to focus the most. It's also compatible with TeamSpeak, Skype, and other services. Sure, it adds another thing on your desk but if you use Discord often, it is worth the space.
JBL Quantum ONE Review Conclusion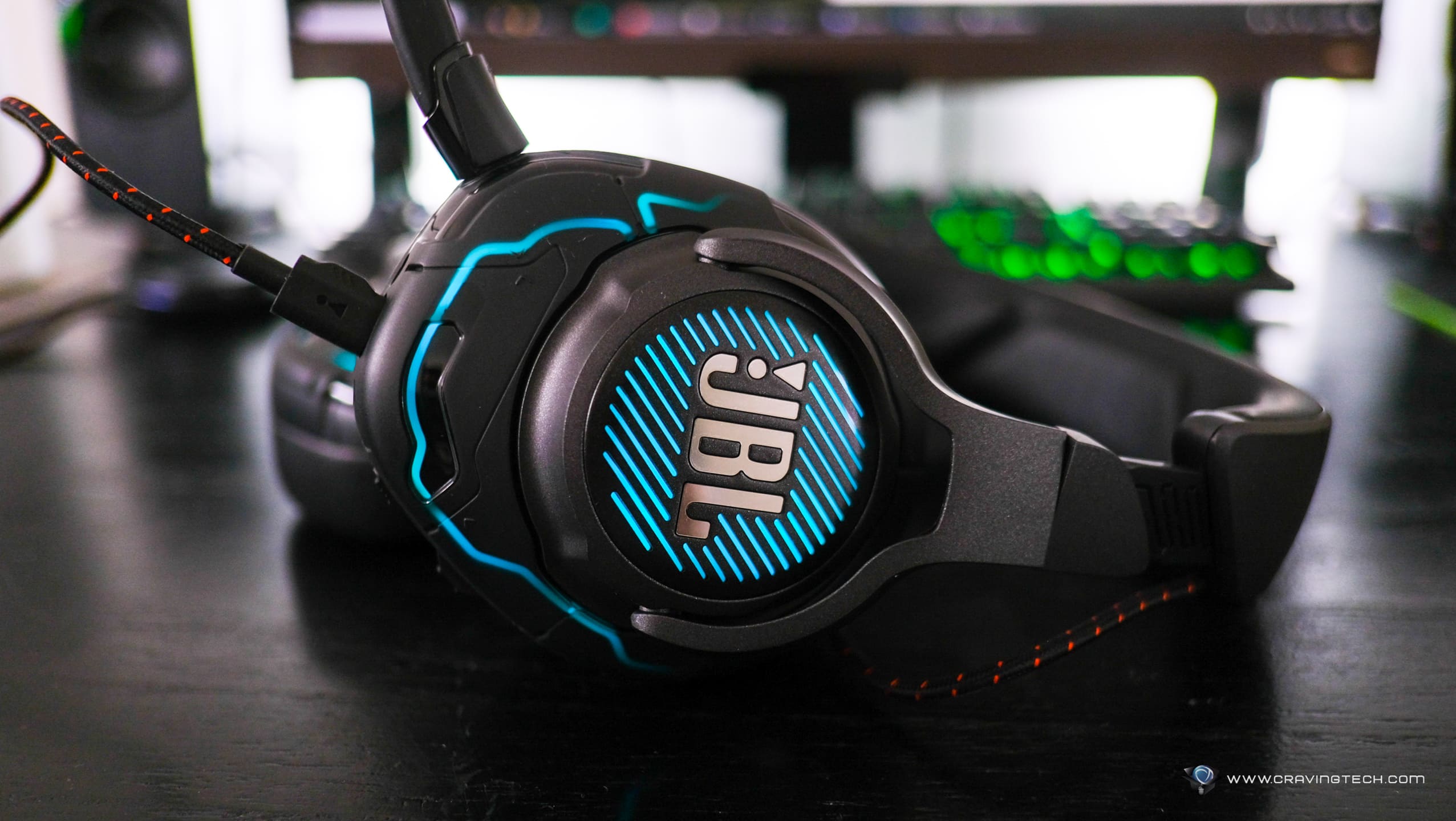 JBL Quantum ONE is a beast gaming headset with many features like Active Noise Cancelling, 3D Audio, and Hi-Res 50mm speaker drivers offering premium audio quality and clarity.
I'm honestly not into 3D Audio though – a feature I first stumbled upon when I was reviewing the Mobius Audeze. But you don't really have to use it if it's also not your cup of tea, and you will still be greeted with excellent audio quality, separation, and positioning.
It does have a premium tag price at A$499.95 though and compared to Razer, SteelSeries, or CORSAIR, it might take a while before JBL can win lots of gamers over at that price. But have a look at the customer reviews and you'll see many satisfied gamers praising the audio quality and comfort of this headset. Plus, JBL also have other, wallet-friendlier gaming headsets to pick starting from A$59.95.
JBL has been in the audio industry for a long time so if you want your gaming headsets to focus more on audio quality and not the "gamers bling-bling", you should try out one of theirs.
Disclosure: JBL Quantum ONE review sample was supplied for reviewing but all opinions are mine
JBL Quantum ONE Gaming Headset Review
Summary
JBL's first flagship gaming headset comes with a big bang: ANC, 3D Audio, Game/Voice Chat dial and more
Pros
Premium audio quality
Has ANC and TalkThru
Game-Chat balance dial supporting Discord, TeamChat, etc
3D Audio and DTS Headphone:X V2 support
Great passive noise isolation even without ANC turned on
Supports gaming consoles through either USB-C, USB-A (with included adapter), and 3.5mm
Cons
Not a lightweight headset
The dial is great but adds clutter to the desk
Pricey