CONNECT SmartHome devices shook the smart lights market when they first launched their $10 smart bulbs that support both Alexa and Google Assistant. They are available in 5W and 10W which makes them energy efficient, but most importantly, easy to be controlled with your phone, or if you have Google or Alexa smart devices lying around your house.
They have since then launched an entirely new product range including smart powerboards, plugs, and even security cameras and smart locks.
But we'll now be looking at their newest Smart Strip Light and Smart Fairy Light, both also support Amazon Alexa and Google Assistant.
Connect Smart Fairy Lights
Who doesn't love fairy lights? They can significantly enhance the mood of a room or area. You can turn a boring, outdoor area into a romantic setup, or an indoor hall to a festive mood.
Most fairy lights only support a single colour, but the Connect Smart Fairy Lights have 16.5 million colours to choose from. With the mobile app, you can also choose different effects to spice the mood up.
Through the app, you can turn it on and off, or use your voice through Alexa and Google Assistant. There is also a feature to make the fairy light sync to the music playing to your phone – perfect for parties and such.
It is also water resistant, so you can use the fairy lights outdoor in your alfresco or backyard for that outdoor party. For daily mood enhancer, you can schedule the lights to turn on and off automatically via the app.
The Connect Smart Fairy Lights I have here is 15 metres long and there is a good cable starting length so you can setup these lights at the right spots. It retails for AU$99.95 but there is also a 7 metre version for AU$59.95.
Connect Smart Strip Light
This 2-metre Connect Smart Strip Light only costs AU$29.95 which is quite a steal. It supports Alexa and Google Assistant too, and like the Smart Fairy Lights, can be controlled with the app. There is also a 5 metre version which will cost you AU$69 if you need it longer.
Unlike the fairy lights, the strip light is a great mood enhancer for specific areas in the room such as your gaming desk, above the kitchen bench, under the sofa or bed, and so on.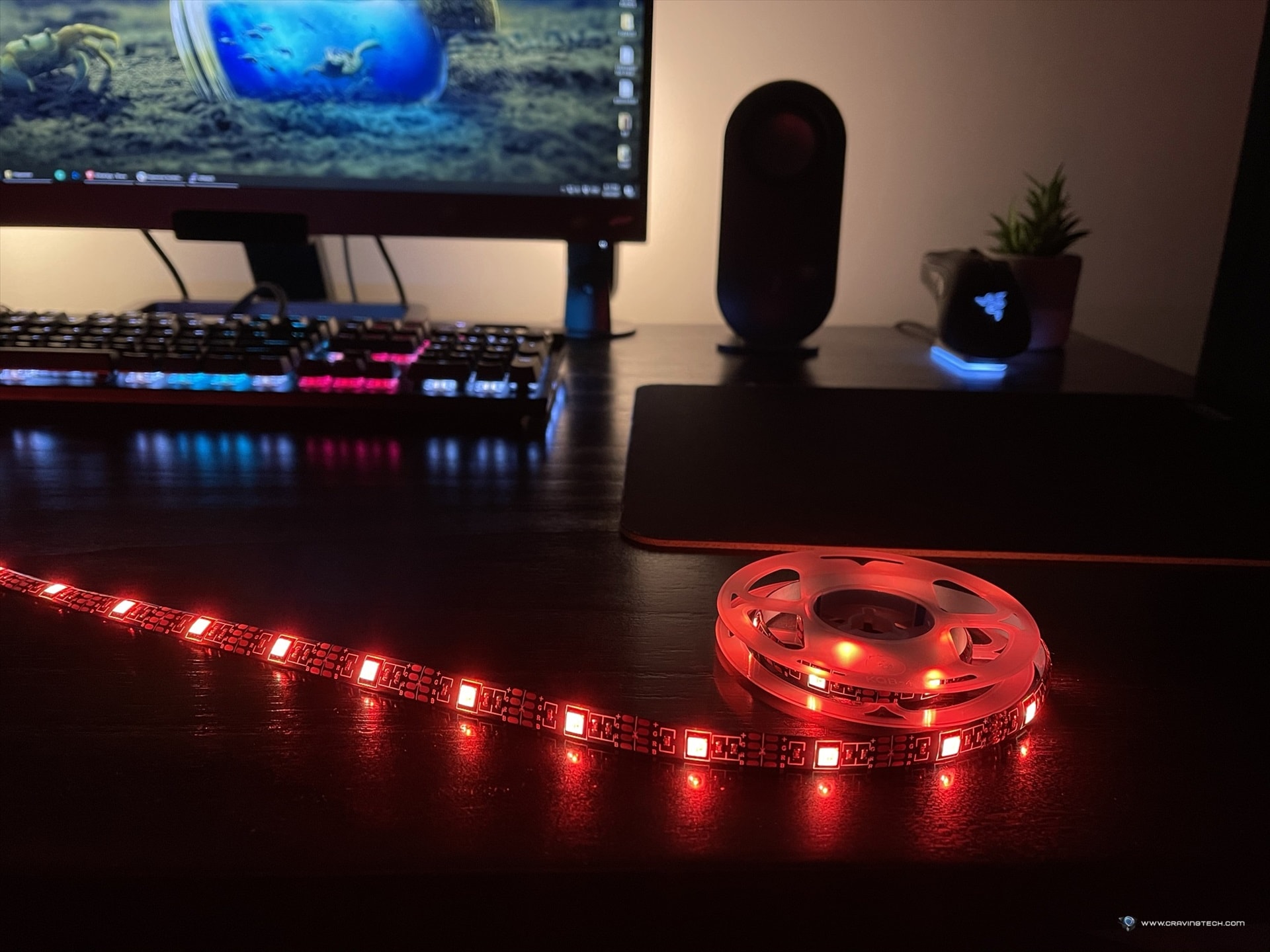 It supports up to 16.5 million colours, music synchronisation, and effects too. It can only display a single colour at a time though (unlike the LIFX Z LED Lighstrip – but it costs AU$129.99). I also find that the brightness is not as strong as the Yeelight Aurora LightStrip Plus (AU$ 149.95) that we use here in our nursery. And way below the Philips Hue Lightstrip's brightness.
However, Connect Smart Strip Light is much more affordable compare to the other two and looks great too.
And with Alexa and Google Assistant support, I can just walk into a room and say to my Echo Dot with Clock: "Alexa, turn nursery lights on" or "Alexa, nursery lights 10%". Very nifty.
You can also schedule the lights to turn on and off automatically from the app.
For other range of smart lighting, make sure to check CONNECT SmartHome Lighting category page.
Disclosure: Review samples were supplied for reviewing