Jabra Evolve2 30 Review – Who would have thought two years ago that a pandemic would change virtually everything that we do? In today's work-from-home era, almost everyone needs a good headset and a microphone for the inevitable online meetings.
Jabra is a Danish company that is synonymous with audio equipment. I've been a fan of Jabra as Jabra Elite 65t was my first wireless earbuds back in 2018. 
In 2021, Jabra launched its latest on-ear Jabra Evolve2 30 headset that is reasonably priced and lightweight.
Firstly, I'd like to commend Jabra for using sustainable packaging as the Evolve2 30's packaging is made from recyclable materials. It's such a breath of fresh air to see a company doing the right thing by not being overly obsessed with too much fancy packaging for the sake of an unboxing experience that is going to last only for a few minutes.
What do you get in the box?
Jabra Evolve2 30 Headset
Pouch 
Warranty and warning information
First impression
This UC-certified on-ear Jabra Evolve2 30 headset is much lighter in comparison with my regular in-ear headphones.
I like that you can plug and play this headset out of the box if you want to.
However, it's best to install the Jabra Direct software on your PC or laptop to ensure that you have the latest firmware.
The soft memory foam ear cushions feel ergonomic to my ears however my ears felt a bit warm after a long period. Perhaps it's just me not being used to on-ear headset desig, and I just take it as a reminder to take a break.
How does it sound?
It sounds crisp, and the microphone is clear for Teams meetings.
The Jabra Direct software also includes a music equaliser, should you want to adjust the bass, mid-range or treble.
You can choose whether you use voice or sound for audio feedback or not) and you can choose to automatically adjust the volume level in the headset to limit your daily exposure to too much audio volume.
The most notable feature is the passive noise cancelling, which filters out most of your background noises. This is useful when there is someone watching TV in the same room.
A small red (busy) light on the headset will turn on when you are on call.
It's also notable that I can use this headset with my mobile phone via USB-C.
Jabra Evolve2 30 Technical Specifications
Speaker size: 28mm Ø
Speaker sensitivity: 115dB @1mW-1kHz
Speaker max input power: 30mW
Speaker frequency range: 20Hz – 20,000Hz
Speaker bandwidth – music mode: 20Hz – 20,000Hz
Speaker bandwidth speak mode: 100Hz – 12,000Hz
Microphone type: 1 Analog MEME and 1 Analog ECM
Microphone sensitivity: -38BV/Pa / -33dBV/Pa
User hearing protection: Jabra SafeToneTM
Certifications: Leading UC vendors; meets Microsoft Teams Open Office requirements*
Connectivity (computer and mobile devices): USB-A/USB-C
Packaging dimensions: 17 x 21.3 x 4 cm (Length x Width x Height)
Main unit dimensions: 178.7 x 136.2 x 54.3 mm
Cable length: 1.5 m
Weight: 125g (with cable)
The material used: Headband cushion ultra-soft foam covered in colour-matched leatherette, ear cushion soft audio foam covered in colour-matched leatherette, stainless steel slider arm
Warranty: 2 years
Jabra Direct/Jabra Express: Yes
Jabra Sound+: No
LED features & functions: Microsoft Teams notifications*, busy light, incoming call
Jabra Evolve2 30 Review Conclusion – Should you get the Jabra Evolve2 30?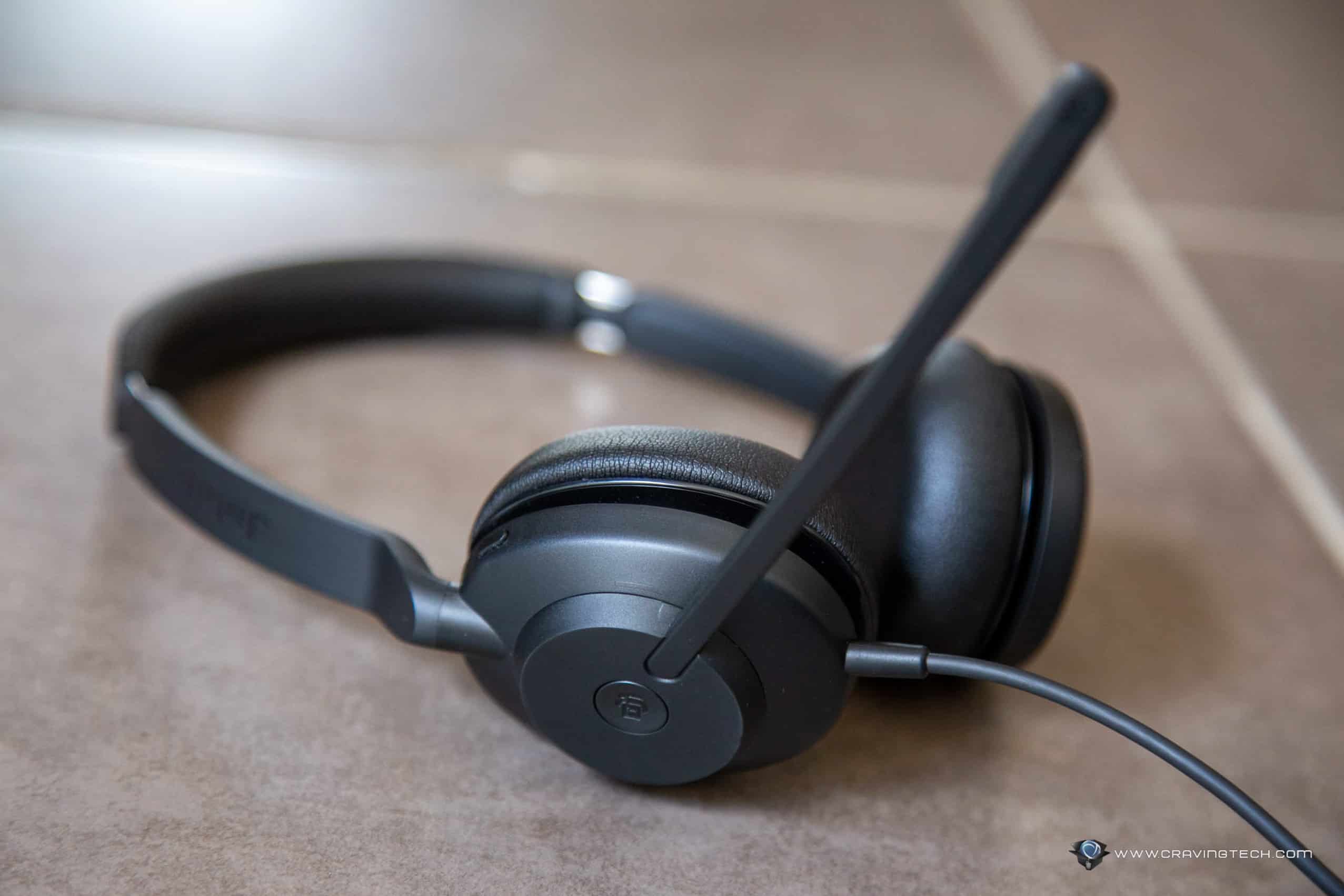 Yes, you should get the Jabra Evolve2 30 if you're looking for a lightweight on-ear headset that is reasonably priced and sounds good. You can get one at Jabra's website for A$145.75 with free shipping at the time of writing.
Disclosure: Jabra Evolve2 30 review sample was supplied for reviewing