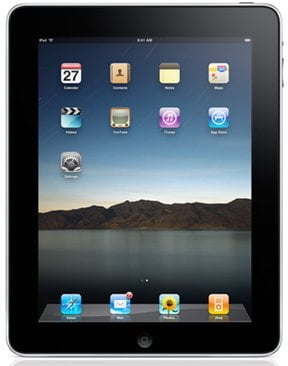 No multitasking on iPad just yet, until end of this year :( But there is an update today for the iPad to bring it to version iOS 3.2.1.
iPad iOS 3.2.1 changelog:
Improved Wi-Fi connectivity
Fixed an issue that could prevent copy and paste of single-page PDF attachments in Mail
Addressed an issue that could cause video playback to freeze
Improved reliability of video-out when using iPad Dock Connector to VGA Adapter
Added Bing as an option for Safari's search field
Make sure your iPad has been backup in iTunes before you update!! Mine crashed while updating and it has to be reformatted/restored :( I remember my friend's iPhone also crashed during the iOS 4 update. To update, just connect your iPad with iTunes and update yours from there.

and the backup/process was horrifying too as a Restore doesn't mean a full system restore like a disk image restore service. So you have to re-sync your apps back from the iTunes and restore your settings/app data from iTunes afterwards..grr