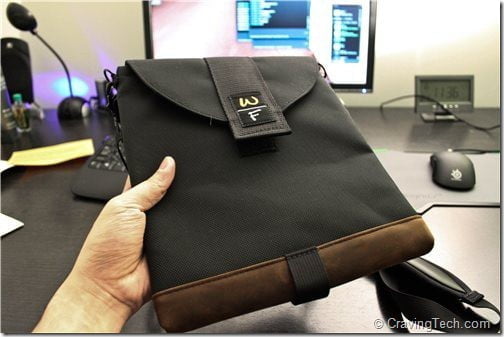 This is my review on the EXO SleeveCase, a case for iPad, made by WaterField Designs. Since most of you must have already bought an iPad Case (whether it's from Belkin, Apple, M-Edge, or many other vendors), you are probably searching for a suitable bag to carry it with you. Although some are happy with buying some cheap bags or even use your their own bags to carry, some might want to look for a more elegant solution. The EXO SleeveCase might just be the one for you.
The EXO SleeveCase is designed for an iPad inside a case so if you own a naked iPad and not planning to ever put it on a case, it'd be best to go for the Ultimate SleeveCase made by the same company. The Ultimate SleeveCase is supposed to have an extra padding and a free screen cleaning solution, thanks to the UltraSuede lining. Anyway, let's go back and have a closer look at the EXO SleeveCase, since that is the one I'm reviewing today.
Some info on the iPad EXO SleeveCase materials:
Domestically produced, 1050 denier Ballistic Nylon shell
High-grade neoprene liner
Velcro flap closure
Lightly padded flap liner
Trim: either Rugged Indium industrial fabric; or eco-friendly US-tanned, distressed, brown leather
All metal hardware for optional add-ons
When you order the iPad EXO SleeveCase, you have a few options to choose:
Select the trim style (Lead Indium or Leather) – I chose leather as I think it looks better.
Select the orientation (Horizontal or Vertical) – Your choice. I chose Vertical so it will not bump people on a busy train/tram.
Add a shoulder strap if you want – you can use the EXO SleeveCase as a case or as a bag with the straps (I picked the Suspension Strap Mini for comfort).
Add a pouch as an add-on – I skipped this option but if you want to carry more items with it, this is a must.
Overall, I love the build quality and also the design of the EXO SleeveCase. The Velcro solution can be a turn-off though if you are in a seminar or a meeting since opening the EXO SleeveCase will definitely attract some attention.
When I first got it, I also wondered whether I got the wrong case as it wasn't a smooth ride for my iPad with a case to fit in. I then saw a note (yeah I should have read it first before using it) that the EXO SleeveCase is designed like a baseball glove – so it may not be smooth at first but it will then fit in perfectly, following the contour and shape of the case. This is great because after you slide in/out your iPad a few times, the EXO feels like being expanded a bit to fit the whole case, yet still sturdy. If you just carry your iPad inside an ordinary bag, it will move around inside while you are walking (or worse, bouncing up and down if you are running). Inside the EXO SleeveCase, your iPad will "stand" still even if you are running as quickly as you can (I did this once when I was trying to catch up a tram while carrying my iPad inside the EXO SleeveCase).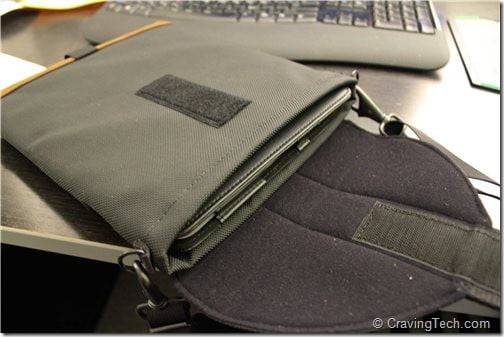 The only minor drawback with this design is that if you ever decide to change your case from a bulkier to a slimmer one (since the EXO has already expanded to accommodate the bulkier case). Not really a big deal though, as the iPad on a slimmer case is still sturdily protected inside. This design also means that you will not be able to carry many items with you as they will not fit the EXO SleeveCase well. You'll be fine with the USB cable and the TV-out but all the best if you ever decide to carry the charger as well on the EXO SleeveCase.
This is before I put the iPad in: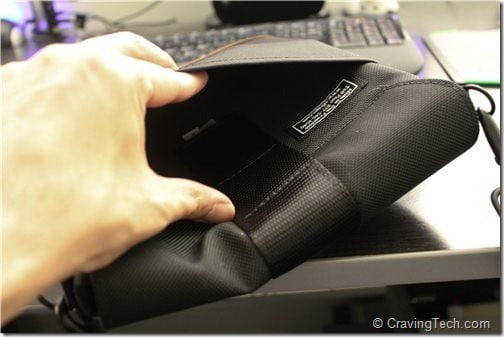 Once you put an iPad inside a case and a few cables, there's not much room left: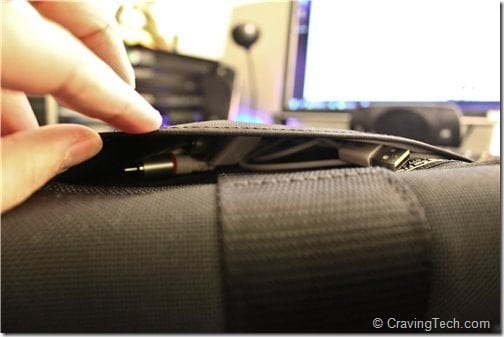 As such, the EXO SleeveCase is great if you want to carry your iPad on a plane or for a one-day seminar/meeting since the iPad has a long battery life. If you really need to carry the charger, you might want to get the pouch or carry it in a different bag.
As with the cases, so far I've tried these different cases with the EXO SleeveCase:
PADACS Anard
M-Edge Executive Leather Jacket
I don't own the official Apple iPad case but the EXO SleeveCase is designed primarily to fit it so you'll be fine if you own the Apple case.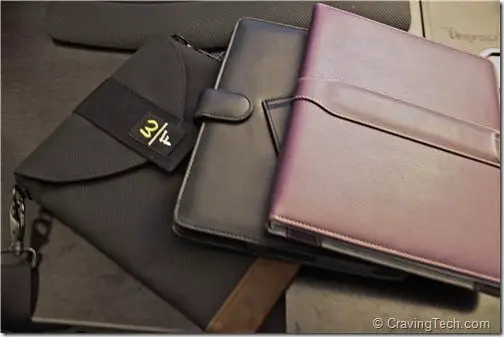 As for the other cases I mentioned above, they all fit in, although the M-Edge Executive Leather Jacket is having a hard time as I had to squeeze it in real hard for the first few rounds.
The bag also has a pull tab to help you take the iPad out of the bag. I'm really grateful that the team at WaterField Designs have thought this through and provided a solution that works. To take the iPad out of the bag, you use the pull tab with 1 hand and pull the iPad out with the other hand in opposite direction.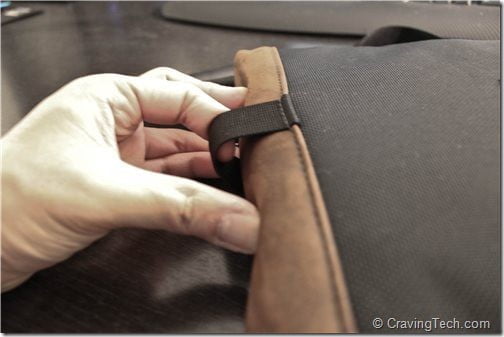 iPad EXO SleeveCase Review Conclusion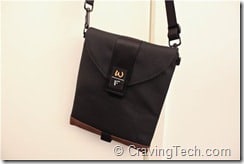 The EXO SleeveCase is well made and well designed iPad Case/Bag. It provides ample amount of protection to your iPad inside a case thanks to the sturdiness of the case and the materials. It's very lightweight and compact, great to use if you just want to carry your iPad and a few extras with you. It looks very elegant and comfortable on my shoulder, thanks to the optional suspension strap mini.
If you need to carry bulkier items such as the iPad charger, phone, earphones, mp3 player, or other items, you may have to get the extra pouch or use a different bag altogether. However, the EXO SleeveCase is my personal choice when I just need to carry my iPad, a few papers/notes, and a pen to a seminar, presentation, or travelling on a plane – it's light, slim, feels looks great, and protects my iPad from bouncing and/or bumping around.
Note: EXO SleeveCase was provided by Waterfield Designs for the review