HyperX Pulsefire Haste Review – For the past six months or so, it looks like we are in the era of ultra-lightweight gaming mice – both wired and wireless. And I'm not talking about just under-100-grams-mice here, oh no, we are way past that. The Razer Viper, for example, weighs 69 grams and SteelSeries Aerox Wireless weighs even lighter at 66 grams.
HyperX Pulsefire Haste (that I have for review here) weighs even lighter at just 59 grams! However, this is not just the battle of who can have the lightest gaming mouse. After all, sensor and comfort (among other things) are really important in a gaming mouse, especially if you are playing competitively.
HyperX Pulsefire Haste Review – Packaging & Unboxing
You can check our quick, HyperX Pulsefire Haste unboxing video at YouTube.
Packaging includes grip tapes with 3M if you want that extra grip area.
HyperX Pulsefire Haste Review – Design & Features
The Pulsefire Haste has a honeycomb hex shell design that increases air ventilation to your palm, which is great if you have sweaty palms and playing in Summer. It's a somewhat see-through but unlike the SteelSeries Aerox, there is not much to peek here.
It has RGB lighting but only at around the middle mouse button. It'd be cooler to follow SteelSeries step or having a cool underglow lighting somewhere too. Being wired, it should have enough power to light these lighting sources. But if you don't really care about RGB too much (since your palm will be on it anyway), then you can skip this part. I believe this also keeps the cost of the mouse low and the weight down.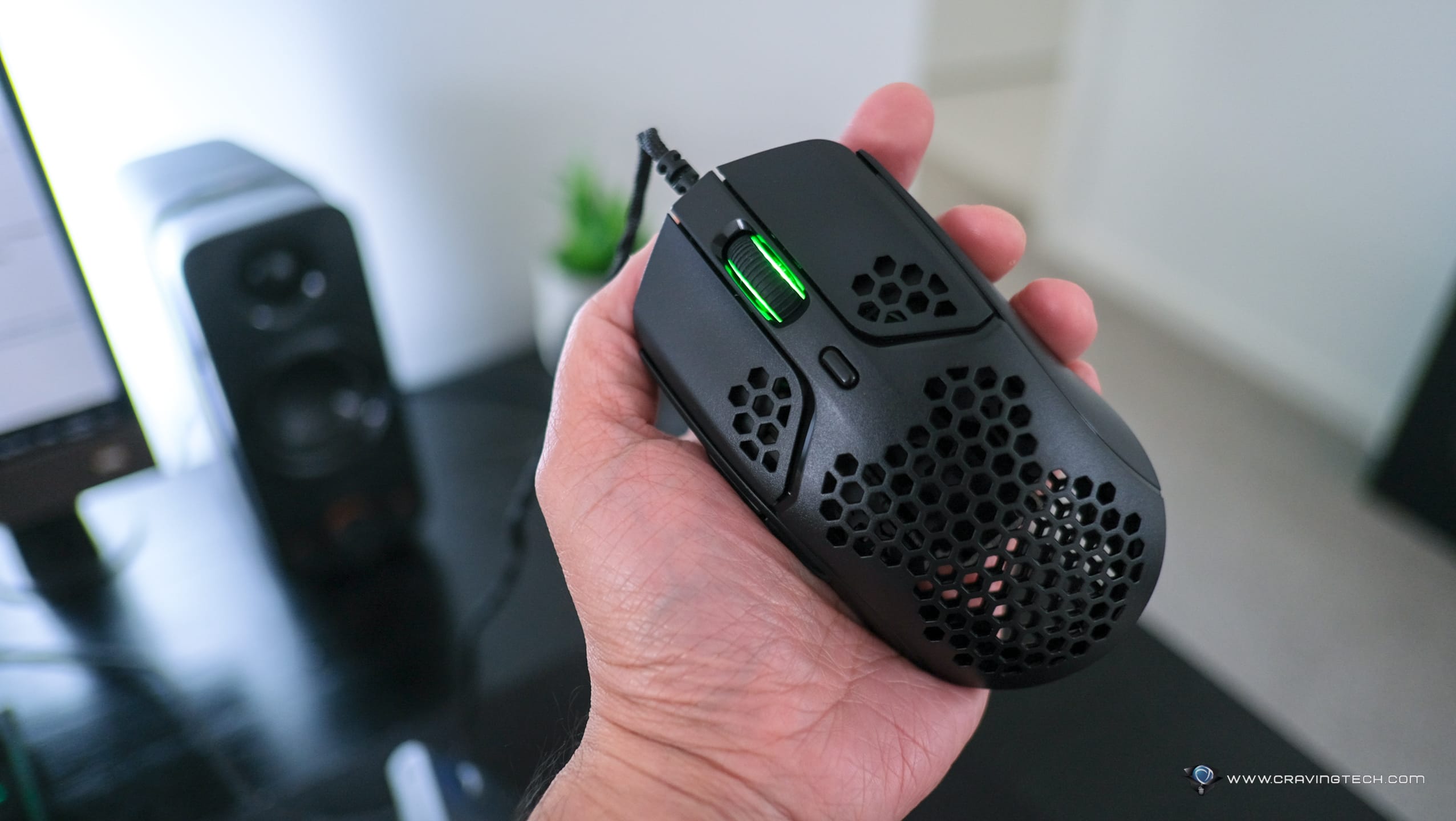 I'm a fingertip gamer and have small hands, so the HyperX Pulsefire Haste is a joy to use. It's very light that gliding the mouse around is effortless and it's also comfortable to hold. I'd love it more if the mouse has a thumb rest area with a non-slippery material though by design, though you can apply that included "Grip Tape" yourself.
With the HyperX NGENUITY app, you can change its RGB lighting, button assignments, and DPI sensitivity stages up to 16,000 DPI. There's a handy DPI switch button below the middle mouse button, but you can also use it for other shortcuts.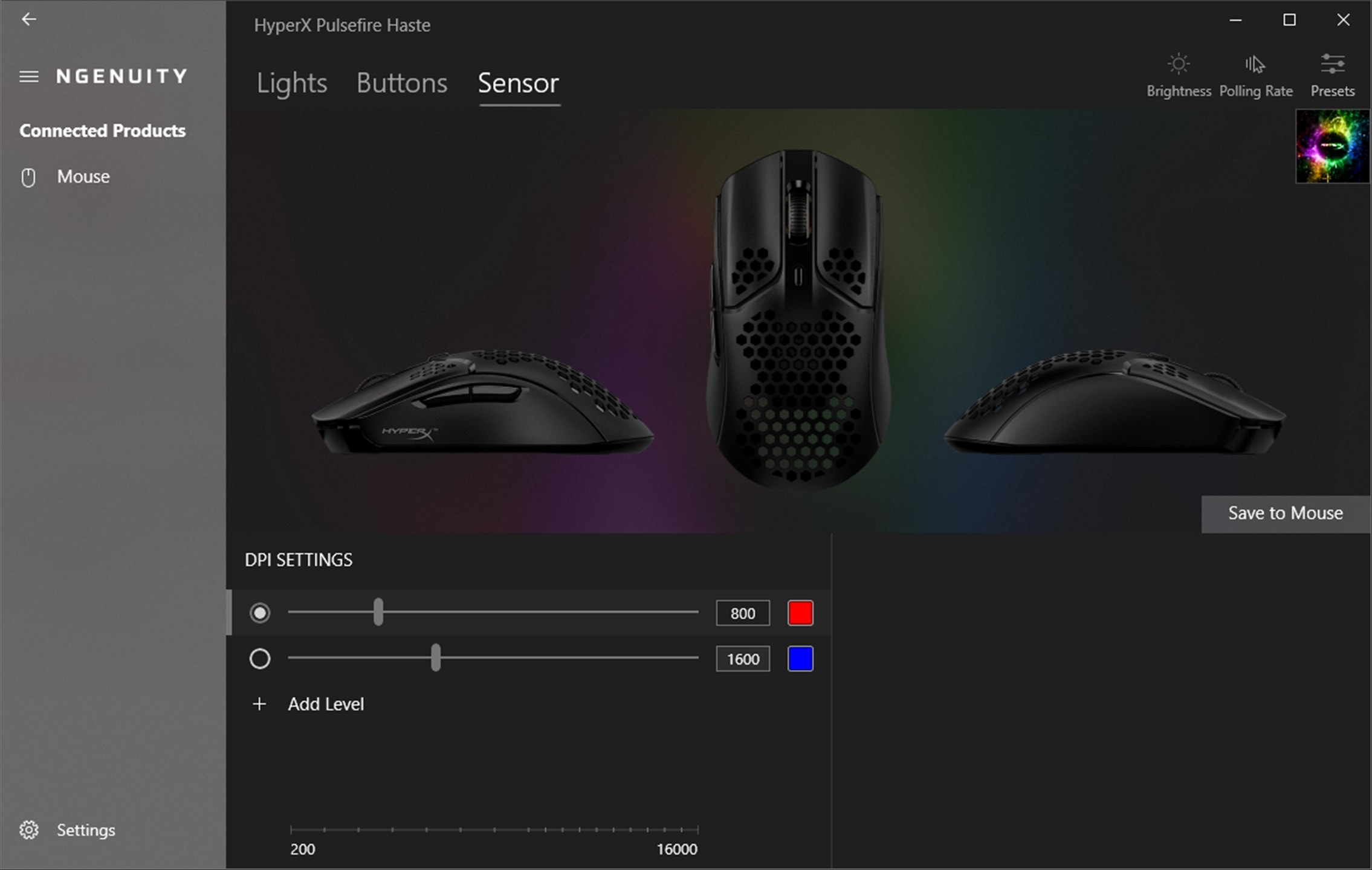 HyperX Pulsefire Haste Review – Gaming Experience
With low-friction, pure virgin-grade PTFE skates and HyperFlex cable the mouse is a breeze and enjoyable to use. The cable is light and flexible, making it easier to move the mouse around on the desk (without that friction feel).
The mouse is equipped with the Pixart 3335 sensor and gaming performance is definitely one of its best features. Upon my first Overwatch game with the mouse, a friend asked what was happening as it felt like I was on fire, hitting shots after shots. While this didn't always happen in the following matches after (after all, a mouse helps but it's all back to your skill as well), it has definitely boosted my confidence in using the mouse competitively.
Here are some Play of the Game and Highlights from some of my gaming nights with the HyperX Pulsefire Haste:
HyperX Pulsefire Haste Review Conclusion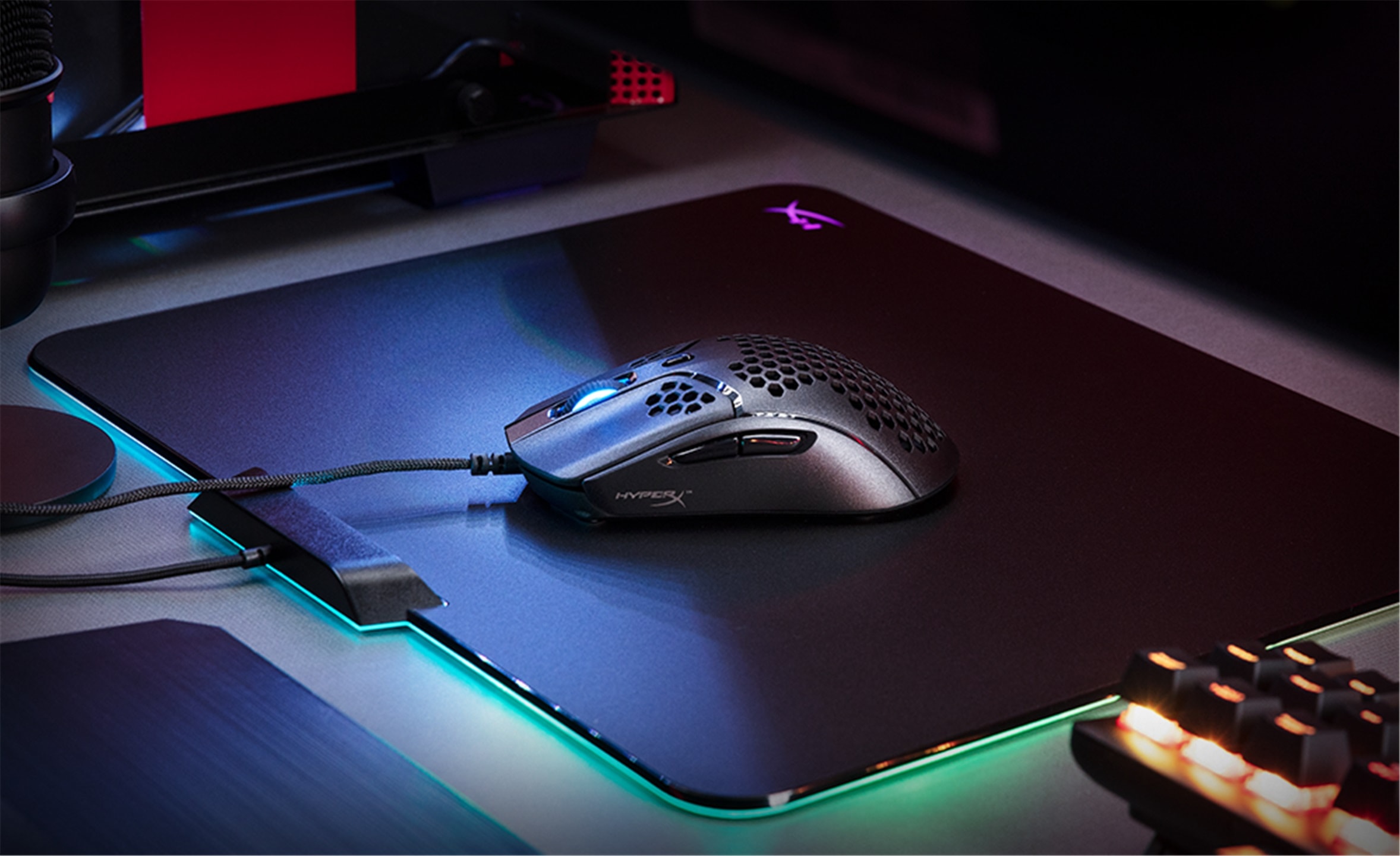 HyperX Pulsefire Haste, like most HyperX gaming peripherals, offers performance and under the hood with a great price. It is not as flashy as its competitors in the lightweight gaming mice market, but it's equipped with Pixart 3335 for that accurate tracking and an ultra-lightweight honeycomb hex shell design to handle the mouse easily on a mouse pad.
Compared to Razer Viper (A$154.95) and SteelSeries Aerox 3 (A$119), HyperX Pulsefire Haste retails for just A$89 which makes it the most affordable and currently, the lightest gaming mice so far that I've ever used.
Disclosure: HyperX Pulsefire Haste review sample was supplied for reviewing
HyperX Pulsefire Haste Review
Summary
HyperX's first ultra-lightweight gaming mouse has an accurate sensor and the lightest mouse I've ever used
Pros
Ultra-lightweight
Honeycomb shell design for breathability
Good and accurate sensor (Pixart 3335)
Simplistic design
Light, unique cable design
Simple software 
Most affordable
Cons
Doesn't have much RGB lighting
No thumb rest area
No advanced features