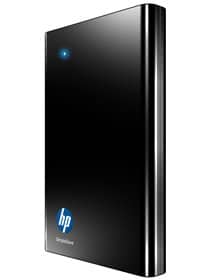 Need an automated backup for your photos, videos, music files, or data to an external hard drive? HP claims to have the simplest solution with their latest technology innovation, HP SimpleSave.
Protecting and backing up your contents with SimpleSave is as easy as plugging the drive into a USB connection with not third party software needed on your machine.
"With SimpleSave, once connected, backup is automatic and virtually hands-free," said Jason Zajac, vice president and general manager, Personal Systems Attach Group, HP. "As the worldwide leader in personal computing, our goal is to make technology simple and useful, ensuring no learning curve and no complicated choices to make."
The product sounds great to be used for families (or friends) who have little or no computer backgrounds. It means that you don't have to spend time and teach them how to use a particular backup software or to remind them to backup.
A SimpleSave drive can also be used to backup all PCs in the network and each PC will be clearly identified by name on the drive so you know where to access the backups on whose computer.
Hp SimpleSave Features
Available in 320 GB & 500 GB (SimpleSave Portable) and 1 TB & 2 TB (SimpleSave Desktop)
Preinstalled backup software – automatically finds and backs up the data (full on the first backup and incremental afterwards)
USB 2.0
Hundreds of file formats supported: Supports the most common file types for photo, music and documents including AAC, BMP, DOC, GDF, GIF, JPG, MP3, MPEG, PPT, PDF, TAX, TIFF and XLS.
Frequent backup update: Backs up new and changed files every time the PC is idle for five minutes.
Plug-and-play storage: Ready to use when connected to a USB port.
Support for large files: NTFS file system offers improved support for metadata and use of advanced data structures, improving performance, reliability and disk space.
Two-year warranty.
Pricing and availability
SimpleSave external hard drives will be available in August.
Manufacturers suggested list prices are:
SimpleSave Portable: 320GB, A$139; 2.5-inch hard drive, 500GB, A$199
SimpleSave Desktop: 1TB hard drive, A$179; 2TB hard drive, A$449
(Estimated Australian list price. Actual price may vary)
Source: HP Press Release, Sydney Australia, August 5, 2009

PS: There is a chance for me to get a review unit from HP so when I do, stay tuned for my review on HP SimpleSave solution!