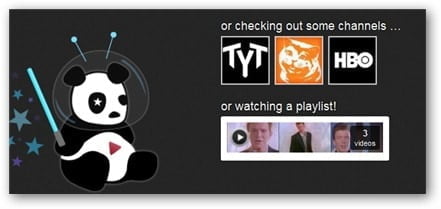 Google Cosmic Panda – Huh? Another Google Panda thing? No, it's not. Google Panda was an algorithm update to the Google search engines where Google Cosmic Panda is in fact, a new YouTube interface that Google is planning to roll in the future (soon). If you are curious, you can jump ahead, try Google Cosmic Panda on your YouTube account, and then give your feedback to Google (not required).
Not happy with Google Cosmic Panda? Don't worry, you can always change back to the good old YouTube interface.
Google Cosmic Panda Interface – Home Screen
Google Cosmic Panda Interface – Watching a video screen
The screen where you watch a YouTube video has been completely redesigned with a darker theme, redesigned buttons, auto-hide playback controls, and other redesign. The suggested videos on the right sidebar are significantly bigger and wider, as most videos nowadays are in widescreen format. Overall, it looks stylish and honestly I'm into this dark-greyish theme as you can probably see here at Craving Tech. Not many fancy this combination unfortunately (yes, I'm aware) but I really like the simplicity and I think it's pleasing on the eyes (or my eyes, at least).
Google Cosmic Panda on a Channel screen
Google is definitely on fire for these past few weeks – trying to overhaul their design and interface. It's great and it's about time for Google to touch up their web services' interface. They still load fast and look more stylish and elegant, including Google Cosmic Panda update to YouTube. There will be many haters of course (no one likes changes) but in time, we'll all like this new interface and we have all moved on with our lives.
I don't know why Google loves Panda so much but if it's about a Panda or a Penguin, count me in :) What? You don't agree with me? Watch these cute Panda videos below and tell me you still disagree:
To trial this Google Cosmic Panda update to YouTube, go to http://www.youtube.com/cosmicpanda