Note: This is a guest post written by Jeeva Shanmugam – Going to buy a refurbished iPhone? Or any other refurbished product? What does refurbished mean? The term "refurbished" has grown in use in recent years in the consumer electronics industry. Purchasing reconditioned goods has grown in popularity as more individuals look for methods to save money and lessen their impact on the environment.
Yet, what exactly does "refurbished" entail and how does it vary from purchasing a brand-new item? In this post, we'll examine the second-hand market in detail, look at what it means to be "refurbished," what to know before buying a refurbished product, and talk about the advantages and potential disadvantages of purchasing refurbished products.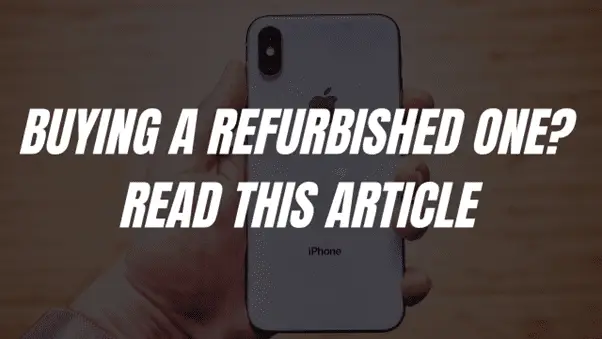 What does Refurbish Mean?
Electronics that have been returned to the manufacturer or merchant for several reasons, such as flaws, cosmetic damage, or consumer returns, are often referred to as "refurbished" devices. Afterward, to make sure they adhere to the manufacturer's requirements for quality and performance, these goods are examined, fixed, and tested.
Refurbished goods are frequently sold at a large discount compared to new goods, making them an excellent choice for customers trying to save money on electronics. It's vital to remember, too, that not all reconditioned goods are made equal. The quality of the repairs can differ from product to product, and some may have more major flaws or aesthetic damage than others.
Benefits of Buying Refurbished Products
Purchasing reconditioned goods has a number of advantages, including
Savings: Refurbished goods can cost less than brand-new ones, which appeals to people on a budget in particular.
Benefits for the environment: By giving used things a new life, purchasing refurbished goods may contribute to waste reduction and sustainable consumption habits.
Quality Measures: Consumers may feel more secure knowing that refurbished items have undergone inspection and testing to make sure they uphold the manufacturer's requirements for quality and functionality.
Potential Drawbacks of Buying Refurbished Products
While purchasing refurbished products has numerous advantages, there are also some possible disadvantages to be aware of, such as:
Restricted warranty: It's possible for refurbished devices to have no warranty at all or a guarantee that is significantly reduced.
Cosmetic flaws: Some customers may find cosmetic flaws in refurbished products, such as scratches or dents, to be off-putting.
Uncertainty regarding the product's history: Products that have been refurbished may have a more complicated past than those that have been brand new because they may have undergone multiple returns or repairs. Some customers may feel apprehensive about the product's quality as a result.
What to Check Before Buying a refurbished Product?
Reconditioned goods might be an excellent method to receive a high-quality item while saving money. To make sure you are receiving a fair price and a trustworthy product, there are a few things you should look into before making a purchase. Here are a few things to think about when purchasing a reconditioned item:
Seller Reputation: Be sure the vendor has a reputable reputation for selling reconditioned goods by reading reviews and ratings.
Warranty: Verify whether a warranty is offered with the reconditioned item. You may feel secure knowing that you are covered in the event of a problem if the warranty is good.
Quality Check: Check the product's quality to ensure that it has been reconditioned to a high standard. Look for any obvious flaws, dings, or other damage that could compromise its performance.
Compatibility Check: Check the product's compatibility with your current systems and equipment. Before making a purchase, carefully review the product details and compatibility information.
Return Policy: Check the seller's return policy to see whether there is one in place in the event that you are dissatisfied with the purchase. Verify the return policy's terms and conditions to make sure they are reasonable and fair.
You can be sure you are purchasing a high-quality reconditioned item that matches your wants and expectations by looking into these elements.
Refurbished vs Renewed
Although the phrases "refurbished" and "renewed" are sometimes used interchangeably, they might indicate somewhat different things depending on the situation.
In general, a product that has been "refurbished" has been returned to the maker or a third-party business, repaired or restored to like-new condition, and then tested to verify it satisfies the original standards. Although though refurbished items may have been used in the past, they should still work and appear like new.
Amazon frequently refers to refurbished goods that have been restored to like-new condition by a third-party business as "renewed" goods. In essence, Amazon refers to "refurbished" as "renewed." To describe a product that has been brought back to almost new condition without being sent back to the manufacturer, some people use the term "renewed."
In general, both terms refer to items that have been brought back to their original state, but "renewed" is frequently used to refer specifically to refurbished items that have been brought back to their original state by a third-party business, whereas "refurbished" can refer to items that have been brought back to their original state by the manufacturer or a third-party. Eventually, while thinking about refurbished or renewed goods, it's critical to review the exact definitions and guarantees provided by the vendor.
Wrapping it All
In conclusion, consumers have a variety of alternatives for purchasing used items, including reconditioned gadgets, on the secondary market. While purchasing used goods may have some potential negatives, such as restricted warranties or aesthetic damage, for many consumers, the advantages of cost savings, environmental benefits, and quality assurance can make it a viable choice. To make sure you're obtaining a quality item that suits your needs, it's crucial to conduct your homework and buy from a reliable seller, as with any purchase.