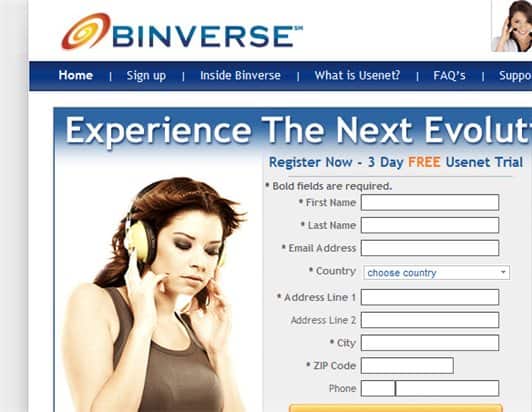 Free Usenet accounts from Binverse – Alright, guys, here is another cool giveaway to you all. Three FREE Usenet accounts from Binverse, one of the most popular Usenet providers, based in New Jersey, U.S. Through Binverse, you will be able to access Usenet network along with included Usenet software so you can search for posts and download files in Usenet with ease (What is Usenet?)
Downloading from Usenet (with over 800 Terabytes of user uploads) is much safer (over 256-bit SSL connection and no logs are being kept so what you download is yours only to know) and much faster compared to peer-to-peer like torrent files because the files are stored on commercial grade servers around the world.
I was given an account (the same one that you can win over – details further down the page) by Binverse to try out their service. I was instructed to download Binverse newsreader software (can be installed over Windows and Mac) and installed it. Setup was pretty simple and straight forward. After I entered my username and password on the application, I was all set.
Binverse Review
Binverse provides a newsreader software, a free Usenet Software, where you can search and download your files from.
Within the main page of the software, you can see the remaining space you have for the uncapped/high speed downloads, depends on the plan that you choose from Binverse.
At the moment this post was written, here is the pricing scheme on Binverse accounts: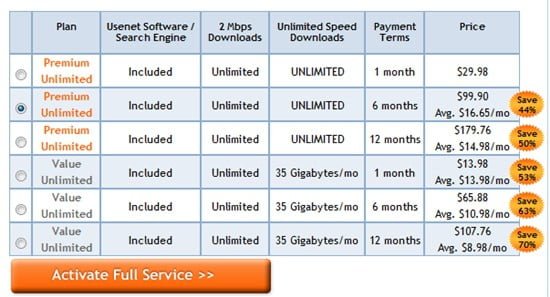 So basically, you choose whether you want an unlimited download quota or just 35 GB per month. After each month, your quota will be reset back to 35 GB (not rolled over). If you are getting frustrated with torrent download speeds, you should definitely subscribe for  Usenet account, especially if you download large files frequently from the net. There is no upload/download ratio to worry about or whether the file has seeders. Now you can get the files you want as fast as your internet speed can handle!
They give a 3 day free trial if you want to try their service before you decide to pay the monthly fee but of course, if you win a Usenet account here at Craving Tech, you don't need to put in your details to try.
I tried downloading some files from Usenet through the Binverse software. It has a search mechanism so I could quickly search for the files I want. Results are listed along with the Usenet groups and all that. Hit the download button and monitor the download progress at the same time. You can also search in all Usenet newsgroups or just a particular one. You can preview photo, audio, or video files through the newsreader and also sort the results.
Honestly, I haven't had or use a Usenet account so seeing the download speed made my eyes go wide! If you look at my screenshot here, I got an 8,594 kbit/sec download speed! Definitely something that I've never experienced before from torrent files.
So….. Here is the moment that you've been waiting for:
How to win FREE Binverse accounts for Craving Tech Readers
3 FREE Binverse account will be given randomly to the winner of this contest.  These are free Accounts of 50GB of High Speed Downloads (with No Expiration Date). So if you win, you'll be given 50 GB of download quota through Binverse and you can use it anytime you like. You'll still have access to download as long as you have the quota. Isn't this a wonderful prize from Binverse?
 What to do to win a free Binverse account of 50 GB
Share this giveaway at Twitter OR click the Facebook Like button at the bottom of this post
Three random winners will be picked on 31th of August 2011. All the best, everyone!
NOT INTERESTED? That's okay, this is not for everyone obviously. Stay subscribed at our newsletter so you'll be notified of the next giveaway.