Note: This is a guest post written by August Drilling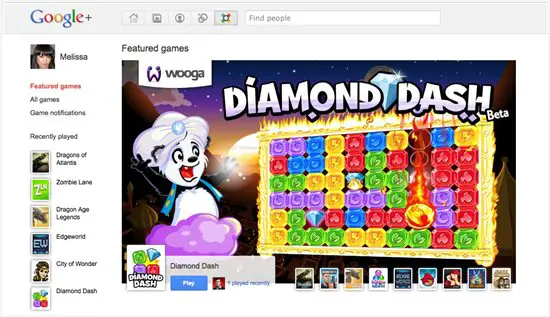 Google+ Games – We all knew it was coming, but today it was confirmed: Google+ is getting games. In its attempt to keep up with the social networking giant that is Facebook, Google+ is welcoming a gaming platform to its service. Does the new kid on the social block bring more to the table in games than Facebook? From what is visibly apparent so far, the verdict is in: yes.
Because gaming has recently been one of the big reasons for Facebook's continued success, it makes a whole lot of sense for Google+ to try to capitalize on their strategy and incorporate gaming into their social baby. This move further positions Google+ as a worthy competitor for Facebook in that it now matches it in nearly every service. However, perhaps with gaming, Google+ has actually offered something superior.
One of the main gripes about games on Facebook was their initial invasiveness. Really, the last thing many people wanted to see was that one of their friends found an ugly duckling on their farm in Farmville. Google+ does a great job of keeping Games and gaming news out of the news stream.
Google+ will now have a Games page that appears at the top of your stream. So, if you're ready to play games, you can jump right into the action. Located within the Games page are areas where you can see the latest gaming updates from your circles, browse invites from friends, and see what games people have recently played. The page will also show gaming accomplishments that you have achieved.
Gaming updates will only appear within the gaming page to your circles. So, if gaming is not your thing, your news stream will remain focused on interactions and posts between your friends. This is a great difference from what Facebook offered and will keep irrelevant updates and posts off the stream.
From day one, Google+'s Games will offer some pretty heavy hitters from the social gaming world. Zynga is part of the launch, but FarmVille and CityVille will not be coming to Google+. However, Zynga Poker and others in the future will.
Upon launch, the biggest game for Google+ will be Angry Birds. Also, Bejeweled Blitz, Diamond Dash, Sudoku, Dragon Age Legends, and other games from a variety of styles will be offered.
The Games feature will slowly be rolling out to Google+ users over the next few weeks to try to work out any bugs before its major launch.
How do you feel about Google+'s Games announcement? Do you even use Google+? I would love to hear your opinion.
Note: This is a guest post written by August Drilling, from Forte Promotions which sells promotional products, is an avid social network user and recent graduate from the University of Minnesota – Twin Cities.