In an unsuspected move, Facebook today announced that they have acquired WhatsApp, a popular instant messaging service for mobile devices, for $16 billion purchase price and $3 billion worth of RSUs (Restricted Stock Unit). Oh, and there is a requirement that Jan Koum (WhatsApp co-founder and CEO) to join the Facebook board.
$19 billion! That's no small amount of money – remember that Facebook "only" bought Instagram for $1 billion some time ago.
According to the presentation slides that can be viewed at Facebook Investor Events page, WhatsApp has more than 450 million of active users with about 19 billion of sent messages and 34 billion of received messages every day on the platform. There is also a steady phenomenal growth of new registered users of WhatApp every day.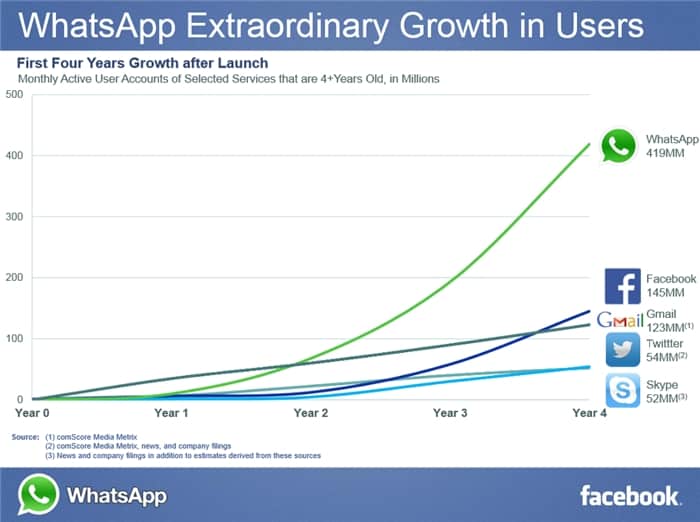 I myself use WhatsApp to communicate with my circle of friends at church here in Australia. Everyone with a smartphone on any platform has WhatsApp installed, even BlackBerry users.
Though I occasionally message some of them with Facebook Messaging when I'm on a desktop computer (easier than typing on a phone), WhatsApp has always been my preferred chat app of choice. Obviously, there are many other chat apps like KakaoTalk, LINE, Skype, and many others – but WhatsApp came at an earlier stage where there was not much chat apps in the market. It's obvious that people chat more on WhatsApp compared to Facebook messaging.
Despite of the slow updates, WhatsApp has been reliable and good enough for chatting and such.
I'm not sure what to respond to this news. Part of me is scared of the upcoming ads or some ways for Facebook to squeeze an opportunity from WhatsApp users. Part of me is hoping we'll have better updates and support in the future.
What do you think?