Creative Aurvana Air is stylish and provides a high quality music to your ears on the go. It's specifically designed with ear-hooks to make sure that you have uninterrupted music in all of your activities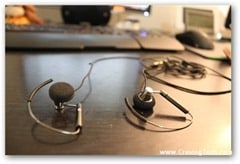 The Creative Aurvana Air is a stylish set of earphones from Creative, designed to deliver a rich music listening experience with the EaseFit™ ear-hook design.
"Powered by Neodymium magnet drivers with ultra-slim high performance diaphragms, the Aurvana Air is one true acoustic powerhouse".
The packaging is one of those that you don't feel like throwing away after you open it. The Creative Aurvana Air sits nicely and tightly inside a see-through sturdy glass acrylic case.
But of course, you don't buy a product just because of the nice packaging. So how does Aurvana Air perform as earphones?
With the Creative Aurvana Air, music really comes to live – sharper and richer. You can clearly listen to each instrumental being played when you hook your Aurvana Air up. I've tested listening to music with my Apple's earphones (the one that comes when you buy an iPod) and also a TDK headphone. I could definitely hear the difference and I don't need to be an audiophile to feel it. It's as if the music was being muffled using my old earphones. The Aurvana Air sounds  "crispier" especially with music involving acoustic instruments. The bass is good too but because the Aurvana Air is not an in-ear design, some "oomph" seems to get lost in the process unless if you press the earphones deeper into the ear.
Aurvana Air is designed with an advanced ear hook construction and it's a sturdy, yet flexible one. The inert coating is catered for those who are sensitive to Nickel and the ear-hook will also retain their shape when flexed.
This is my first time ever trying earphones with ear hook design and I actually quite like it. It's taking a few seconds longer to hook these up around your ears but they are very comfortable. The hook doesn't feel like it's pressing my ear but at the same time it's very sturdy even when I'm running around or jumping up and down (I actually jumped around like crazy to test it out). Because of this, the Aurvana Air is the perfect earphones if you like to listen to your music when you jog or running on a treadmill (or even when you are taking dance lessons).
Because it's not in-ear, there will be sound leaks. So unfortunately, the Aurvana Air might not be perfect if you want to listen to podcasts or audio files on the road as the traffic noise kicks in (you might want to look at the Aurvana In-Ear2 for this purpose)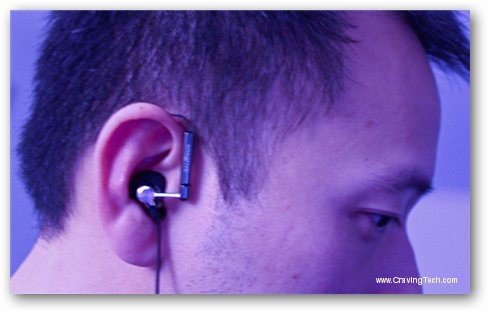 Besides the acrylic case, the packaging also includes a compact leather pouch – feel free to use either both to store/carry your Aurvana Air earphones. The pouch is no ordinary pouch though. It actually contains a cable management holder for the Aurvana Air!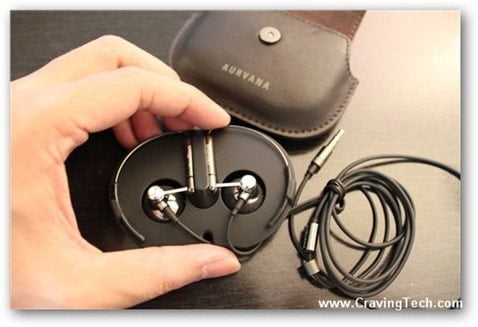 This is truly a smart way to store earphones and I'm really happy with what Creative team comes up with. It's a smart and elegant solution for storing the Aurvana Air.
Aurvana Air Review Conclusion
The Creative Aurvana Air is no ordinary earphones. The sound coming from it is crispier, clearer, and the music really comes to live with the Aurvana Air. The ear hook design is also stylish, sturdy, yet comfortable on the ears, perfect for runners or activities that involves lots of movement. The earphones just won't come off from the ears even if you jump around like crazy!
The included acrylic case and the leather pouch also come in handy to store and carry the Aurvana Air. The acrylic case is really sturdy and a good place to keep the unit out of dusts. The leather pouch comes with a perfect cable management holder and doesn't make the cables entangled.
If you are looking for earphones with a high quality sound that doesn't come off from your ears, look no further than the Creative Aurvana Air!
NOTE: Review unit provided by Creative. Photos taken with Canon EOS 500D.
Creative Aurvana Air Review