Corsair M65 PRO RGB Review – Labelled as an FPS gaming mouse, the M65 PRO RGB features a very high DPI support (12,000) with accessible, unique 'Sniper button'.
It also offers customisations like the weight system and millions of lighting colour to pick for both practicality and aesthetic purposes, giving each M65 PRO RGB a unique tool tailored from one gamer to the other. Note that even though the Corsair M65 PRO RGB feels like it's tailored as an FPS gaming mouse, it is not limited to it. It also works really well with games of different genre obviously.
Corsair M65 PRO RGB Review – Unboxing Video
Corsair M65 PRO RGB Review – Packaging
Corsair M65 PRO RGB Review – Design & Features
Corsair M65 PRO RGB looks quite unique compared to most mouse out there. It looks modular (even if it's not) and somewhat like a starship hovering to take off (when the lights are on).
With an Aircraft-grade aluminium frame, the mouse feels durable to touch and glide on the Corsair MM300 mouse pad. The mouse also has an adjustable weight system that you can customise to your playstyle. A screwdriver is required to open the compartment where the weights are placed in.
The M65 mouse itself weighs 115 grams and if you have all weights inside the mouse, the M65 will weigh 135.5 grams in total. With or without the weights, the M65 PRO RGB feels sturdy enough when gaming (which gives a more accurate swiping motion). It helps in shaky aiming, especially when doing a twitch aiming with a sniper in FPS games (I tested the mouse in Left 4 Dead 2 and Overwatch).
A minor complain for my taste is the stiffness of the middle mouse button press. I feel that it requires a good force to press and for games like Left 4 Dead 2 where zooming is set to the middle mouse button, it can get quite tiring for my finger after a couple of hours. Note that I'm skinny with a small hand, so you may actually like the middle button to be more solid to avoid accidental presses.
With the help of Corsair Utility Engine (CUE) software, you can also assign macros, set up different profiles, customise each button, DPI sensitivity stages, and different colour configurations.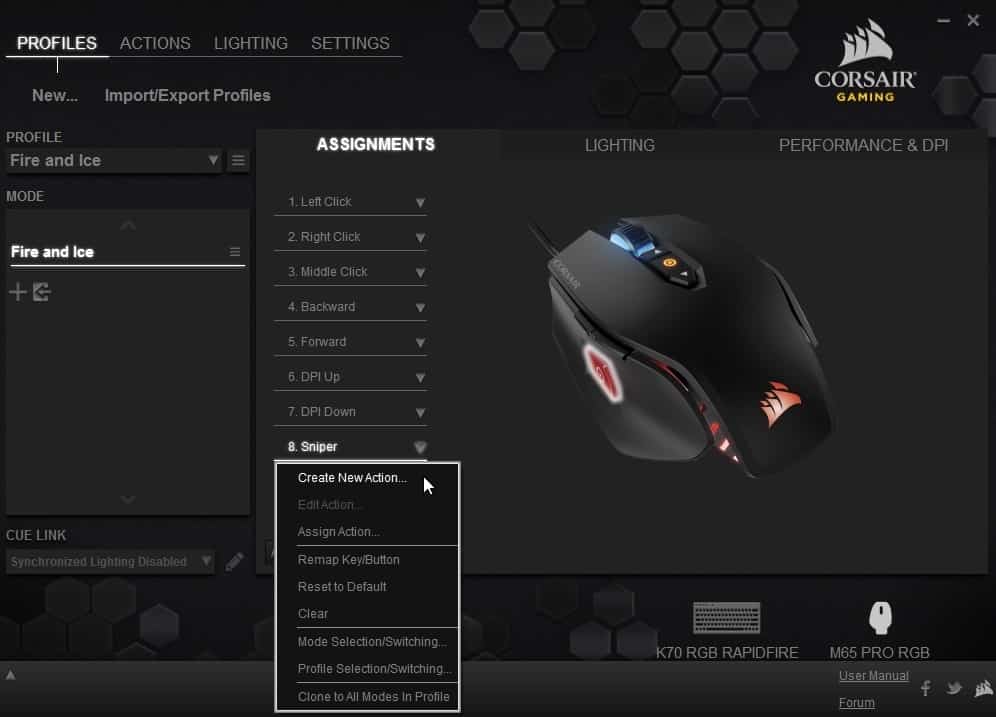 The Sniper button on the mouse is pretty unique. You can assign a specific DPI setting on the button and when you hold + press it in-game, you can get a temporary, instantaneous DPI change. So for example, you can assign it a lower DPI and use it while you are zooming in with your sniper rifle. Zoom out and release the button, and you are back on your higher DPI settings.
For games like Overwatch where your sniper hero (Widowmaker) has a skill to both snipe and shoot rapidly, it's a handy button to have as you can switch between one DPI over the other quicker than using a standard DPI change button. Honestly I've never had a need to use such a thing, but I know some professional players like to switch to a different DPI settings in-game while sniping.
A 12,000 DPI support sounds like an overkill, but if you have a multi-monitor set up or have a huge 4K monitor, then this will definitely come in handy to cover from corner to corner quickly.
Corsair M65 PRO RGB Review Conclusion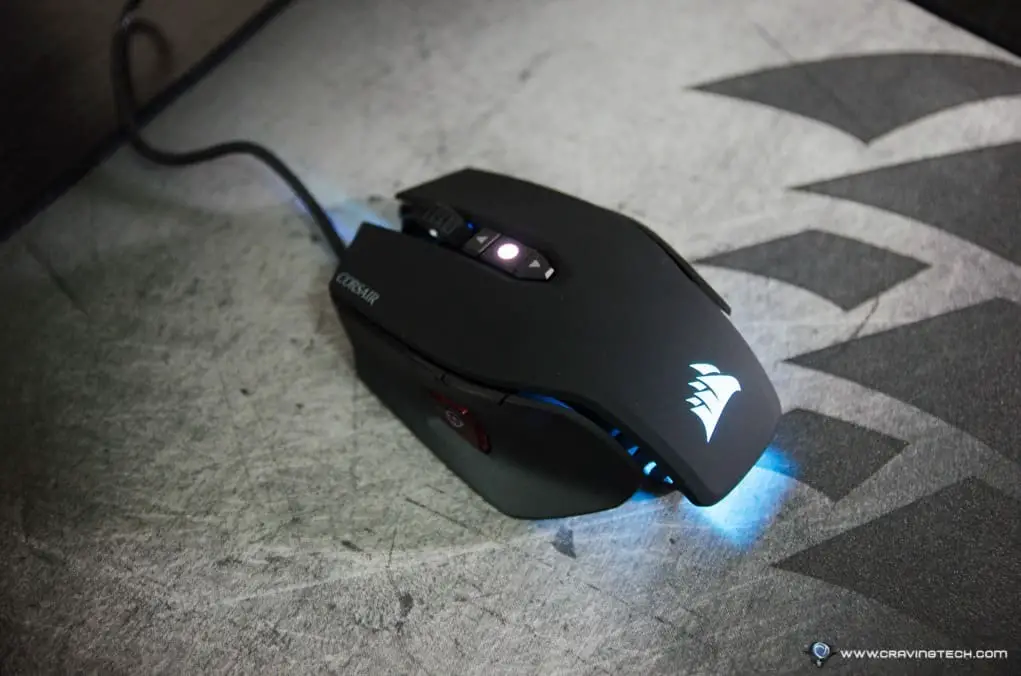 Corsair M65 PRO RGB does not disappoint as a gaming mouse: a cool looking mouse uniquely designed to fit the contour of your hand, has different materials for a better grip and feel, and personalisation that makes each M65 PRO RGB unique from one to the other. The lighting colour will also match your other Corsair peripherals such as the Corsair K70 RGB RAPIDFIRE through CUE (Corsair Utility Engine), so they are always in-sync.
Overall, the Corsair M65 PRO RGB is a great & powerful gaming mouse (thanks to that 12,000 DPI support and a unique Sniper button), especially if you are playing FPS games competitively. The mouse can be bought under $100 and available at many retailers in Australia and also at Amazon.
Disclosure: Review sample was supplied for the review, but all opinions are mine and not paid
[AMAZONPRODUCTS asin="B01D63UU52″]