CORSAIR K70 Pro Mini Wireless Review – The K70 Pro Mini is not the first mini, wireless gaming keyboard in the market. In fact, I just finished reviewing the A$499 SteelSeries Apex Pro Mini Wireless just a few days ago.
However, the K70 Pro Mini Wireless from CORSAIR only retails for A$299 (i.e, $200 cheaper) and does everything right, if not better than the SteelSeries version. Unless of course, if you really love their fully-customisable, fast OmniPoint 2.0 Switches.
The K70 Pro Mini Wireless is equipped with the traditional CHERRY MX Switches (either Red or Silver/Speed option) but that's okay too. They are very well-known and loved by many.
CORSAIR K70 Pro Mini Wireless Review – Packaging Contents and Unboxing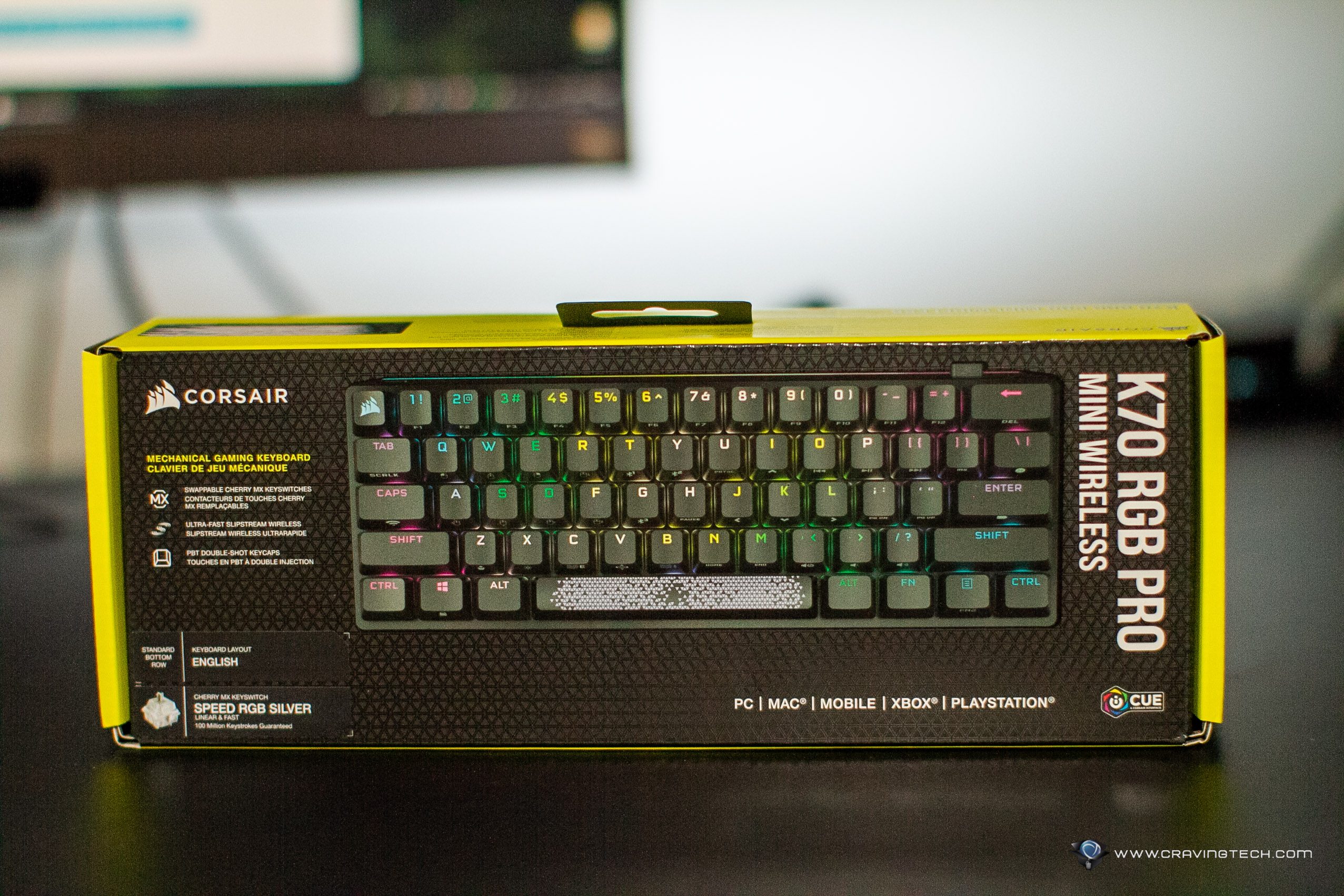 CORSAIR K70 Pro Mini Wireless Review – Design & Features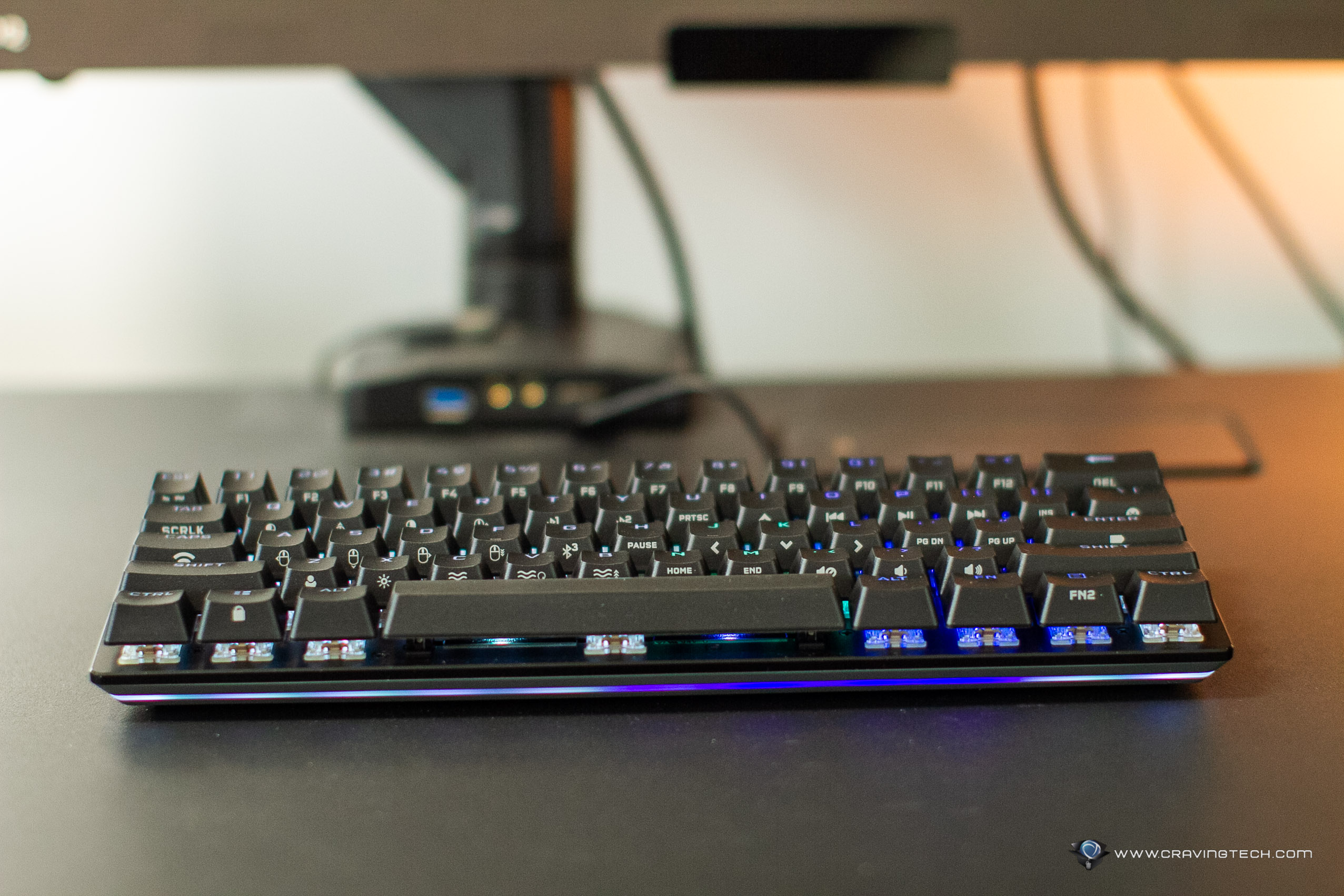 CORSAIR K70 Pro Mini is a 60% keyboard which means it is sized smaller than a TKL (Tenkeyless) keyboard. You won't find the dedicated numpads, F-keys, and other keys like Home, PageUp, etc. But not to worry, you can still have access to these keys' functionalities through the Fn (Function) key. But in all honesty, if you use your keyboard a lot to work, then it'll still be a challenge to get used to the keyboard. I usually use two keyboards at home: the Microsoft Sculpt Ergonomic for work and switch it to a gaming keyboard at night for gaming. So it's perfect for my needs here but if you are planning to use the K70 Pro Mini Wireless for productivity and dealing with spreadsheets, then it will take some time before you can get used to the control shortcuts.
There are labels printed on the side and the labels are bigger than the SteelSeries Apex Pro Mini Wireless, which is good. They can be seen pretty clearly, unless if you game in a dark room as they are not backlit.
The keyboard is a really compact, nice keyboard for gaming especially if you have a small desk or play with low sensitivity and need more space to swipe your mouse. Plus, it is also ergonomic.
And the fact that it's being wireless is even better. It keeps the desk clutter free and if you pair it with a wireless gaming mouse like the SABRE RGB PRO and wireless headset like the VIRTUOSO RGB Wireless XT, you're golden with the perfect setup. It supports both wireless (2.4GHz) and Bluetooth connection.
While the keyboard is mini in size, I'm glad that it feels very durable and sturdy on the desk. Along with PBT Double-Shot Pro Keycaps, your keyboard should last a long time. I can feel the weight when I hold it and it feels good. If you go to tournaments a lot, the keyboard size makes it easy to carry in your backpack and since the cable is detachable, you can store both of them safely in different compartments. There is even a slot on the keyboard to store the wireless dongle so you'll never lose it for sure.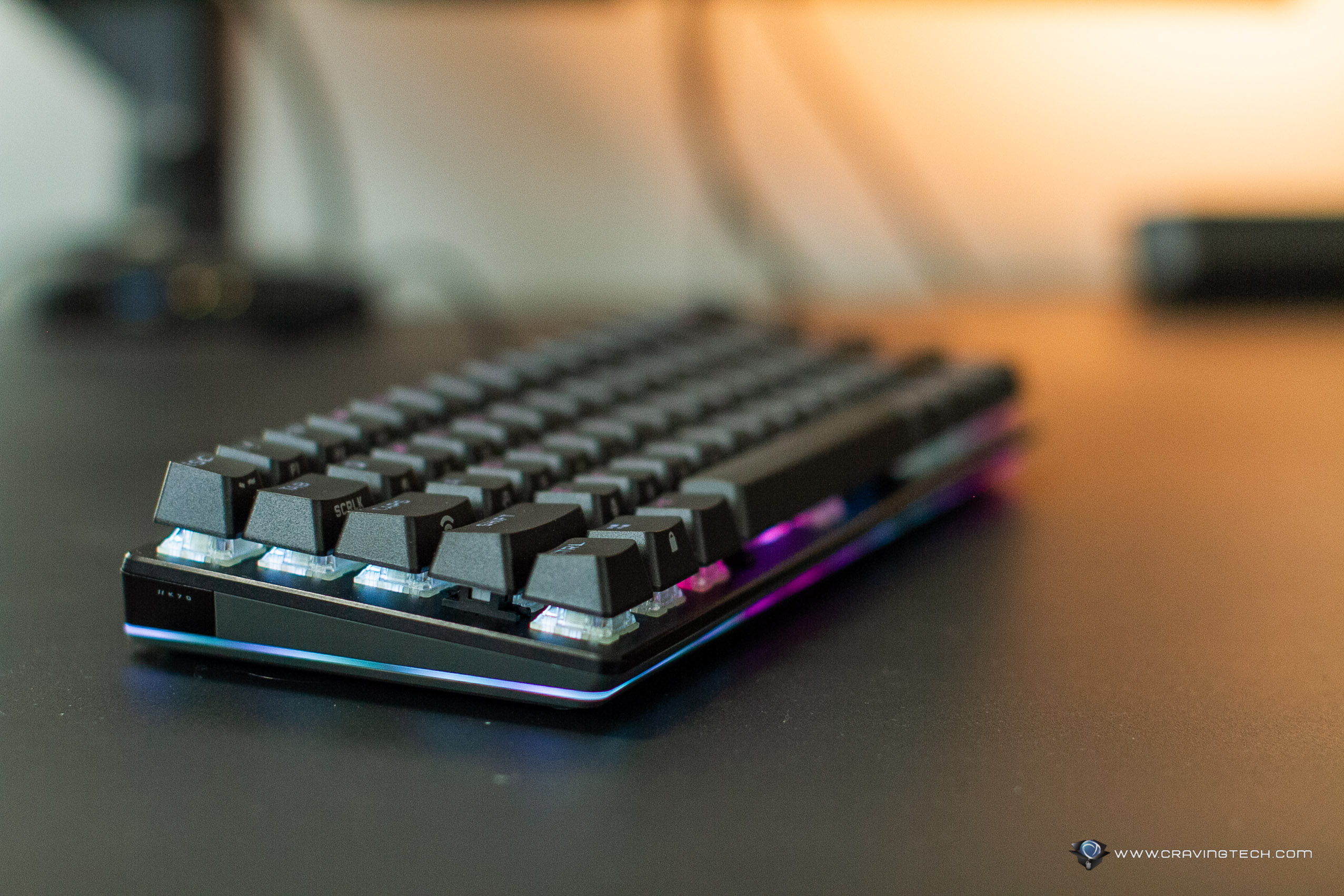 CORSAIR also makes it easy if you want to switch switches (pun intended), keycaps with custom ones, or even the accent bar. As a regular consumer, you probably won't care about this but if you are a professional or an enthusiast, this is definitely a cool thing to do.
CORSAIR K70 Pro Mini also has RGB backlighting per key and also around the keyboard – which I really like. It makes the keyboard look more premium but also enhance the aesthetics of my desk. Of course, if you want to save battery life, you can turn these off through iCUE. According to CORSAIR, you can get up to 32 hours with the RGB lighting turned on, or a whopping 200 hours without. Your choice.
If you have other CORSAIR peripherals and hardware like myself here (check my CORSAIR PC setup), you'll love the lighting ecosystem powered by iCUE.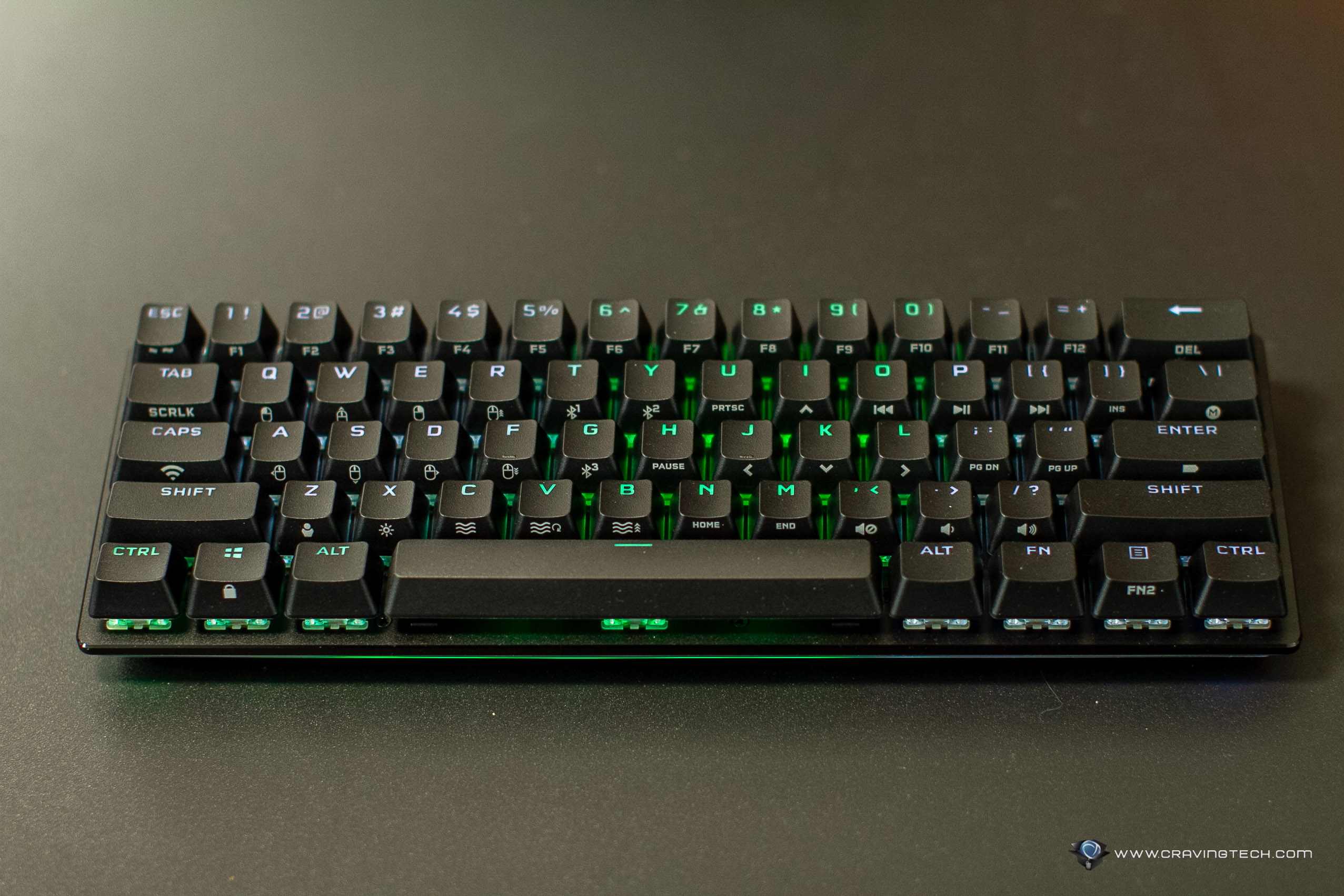 Something that I wasn't aware before is that the K70 Pro Mini Wireless also supports up to 8,000Hz polling rate – though this can only be achieved if you are using the keyboard wired. It's still a great option as you can use the keyboard cordless at home but during tournaments or competitive play, you can plug the cable in to get the highest polling rate possible.
I played Overwatch with the CORSAIR K70 Pro Mini Wireless for about two weeks in wireless, 1,000Hz mode and I couldn't notice any lag or latency at all. The performance is really good and with the Cherry MX Speed switches, I can get 1.2mm actuation point which is pretty fast and has a nice bounce when typing with them.
Thanks to the small size and the fact that I only need WASD and a few other keys to play games, the K70 Pro Mini Wireless is perfect on the desk. I do miss having a dedicated PageUp or PageDown key to scroll a page when browsing, but I don't feel the need for anything else.
CORSAIR K70 Pro Mini Wireless Review Conclusion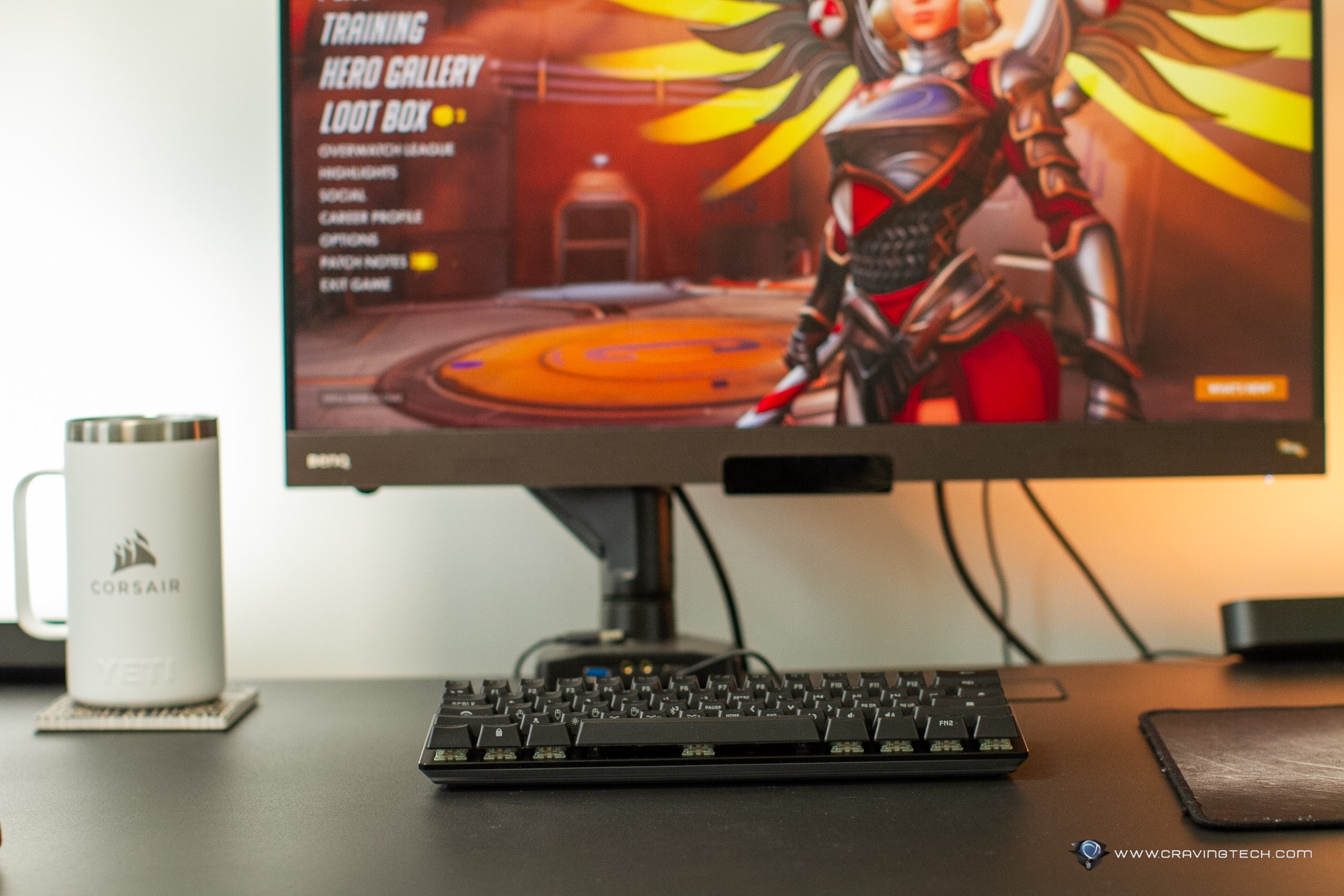 CORSAIR K70 Pro Mini Wireless is a powerful, 60% mechanical gaming keyboard that trumps the rest of the competition. It supports 1,000Hz-8,000Hz polling rate, priced competitively, and easily transportable (cord-free and there's a slot to store the wireless dongle directly on the keyboard).
I also like how the side function labels are printed bigger so you can see them clearly, and how there is RGB lighting surrounding the keyboard – which adds an aesthetic value on the desk when you game at night.
A 60% keyboard is not for everyone though. If you mainly use it for gaming, that's fine. However, if you are also after productivity and going to use it to work full time, you may struggle with the missing, dedicated keys like numpads and PageUp/PageDown/Home keys. I'm not sure how long it'll take for you to be able to adjust using the Function key to access these functions, but at least all keys are there – including Print Screen and even pointer/mouse functions like movement, scrolls, and clicks. I recon this is because the keyboard can be used on Xbox, Mobile, and PlayStation so having these functions definitely help in certain situations – an added bonus.
CORSAIR K70 Pro Mini Wireless retails for A$299 and available now at retailers around Australia.
Disclosure: CORSAIR K70 Pro Mini Wireless review sample was supplied for reviewing
CORSAIR K70 PRO MINI WIRELESS Review
Summary
One of the best 60% wireless, mechanical, gaming keyboards out there in the market
Pros
Compact and beautiful
Supports 2.4GHz and Bluetooth
Up to 8,000Hz polling rate (when used wired)
Great durability, easily transportable
Awesome lighting ecosystem if you have other CORSAIR peripherals and hardware
Up to 40 to 200 hours in wireless mode
RGB backlighting per key and surrounding the keyboard
All full-sized keyboard functions can be accessed with a Function key, along with extras such as pointer movements and scrolling
Cons
60% keyboard is not for everyone, the lack of some dedicated keys reduce productivity
The second function labels are not backlit, so it's hard to see in dimly-lit room
Pricey to some, though still cheaper than SteelSeries Apex Pro Mini Wireless