CORSAIR Virtuoso RGB Wireless XT Review – If you've been looking to upgrade your CORSAIR headset to the most premium, wireless headset CORSAIR has ever made, the CORSAIR Virtuoso RGB Wireless XT Review is probably it.
The headset doesn't just deliver multiplatform compatibility and high quality audio for gaming, but even a high-fidelity 24bit/96KHz for the ultimate music listening experience possible.
If you use your headset for more than just gaming, you should be very pleased with the Virtuoso RGB Wireless XT.
CORSAIR Virtuoso RGB Wireless XT Review – Packaging Contents
CORSAIR Virtuoso RGB Wireless XT Review – Design & Features
Ok let's address the big elephant in the room. This is no lightweight, minimalist headset. It's close to 400 grams which makes it on the heavy side, but the weight does add stability and obviously caused by all the goodies you actually get from the headset, especially the high audio fidelity bit.
I honestly have no problems wearing them while playing Cyberpunk 2077 and Overwatch every day for a couple of hours, and some music listening or YouTube videos watching here and there. And the headset strangely feels comfortable probably thanks to the great weight balance distribution that I never feel its weight dragging my head down or anything.
So that's that.
If you don't mind wearing a heavier headset in exchange for superb audio quality both in wireless and wired, you will be very pleased with the Virtuoso RGB Wireless XT. The 24bit/96KHz audio quality can only be achieved when it's used through USB and you can see the option on Windows audio properties.
If you can appreciate good audio, then you might want to use it wired almost all the time – especially for music listening. But even when you use it in wireless mode, the audio quality is still superior compared to most gaming headsets out there.
And oh, speaking of connectivity, the headset also offers 3.5mm connection and Bluetooth (Qualcomm aptX HD). Most gamers game on different platforms so this is the only headset you need to get and own as it can basically be used in any device and platform.
You can, for example, wear this on the train and be completely immersed in whatever content you are consuming – if you don't mind the bulkiness. Audio quality usually comes at a price though, i.e bulkier headphones like my audiophiles headphones – the Blue Sadie and Satellite.
More interestingly, you can connect the headset to a Bluetooth device like your phone AND have another connection to your PC. Audio will be coming from both devices simultaneously (tested on my iPhone 13 Pro and AMD Ryzen Gaming PC). This means you can for example, use Bluetooth on your device for voice chat apps, listening to music, or even taking phone calls while having it connected to your game on the PC at the same time.
The microphone is detachable so you can use the Virtuoso RGB Wireless XT outside without looking silly. An LED light at the tip of the microphone shows whether the microphone is muted or unmuted (there's a handy, small mute button at the base of the microphone).
You have the volume controls (with separate volume controls for Bluetooth) and connection switch (from wireless to wired) on the headset.
CORSAIR Virtuoso RGB Wireless XT Review – Gaming Experience
Okay, this is a gaming headset, right? So how's the gaming experience with the Virtuoso RGB Wireless XT? Well, excellent. I love the quality of the headset itself: how it looks when you see it on a headset stand, how it feels when you grab it with your hand, and the controls also don't feel flimsy. Everything feels sleek and modern.
Thanks to the awesome audio quality, playing games like Cyberpunk 2077 feels really good as the game looks alive both visually and now, audibly. I think it's quite soft on the bass side though so explosions may not be as loud & boomy as you want it to be (preference).
In a more competitive, online first person shooter games like Overwatch, audio positioning is key and the headset delivers. I can always pinpoint every possible audio cues in the game such as the enemy footsteps behind the wall or when an enemy unleashes their ultimate ability (so I can hide quickly without having to confirm his/her location).
In the clip below (around 00:08-00:09), I could hear and pinpoint the enemy's Soldier 76 unleashing his ultimate ability, hid, and then took him down quickly.
When used wireless, the headset has up to 15 hours on a single charge – give and take depending on your settings and usage. It's not long so you may have to charge it daily if you like to game for hours and hours.
Comfort wise, the memory foam earpads are quite thick but surprisingly doesn't offer that tight, close, noise isolation. I personally like to still be able to listen to my surroundings – but this is probably because I'm using the headset in a quiet, study area at home.
CORSAIR Virtuoso RGB Wireless XT Review Conclusion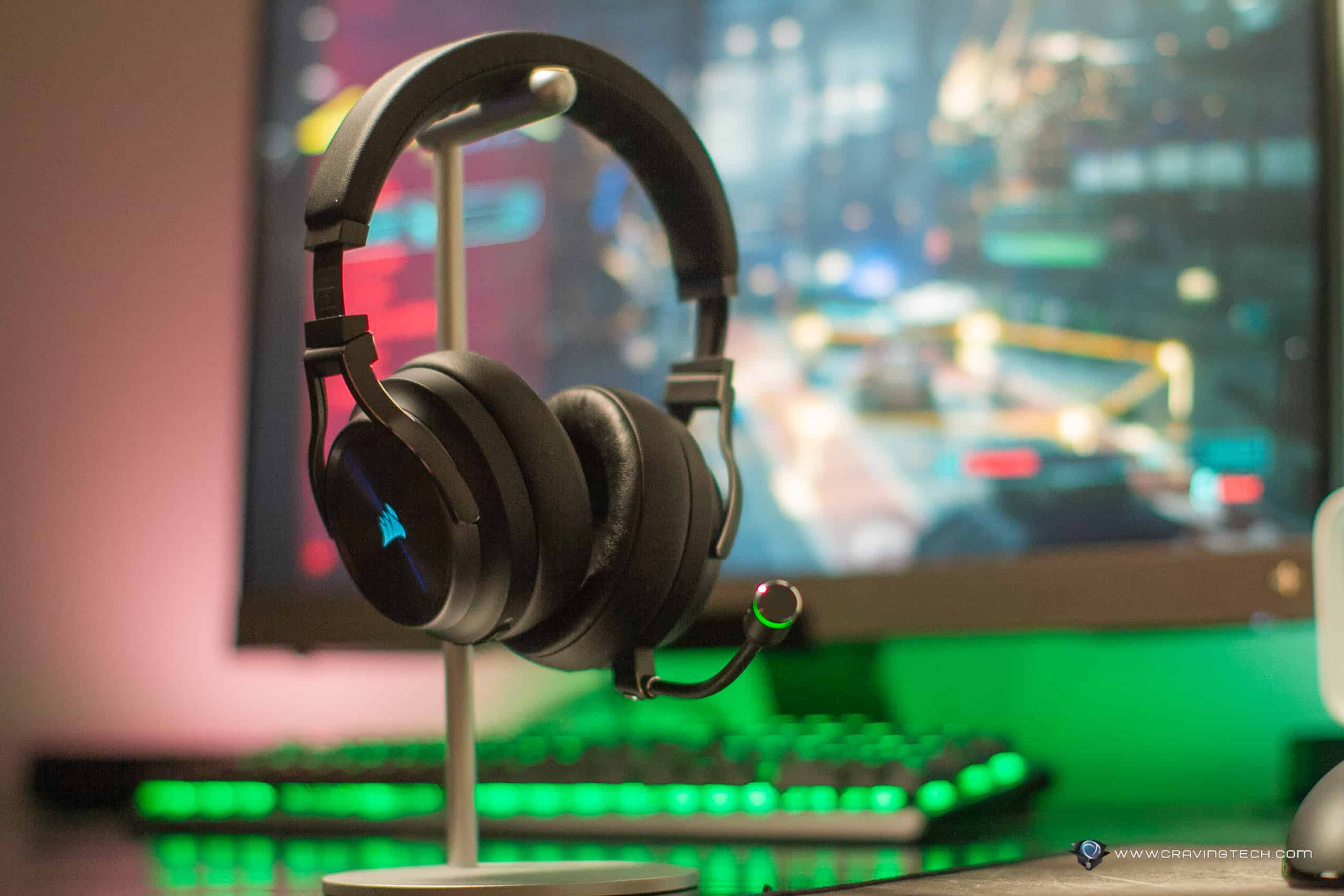 CORSAIR Virtuoso RGB Wireless XT is one of the best sounding wireless gaming headsets I've ever reviewed. If you listen to music a lot when not gaming in front of your PC, you're going to appreciate the sound upgrade to 24bit/96KHz when it's plugged.
When gaming, the headset itself is comfortable to wear even though it's somewhat bulky and kind of heavier than most headsets. The weight distribution across the headset is thankfully quite well-balanced so you can enjoy the audio quality and game comfortably. It also has a really good audio positioning as I can pinpoint everything in Overwatch with ease and communicate flanking enemies with my teammates really well.
It's showered with multiple connectivity options and a good quality, detachable microphone.
However, if you only listen to music casually and can't usually differentiate a good headphone from a bad one, or if you are only going to use the headset for PC gaming, there are definitely better and more affordable options out there with better battery life.
CORSAIR Virtuoso RGB Wireless XT retails for A$429 in Australia and is available for purchase now.
Disclosure: CORSAIR Virtuoso RGB Wireless XT review sample was supplied for reviewing
Summary
CORSAIR's flagship, wireless headset with all the bells and whistles
Pros
Modern looks
Great audio quality
24bit/96KHz in wired mode
Detachable microphone so you can use it outside
Wireless, Wired (USB), Bluetooth, 3.5mm connectivity options
Can simultaneously use Bluetooth and Wireless at the same time
Cons
Somewhat bulky and heavy
Pricey if you don't need all the bells and whistles