CORSAIR SABRE RGB PRO WIRELESS Review – There are definitely lots of wireless gaming mice in the market at the moment in pursuit of being the lightest. Depending on your grip style and preference though, the lightest gaming mouse doesn't mean the best in comfort. In fact, if it's too light, I find that I have to re-adjust my DPI and swipe motion while aiming.
So it all comes down to having the right, lightweight design, comfort, and performance. And it looks like CORSAIR SABRE RGB PRO WIRELESS has them all and so far, it's the wireless gaming mouse that gives me that consistent performance while playing Overwatch.
CORSAIR SABRE RGB PRO WIRELESS Review – Packaging Contents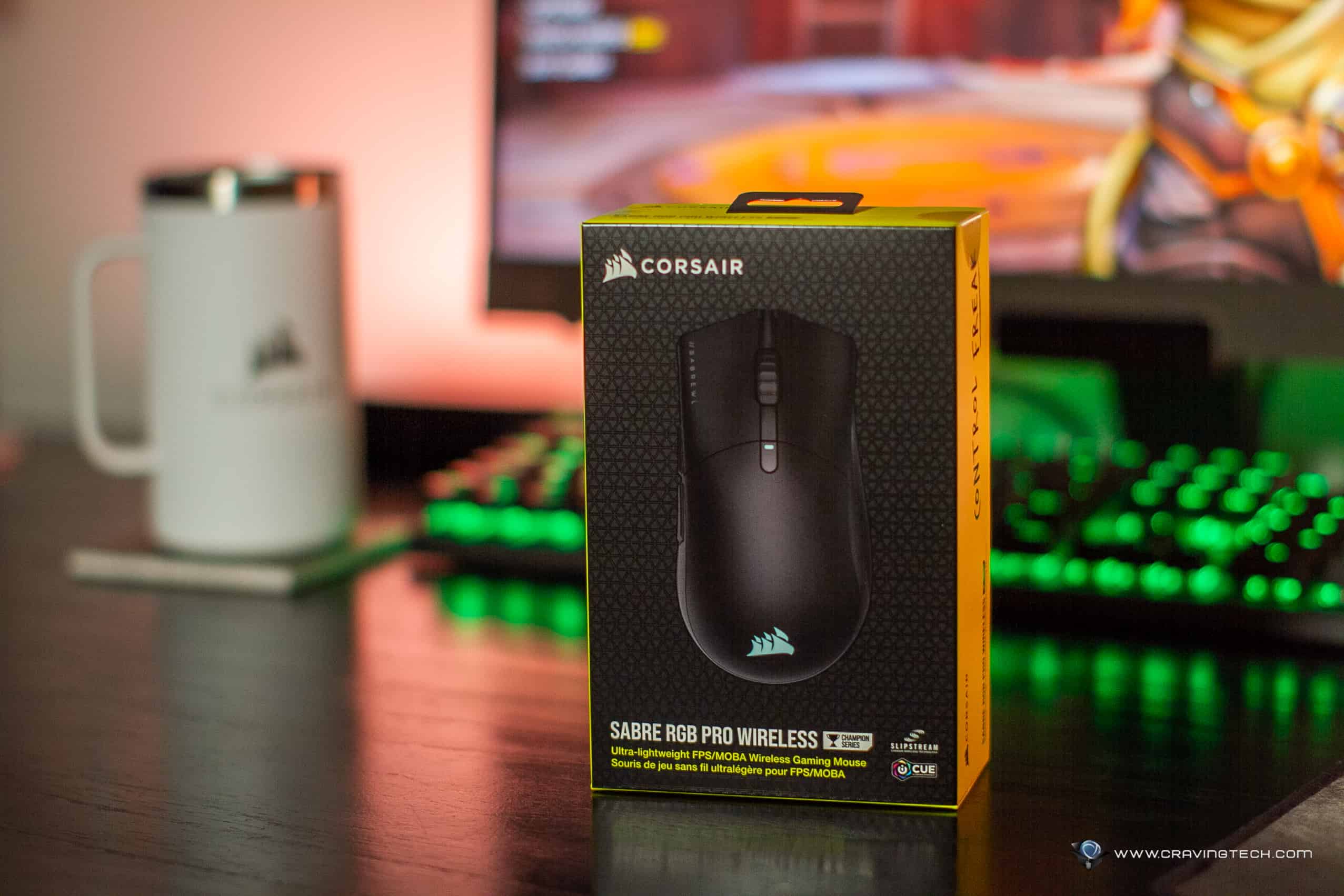 CORSAIR SABRE RGB PRO WIRELESS Review – Design & Features
The mouse has an ergonomic shape for right-handed gamers at 79 grams of weight. I consider its size to be somewhat between small and medium. It's bigger than the Logitech G PRO X SUPERLIGHT but smaller than the Razer DeathAdder V2 Pro.
I'm a fingertip gamer and feels like the contour and shape of the mouse fit really well in the palm of my hand. All my fingers feel like they have their place on the mouse.
The tactile feedback of the left and mouse buttons is one of the best I've ever experienced too. It's punchy, bouncy, and doesn't require too much force to register. CORSAIR call them the CORSAIR QUICKSTRIKE buttons with a design that delivers zero gap between the mouse buttons and their OMRON switches. The design gives you the speed and responsiveness you need in competitive play.
My only "complain" is that I wish the right thumb area is rubberised or textured for a better grip like the CORSAIR DARK CORE RGB PRO. It felt slippery for the first few days but afterwards, my fingers have thankfully adjusted.
The SABRE RGB PRO WIRELESS is part of the CORSAIR CHAMPION SERIES which means that the mouse was built for and tested by top esports professionals.
The mouse has a 2,000Hz hyperpolling rate, very fast wireless transmission speed, and a Bluetooth connectivity option. Sure, it's no 8,000Hz like the Razer Viper 8K, but honestly 8,000Hz requires a beefy PC spec and not many games support it anyway. I myself still find 1,000Hz to be the holy grail and more than enough, but I guess people say once you go higher polling rate, you won't go back down. So we'll see about that.
What about its performance? SABRE RGB PRO WIRELESS has up to 50G acceleration, 650 IPS, and supports up to 26,000 DPI. It's powered by an optical sensor that is accurate, performing, and can keep up with fast paced, competitive games like Overwatch that I play almost every night.
In Overwatch, CORSAIR SABRE RGB PRO WIRELESS probably gives me the most consistent performance compared to other gaming mice I've used and reviewed. It's probably the combination of everything: its perfect size for my hand that supports my grip style, has the right weight, and a stable & solid sensor performance. Aiming feels effortless for both tracking and flicking movements.
Here are some gameplay clips of Overwatch while I'm using the mouse:
According to CORSAIR, the mouse has up to 60 hours of battery life on the 2.4GHz wireless and 90 hours on Bluetooth. If you have iCUE installed, you can also display the battery level remaining on the Windows taskbar – which I find quite handy.
CORSAIR SABRE RGB PRO WIRELESS Review Conclusion
CORSAIR SABRE RGB PRO WIRELESS was designed and tested by top esports players and it's shown on the actual product. The mouse is comfortable to hold, fits like a glove, has accurate sensor performance, and a pleasant to use for all kinds of games, including fast-paced, competitive ones.
My main mouse for gaming before was the Razer DeathAdder V2 Pro but looks like CORSAIR SABRE RGB PRO WIRELESS has dethroned it. I'm amazed at the performance consistency that I get with the mouse and the click's tactile feedback is satisfying as well.
The mouse is available for purchase for A$169 at retailers around Australia. Also available at Amazon.com
Disclosure: CORSAIR SABRE RGB PRO WIRELESS review sample was supplied for reviewing
CORSAIR SABRE RGB PRO WIRELESS Review
Summary
A lightweight, wireless gaming mouse from CORSAIR which offer best and consistent gaming performance
Pros
Great design
Lightweight without being too light
Ergonomic
2,000Hz Polling Rate support
Good battery life
Has Bluetooth connectivity option
Satisfying tactile feedback on the primary mouse buttons
Cons
Can feel a bit slippery without textured or rubber material on the grip area
No cool charging stand