Some nice pictures taken at the right angle, at the right time (got these pics from a friend on a mailing list. When you...
Find out why dogs are called men's best friends :) Have a good weekend! PS: Not sure if these photos are photoshopped.                                                                                                
I laughed so far while watching this. Whoever put the subtitle into the movie deserves a clap :D Make sure you watch it, it's...
Before Marriage: He: Yes. At last, it was so hard to wait. She: Do you want me to leave? He: NO! Don't even think about it. She: Do...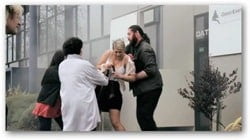 Hell Pizza (New Zealand based) has an interesting advertisement strategy with "Choose your own adventure" zombie movies. You basically watch a short movie (quite...
IKEA General Motors - There is a rumor that IKEA is merging with General Motors.. can this be true? Don't worry, it's only a joke...