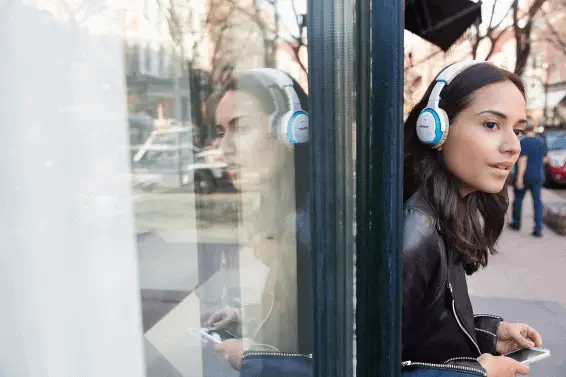 The SoundLink on-ear Bluetooth headphones from Bose is the first on-ear Bluetooth headphones that Bose has made. The team takes their time to perfect the design for acoustics, comfort, portability, and design – making sure to carry all the audio performance of a wired Bose headphone to a Bluetooth headphone.
As a result, the SoundLink on-ear Bluetooth carries forward all the technologies powering Bose's headphones, such as the Bose Active Equalization and TriPort® technology for a smoother and more balanced sound.
There are also other technologies empowering this Bose's Bluetooth headphone such as noise reduction (from the wind or outside noise) so your callers can hear you better. Yes, you can use the SoundLink on-ear Bluetooth headphone to make and receive calls, as well as listening to your music.
Playback controls are located conveniently on the ear cup, so you can adjust everything with ease, which includes turning the headset on and off.
The headphone weighs around 155 grams and can last for about 15 hours of listening. Charging the headphone for 15 minutes will give you around 2 hours of music listening.
Bose's SoundLink on-ear Bluetooth headphone is available for purchase at $249.95.