Razer BlackWidow V3 Mini HyperSpeed Review – The Razer BlackWidow gaming keyboard family have been around for decades and each year perfected for performance, durability, and sometimes, a wow factor. The latest BlackWidow, the Razer BlackWidow V3 Pro, finally adds wireless connectivity option to gamers who still want to game competitively but without cable limitations.
But if you have a really tight space and prefer to have a clean setup for gaming, you'll love Razer's newest BlackWidow V3 Mini HyperSpeed.
As the name suggest, it's the Mini-Me version of the iconic BlackWidow gaming keyboard.
Razer BlackWidow V3 Mini HyperSpeed Review – Unboxing & Packaging Contents
Razer BlackWidow V3 Mini HyperSpeed Review – Design & Features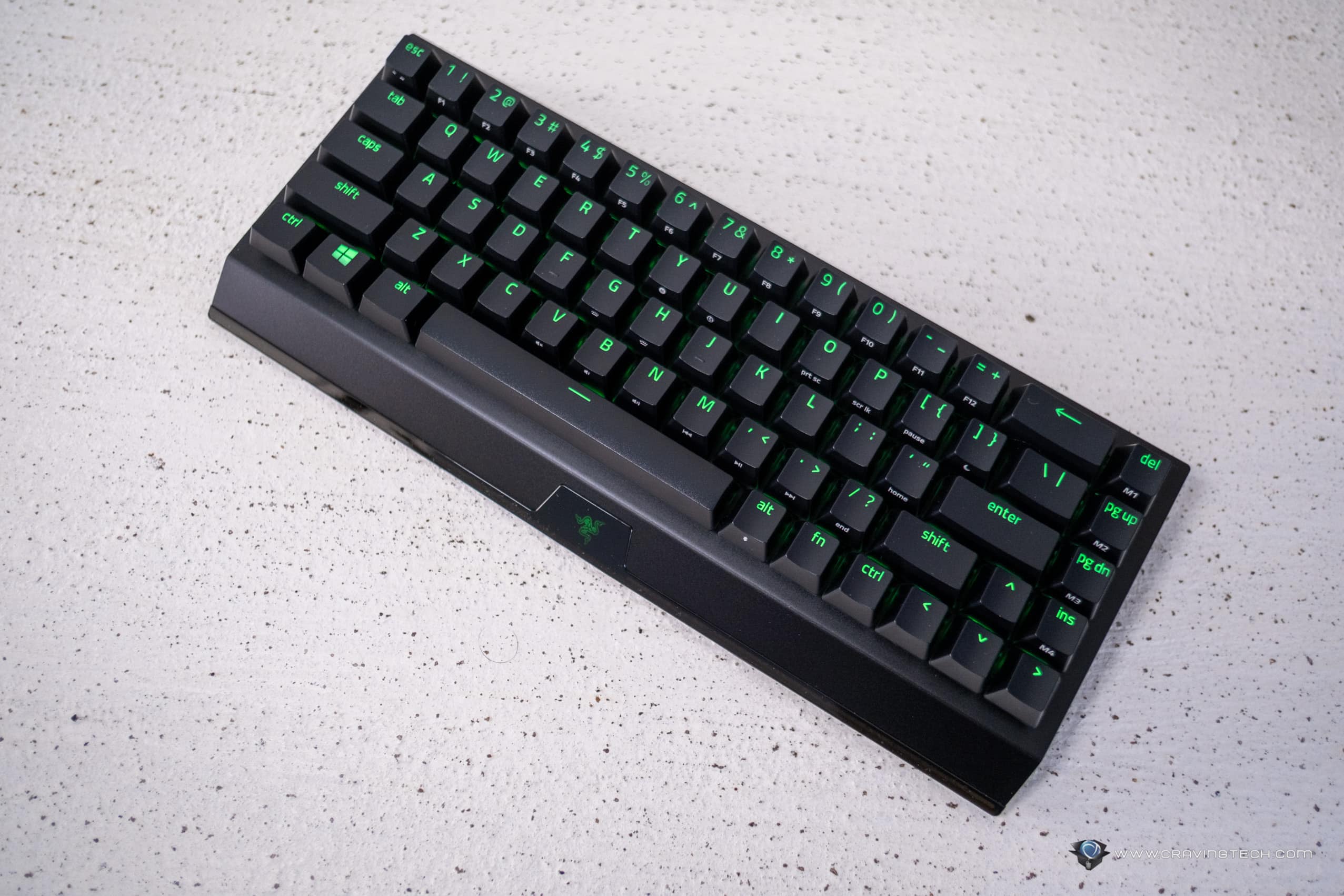 Razer BlackWidow V3 Mini HyperSpeed is a 65% keyboard which is similar to a 60% keyboard but with the extra arrow keys. Having the arrow keys mean you can do more such as scrolling through texts or those Excel Spreadsheet cells with ease. Some arcade games also utilise the arrow keys which means you can use the keyboard for more than just playing FPS (First Person Shooter) or RTS (Real Time Strategy) games.
I have to say though that it can sometimes be challenging to use the keyboard for work. For example, if you often use the F-keys, you have to press the Fn button first (and sometimes you may have to press Alt + Fn + F key at the same time). Or when you need your cursor to go at the beginning or end of the sentence, there is no dedicated Home and End key (you have to use the Function key as well). But it's the price you are paying for a smaller form factor.
The aluminium body feels durable and the keycaps are made with extra-thick walls to withstand prolonged, repeated use. With a doubleshot molding process (Doubleshot ABS keycaps), the label on the keys should never wear off as well. Plus, the switches (you can pick between Razer's Green or Yellow mechanical switches) also offer 80 million keystroke lifespan.
You can use the keyboard in three different angles as well.
Thanks to Razer's HyperSpeed Wireless technology, the BlackWidow V3 Mini HyperSpeed supports low latency, wireless gaming – so yes, the keyboard can be used without the cable! You also have a Bluetooth connectivity option so if you want to pair the keyboard to your phones, you can (or use it for work purposes to get a longer battery life).
Unlike the BlackWidow V3 Pro, the Wireless/Bluetooth switch on the BlackWidow V3 Mini is not stiff at all.
Charging is done via USB-C (cable included) and you can also use the keyboard wired while it's being charged. According to Razer, the keyboard has up to 200 hours of battery life – which I assume through Bluetooth connectivity with several hours of use a day and with low or zero lighting.
During my two-week period of reviewing the keyboard, I always had it on the 2.4GHz wireless connection and use it a few hours a day (a mix of working and gaming). So far, I still have around 25% of battery life and this is with 10% RGB brightness. You can change this setting and other power saving options to further prolong its battery life through Razer Synapse.
Razer BlackWidow V3 Mini HyperSpeed Review Conclusion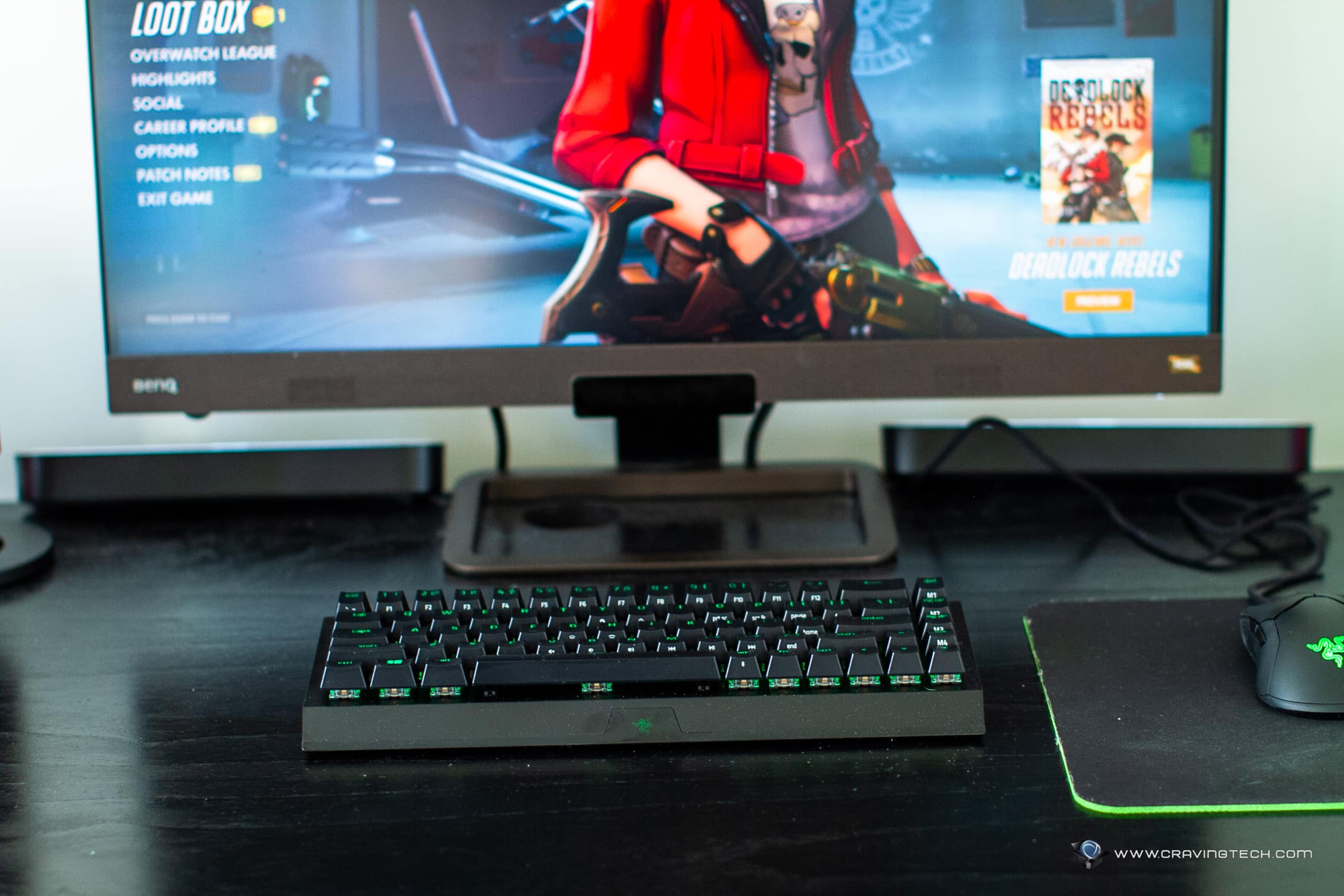 You can't find much fault with the Razer BlackWidow V3 Mini HyperSpeed. It's a solid, durable, 60% wireless mechanical gaming keyboard without the noticeable latency when gaming. With a small form factor, the keyboard doesn't take much space at all on the table and actually improve my ergonomics when gaming as the mouse is closer to the keyboard.
Razer also includes the extra arrow keys and make sure that you can still use the F keys, along with Home, End, and even multimedia controls through utilising the Function key.
I love how I can use the keyboard wirelessly but knowing that I can always hook it up with the USB-C charging cable to keep using and charging it at the same time. There is also a Bluetooth option if you need to pair it with another device like your phone or tablet, or a secondary work laptop.
Razer BlackWidow V3 Mini HyperSpeed retails for A$329.95 and available for purchase at RazerAU and retailers around Australia.
Disclosure: Razer BlackWidow V3 Mini HyperSpeed review sample was supplied for reviewing
Razer BlackWidow V3 Mini HyperSpeed Review
Summary
Razer's most popular mechanical gaming keyboard line gets a mini, wireless version
Pros
Sturdy construction with aluminium material
Small form factor, great for a tight desk space
Durable keycaps 
Offers Bluetooth and 2.4GHz connectivity
Wireless
Extra arrow keys are very useful without sacrificing the form factor
USB-C
Connectivity Switch is not stiff like the BlackWidow V3 Pro
Cons
Expensive
Losing 35% of the keys is not great if you mainly use the keyboard for work