Auslogics BoostSpeed 5 Review – Most PC users face system slowdown at a certain point in time and begin to wonder why it happens and how it could be eliminated and prevented. Of course there is a number of built-in tools in the Windows operating system that let you perform maintenance, and then there are all these third-party programs that take care of individual problems or a set of problems. Doing maintenance one thing at a time is a time-consuming process, and this is where the Auslogics BoostSpeed suite of tools comes into play.
Auslogics BoostSpeed 5 is an all-in-one computer speedup and optimization program that makes PC maintenance a breeze for novices and advanced users alike. With its attractive intuitive interface, a multitude of optimization features and the added extras, the program is one of our favorite system utilities.
Auslogic BoostSpeed 5 Review – One-click scan
When you open the main program window, the first page that comes up has a big Scan Now button. Instead of checking individual areas one at a time, this scan will check your whole system, report the problems it finds and offer to fix them. If you prefer not to scan certain parts of the system, you can uncheck the related boxes under Scan Options. Besides the simple scan, you can also select to scan and repair, and even to send the computer to Sleep mode or shut it down after the repairs are done – a very convenient feature if you like performing maintenance at the end of the day, like many of us do.
Once you click Scan Now, the software will check your system for junk files, registry errors, disk fragmentation and broken shortcuts. If you didn't set the program to automatically repair what it finds, it will provide you with a report of found problems and a Repair Now button to click to get the problems fixed. At this point you are just one click away from getting your well-performing system back, restored to its former glory.
If you know your way around computers, you can explore what the problems found by the software are before repairing them, and if you like, you can uncheck certain categories to be excluded from the repairs.
Auslogic BoostSpeed 5 Review – System Advisor
The second tab in the main program window is the System Advisor tool. Clicking on this tab launches a system scan to detect areas that have improvement potential. Once the scan is complete, you are presented with advice on a number of tweaks that could potentially improve user experience and/or system performance.
Read through each piece of advice carefully, as not all of it may be something you would want to implement. Uncheck the boxes next to suggestions you don't particularly like.
Auslogic BoostSpeed 5 Review – Advanced Tools
The Advanced Tools tab contains shortcuts to all remaining utilities included in Auslogics BoostSpeed 5. Just a quick glance at the list gives you an idea of the scope of potential system improvement you can receive from using the software. Included are disk cleanup, defrag and repair tools, registry cleanup and repair, various system tweaking tools, file recovery software and utilities to protect your privacy. There are several useful utilities in here.
Auslogic BoostSpeed 5 Review – Internet Optimizer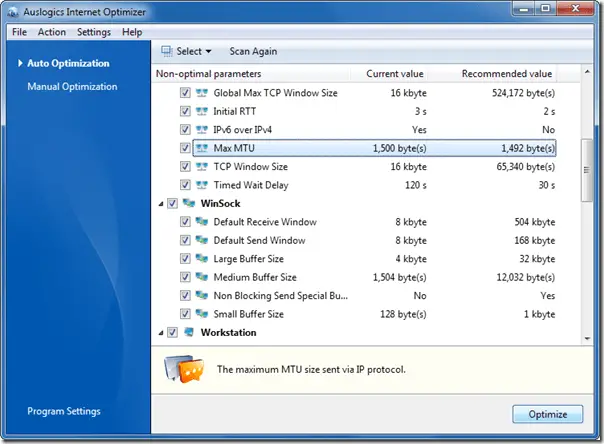 The Internet Optimizer in Auslogics BoostSpeed 5 tweaks your connection settings to get the maximum speed your internet connection will allow. There are manual and automatic options for tweaking the settings, so if you are not sure what you are doing, we suggest you go with the automatic one. If your connection is already pretty fast, you may not notice a difference, while slower connections or older systems may see a noticeable improvement.
Auslogic BoostSpeed 5 Review – Startup Manager
You may have seen advice to use the msconfig command to manage startup programs, but most experts agree that it's not recommended for novice users. The Startup Manager in Auslogics BoostSpeed 5 offers a safe way to disable unnecessary startup items that may be slowing down your system startup. The program provides some info on each item on the list, including a safety rating, and lets you disable entries by simply unchecking the boxes next to them.
Auslogic BoostSpeed 5 Review – Auslogics Rescue Center
Although we haven't seen any problems using this software suite on our system, with all system optimization and maintenance programs there is always a chance you may not like the results. Auslogics BoostSpeed 5 makes undoing its actions an easy job by creating backups in its Rescue Center module. Upon opening the Rescue Center you see a list of existing backups with the creation time and the type of operation performed after the backup specified. If you didn't like the results of a particular operation, you can easily undo that operation by selecting it from the list of backups.
Besides its own backups, the Auslogics Rescue Center gives you easy access to your system restore points, which you can use to take your whole system back to a previous state.
Auslogics BoostSpeed 5 Review Conclusion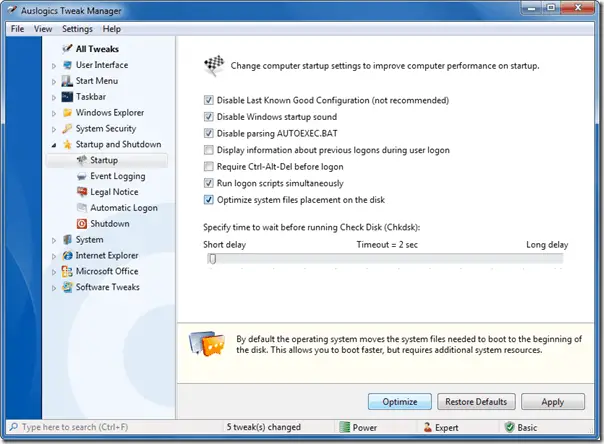 To sum it up, Auslogics BoostSpeed 5 is an effective all-in-one optimization and maintenance tool to have on any Windows PC. It will clean up system junk, defragment and optimize your hard drive, help you get rid of unneeded software and startup items, as well as provide a number of other useful tweaks that can help restore the speed and efficiency to your system.
Auslogics BoostSpeed 5 Licenses Giveaway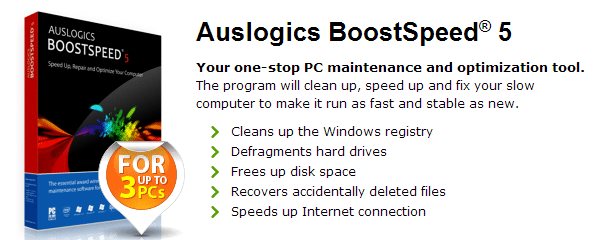 Now the exciting part, you can win this awesome software (normally priced at AUD 48.14 for 1 year subscription), for FREE!
All you have to do is:
Like Craving Tech's Facebook fan page (if you haven't)
Comment with your name and email address about anything on the comment form (so I can contact you if you win)
Use the Giveaway widget below to earn points by referring your friends to this post
Terms and Conditions:
Giveaway period starts from 2nd of October 2012, 11:00 PM AEST – 23rd of October 2012, 11:00 PM AEST.
TEN winners will be picked based on the highest number of entries gained.
Eligibility: Worldwide
Prizes cannot be exchanged or redeemed for cash
All the best, everyone!