Aranez Flip Samsung GALAXY S5 Leather Case Review -Made from black premium cow leather for the outer lining and grey-coloured suede inner lining, both feel soft on your hand. The stitching is done one white, giving the case an extra dimension.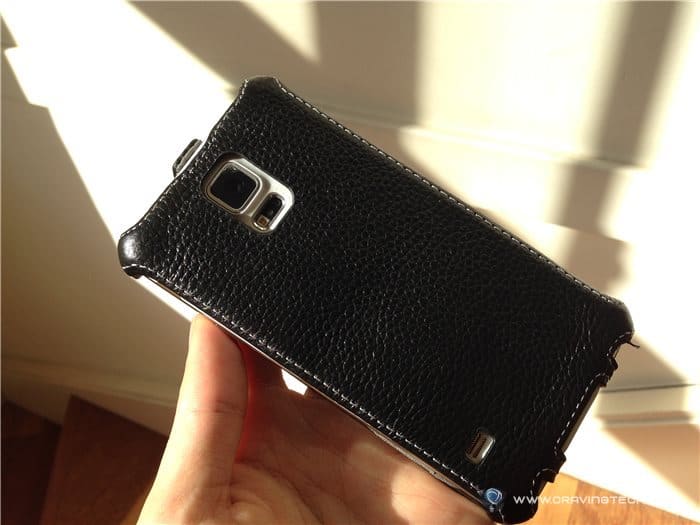 The inner part of the flip also contains a card pocket that, during my usage, could fit up to 3 cards of normal bankcard thickness (although this was actually a stretch).
The case does not have any hard parts, which means it will not scratch your smartphone when you use the case.
When closed, the flip fasten itself to the smartphone by the small hook at the top of the flip. It doesn't automatically fasten itself, as you would need to slightly pull the flip up a little bit and place the hooks on top of the smartphone. Once it is fastened, it really holds quite well.
To open, the case flips to the bottom where it hinges, and then you can place it on the back. Although this is very convenient, this also exposes the soft inner lining to your hand – which in time will make the material dirty.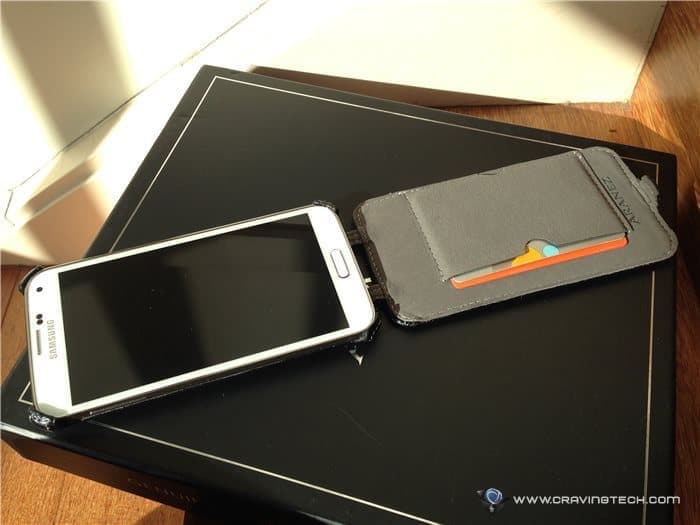 The case allows direct access to the plugs and buttons on the sides of the phone as well as the rear camera by not covering them. However, this can also be a minor issue for when you drop your phone into a hard surface at certain angles where the phone is exposed.
Overall, it is quite a great case. It is slim, it looks luxurious and professional, and it is easy and safe to take on and off.
For more and to purchase the case, check out Aranez Flip Samsung GALAXY S5 leather case
Disclosure: Sample was provided for the review but all opinions are 100% mine