Vodafone and Samsung are teaming up to host a huge competition called TheVault to let you win 50 Samsung GALAXY S5 as the grand prize and also weekly prices such as a Samsung GALAXY Tab 3 and Samsung SMART CAMERA WB350F. You can team up with your friends (or even strangers) to increase your chance of winning.
What the competitions are all about: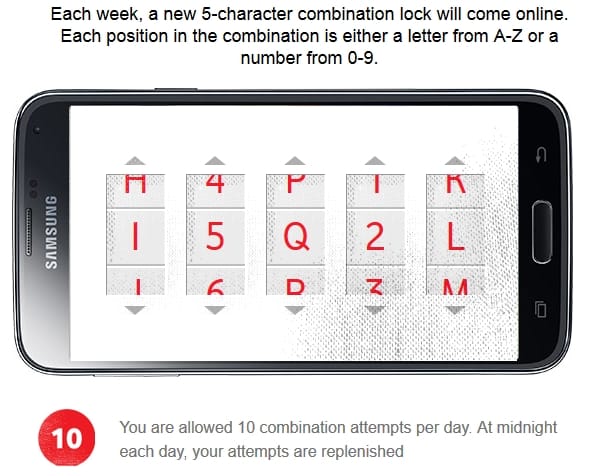 So, basically you just need to try different combinations every day by trying them all out, hoping to hit the right one.
If you are the first person who gets the right combination for that week, you will win the Samsung SMART CAMERA right away and earn a place for your crew at the Grand Finale Event. So if you have lots of crew members, you can coordinate every day to ensure that your crew tries out different combinations per person. You can have up to 50 members in a crew (hence, the 50 Samsung GALAXY S5 to share with at the end).
There will also be clues released every weekday (2 clues per day) and 1 on each day of the weekend to help out in solving the current week's combination. Or of course, if you are lucky enough to get the right combination for the week, then you don't need those clues at all.
There will be an optional challenge per week to win a Samsung GALAXY Tab 3 by shooting a video or photo.
All participants of #TheVault will also grab a free Samsung Gear Fit and a bonus 12-months Samsung Music Hub® subscription if you sign up for Samsung GALAXY S5 on a 12 or 24-month contract with Vodafone.
TheVault competition will start next Monday on the 26th of May 2014 so you should start forming up a crew now. Or better, let's do this together!
Join CravingTech crew!
Hey, why don't we form a team up? I have already registered myself and form up a crew. It'll be easier to win and I'll try to put up a shared online document that we can collaborate together in regards to picking the right combinations. You have to live in Australia, of course, to join up.
Join CravingTech's crew by going to: https://www.vodafonevault.com.au/invite/209738f8