Adobe Premiere Elements 9 Review – I've created many videos with Adobe Premiere Elements 7 and 8 in the past, ranging from simple (such as those unboxing videos) to more complicated ones that require weeks of editing and polishing. I'm always amazed at how easy yet powerful Adobe Premiere Elements is. When I heard that there was a newer version coming out, I couldn't resist the temptation not to get my hands on it and to find out what's new.
Adobe Premiere Elements 9 Review – Introduction
Adobe Premiere Elements 9 is a powerful movie editor and easier to use than the Adobe Premiere Pro (obviously geared towards more professional video editors). This doesn't mean that Adobe Premiere Elements 9 is not worthy to have, though. In fact, for most people, especially for home or small video production people, Adobe Premiere Elements 9 has enough power to do what you need.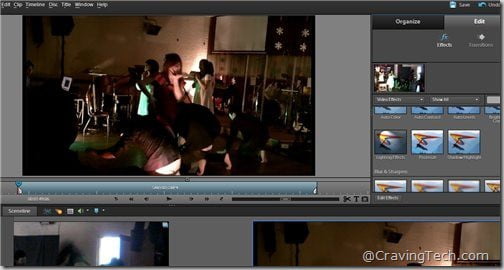 Adobe Premiere Elements 9 help you from the start to finish: from importing the media (video, photos, sound files) to sharing your masterpiece both offline and online. Importing the video requires an easy drag and drop process and the new Adobe Premiere Elements 9 also adds more easy import from several camcorders (such as the Flip or DSLR cameras).
It is best to create the project based on the same video qualities and resolutions and Premiere Elements 9 will help you if you didn't pick the right one. In fact, I'm happy at how Premiere Elements 9 suggested me to change the project settings because it doesn't match with the videos I imported to it.
Selecting which project settings to use can be a bit daunting and confusing, so this automated suggestion is a welcomed addition.
The interface layout hasn't changed much and it's for the better. Playback video is still located on the top left of the interface and the sceneline/timeline is still at the bottom: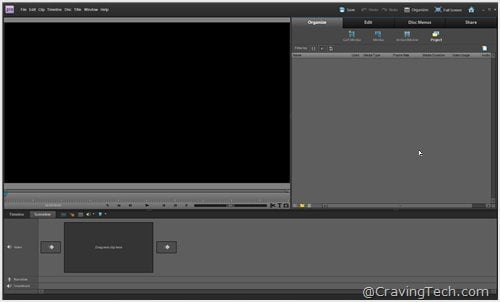 Beginners might want to use the Sceneline if they just want to quickly make a video out of the source files but I'd suggest learning to use the Timeline because it's much more powerful and you can totally control what you want the final video to be.
Adobe Premiere Elements 9 Review – Impressions and Experience
Overall, I find that the interface has undergone some minor visual changes and somehow it looks sleeker and professionally more elegant compared to the Premiere Elements 8. They are minor to look at individually but overall more pleasing to the eyes and add a bit more to productivity.
As for the performance, I somehow feel that Adobe Premiere Elements 9 is a bit slower than Adobe Premiere Elements 8. Doing certain things feel slower and lack of responsiveness in Premiere Elements 9 even though I have actually upgraded from a dual core machine to a quad core with another 2 GB extra DDR3 RAM (tested on AMD AM3 Phenom X4 955BE with 4 GB DDR RAM and GTX 460 1GB). It can be a problem with my Windows 7 x64 system so it's best to find out other reviews to see if other reviewers have the same experience.
I've also been getting a video playback stuttering problem in Adobe Premiere Elements 9 which did not happen in Premiere Elements 8. It happens every time I start adding a subtitle on top of my videos. I posted about this in Adobe forum and someone pointed that having a Still subtitle causes this problem. So the workaround at the moment is to set the subtitle to either Roll or Crawl to bypass this issue (or you can also do a pre-render of that particular timeline). I've uploaded a video about the problem in YouTube. Hopefully Adobe has released a patch on this by the time you are reading this review.
A new fun theme gives some fun spices to your video clips by automatically adding transitions and effects:
I'm not really a fan of this one but some people may find it amusing for making family videos. The NewBlue CartoonPlus effect is a cool one to play around though, and gives plenty of customizations, transforming your video into a piece of art:
There is also a new audio enhancement feature in Adobe Premiere Elements 9 that reduces background noise and fixes audio problems for clarity.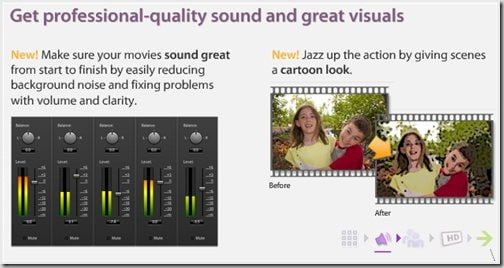 I did find this new feature to work when the background noise wasn't too distorted. When I made a wedding interview video for a friend, one of the audio went really bad and noisy, so I had to find a way to reduce the noise. Premiere Elements 9 helped me a little bit but still couldn't totally remove the crackling noise completely.
You can also create Web DVDs with the new Adobe Premiere Elements 9. It basically allows you to create a DVD interactive experience (with menus and scene selections) online (Flash video).
This is great if you want to burn your movies to DVD but at the same time want to have the same version online. Previously, you may have to create 2 different versions for this purpose. Web DVD makes it totally easy for you.
With Adobe Premiere Elements, it's easy to share your videos online. The latest version adds a capability to share your video straight to Facebook but unfortunately, it's not in the Share section anywhere. In fact, you have to export your final video to a file first, import it to the Organizer, and share it from there. Not to sure why the team has decided to go for this path.
Adobe Premiere Elements 9 Review – Conclusion
Overall, Adobe Premiere Elements 9 adds a few improvements here and there. It's a bit hard to justify whether you should upgrade from Adobe Premiere Elements 8. Somehow, Premiere Elements 9 feels heavier and slower but this can hopefully be patched by the Adobe team. If you are looking for a better Organizer, audio enhancement features, web DVD, and a smarter video import feature, then it is a worthy upgrade from Premiere Elements 8. A few things have been made easier too (such as being able to quickly delete the audio from a video). For most casual users, however, Adobe Premiere Elements 8 is good enough at this stage until hopefully something more revolutionary make it out on the next Premiere Elements 10.
Oh, starting from version 9, Adobe Premiere Elements is also available on the Mac!
Adobe Australia Store Special Offers
Adobe Premiere Elements 9 Review – Pros
+ Interface visually better
+ Minor additions that add bits to productivity
+ Still as intuitive, easy to use, and powerful as ever
+ Easy import and auto project settings suggestion
+ Support more popular cameras (Flip camcorders and DSLR)
+ New fix audio problems feature
+ New web DVD, a new way to share your video online
+ Also available for Mac
Adobe Premiere Elements 9 Review – Cons
– Feels sluggish compared to Premiere Elements 8
– Facebook sharing is not intuitive
– May not justify for an upgrade
Note: Adobe Premiere Elements 9 Review License was provided for the review
Adobe Premiere Elements 9 Review