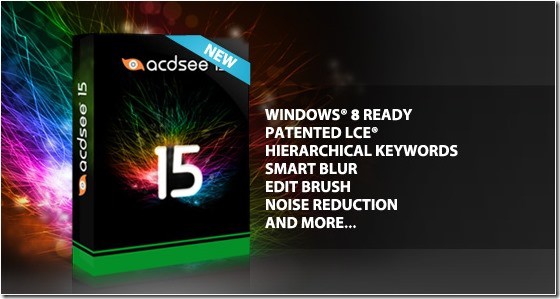 ACDSee 15 review – Organising your photo collections are not easy. With new shots being taken every day with our smartphones, sometimes the good old directories system (i.e organise your photos based on folders) may not be enough for some users. What if… you went to the same tropical island multiple times in different years and you want to show them to your friends? Imagine the horror of searching through each folder to find the photos.
Or, perhaps you've got the right photos but you also want the power to enhance, fix, and optimise them to your liking easily?
With ACDSee 15, you can do all that and you don't have to pay hundreds of dollars to get what you want.
ACDSee 15 is mainly divided into four different areas: Manage (to manage and view your collections), View (as a Photo viewer), Edit (as a Photo Editor to touch up your photos), and Share/Online (to share your photos online and through other media). It simplifies what a casual (and professional) user would do when he/she opens the ACDSee software, rather than having to dig down into all sort of menus in one go.
ACDSee 15 Review – Manage
ACDSee 15 can index your current photo collections after the installation (it will take some time, depending on how big your photo collections are). You can then create categories, rate your photos, and even tag them with keywords! So if you ever went to Bali a few times, you can tag the whole Bali photos (on different albums) with the keyword "bali". Searching this keyword at some point in the future will yield all of your Bali photos.
The latest ACDSee (version 15) introduces Hierarchical Keywords – for an even more powerful photo organisation based on keywords. For example, you may have a keyword hierarchy of:
Holiday -> Europe -> London
Holiday -> Europe -> Paris
Holiday -> Australia –> Melbourne –> Cafes
Holiday -> Australia –> Melbourne –> Landmarks
With the hierarchical keywords, you can tag and search photos in both specific and broad manner. For example, if you tag a photo of the Eiffel Tower with the keyword "Paris", you can also use the keyword "europe" or "holiday" to search for all holiday photos including the photos in Paris. The power is yours!
ACDSee 15 can also make use of geotagging and can display a cool map with all your photos tagged by locations automatically.
ACDSee 15 Review – View
ACDSee 15 can be set to display your photos in Full Screen mode, which looks great if you have a large monitor and the photo is shot in high resolution. I have a 27″ IPS LCD Monitor, so the photos really come to life with the viewer. You can zoom in/out and even create a simple slideshow so you can sit back and relax while showing your photos off to a visitor.
ACDSee 15 also supports viewing RAW images.
ACDSee 15 Review – Edit
Included in the package is photo editing capabilities to fix, optimise, and enhance your photos. There are plenty of tools and tweaks in ACDSee 15 that you can apply to your photos. Each tweak can be changed easily with the sliders (some with a brush) and you can also apply different modifications on the same photo multiple times.
Each tool is categorised to simplify what post-processing you would like to apply but unfortunately this comes with a bit of a nuisance. To go to different post-processing tools, you have to click on a tool such as the Exposure, wait for a couple of seconds (depends on the size of your photo), tweak it, click on a different tool, wait, and so on. It can reduce a bit of productivity if you need to apply different post-processing on each photo. This was tested on my system with quad-core processors and 8 GB of DDR3 RAM.
ACDSee 15 Review- Share
You will be provided with an ACDSee Online account with 10 GB of storage space (free registration required). You can then sync/backup your photo collection to your online storage. There's even a free app for iPhone/iPad to browse your online collection and to send your photo shots there directly.
You can share your photos to a Flickr account or email them (ACDSee can resize and compress the images according to your settings). No more hassle in opening your photo resizer and all that. Very handy.
ACDSee 15 is a really powerful yet affordable photo management and editor software, aimed at casual users (though there are plenty of powerful tools to tweak and enhance your photos for the pros). I'm more amazed at the way ACDSee can transform your photo collections into a full blown powerful catalogue though. You can tag your photos, label them, categorise them, rate them, and keywords them. Whatever photos you are looking for, you can definitely find them easily in ACDSee 15. If you are professionals in photography, there's always the ACDSee Pro version to further perfecting your images.
Note: ACDSee 15 review license was provided for the review